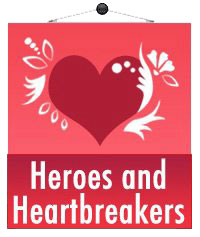 Today is a sad day for me. Today I say goodbye to HeroesandHeartbreakers.com and the people behind the scenes. As a contributor to H&H, I received notice about two weeks ago that the parent company, Macmillan which is owned by St. Martin's Press, has decided to shut down the website. I have spent the past two weeks in a bit of a funk.
I started working with H&H in 2011, within a few months of starting this blog, and I have written a total of 220 articles for them. I have chosen books and found new authors in order to cover those books and authors for H&H. I have constantly shuffled my reading list in order to meet my scheduled deadlines for H&H and have spent countless hours trying to perfect articles for them.
Since being told of the closure, I am feeling a bit adrift since we had discussed books and articles that I would cover for them, including the new Nora Roberts' dystopia and we were discussing what to do about the final Darynda Jones/Charley Davidson novel coming out next year.   Now all those planned articles have been shelved and I am feeling a bit lost.   As I picked up my next highlighted book on my TBR list, which signaled a book I was to cover for H&H, I realized I no longer have to adhere to my strict list and could grab anything I wanted. While that offers a bit of freedom, it still made me sad to know I would no longer be discussing a great new book that I read or managed to get my hands on with Jenn, the site manager.
What that means for eBookObsessed is that all those articles that I have drafted or notes on articles for presentation to H&H, will be posting here instead.   I will also be revising and posting some of my older H&H posts.
I am also hoping that the loss of my standing as a contributor at H&H does not effect my standing with the publishers. If so, it will give me a chance to catch up on my several hundred unread books on my Kindle and Nook and we can start focusing on finding exciting new and obscure indy authors.
And just a kick while I am down, I also received notice that my website page is no longer going to be supported, so I will have to search for a new theme for this page as well.
I will be taking the holiday weekend to drown my sorrows in apple pie and then we will get back to work discussing books.
Happy Thanksgiving to all!