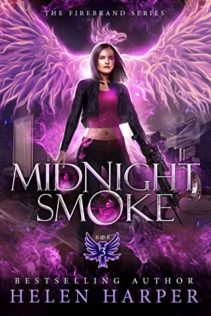 Midnight Smoke (Firebrand #3)
by
Helen Harper
Series:
Firebrand #3
Published by
Tantor Audio
on January 12, 2021
Genres:
Paranormal/Urban Fantasy
Format:
Audiobook
Narrator:
Ruth Urquhart
Length:
8 hrs



I received this book for free from in exchange for an honest review. This does not affect my opinion of the book or the content of my review.
This post contains affiliate links you can use to purchase the book. If you buy the book using that link, I will receive a small commission from the sale.
Supernatural Squad might be small, but we're growing in power. The vampires and werewolves of London are beginning to respect me more and I feel like I know what I'm doing - even if I don't yet understand what I truly am.
Unfortunately, there might be a few snags to deal with. I'm trying to avoid Lord Horvath, the black-eyed vampire leader who seems intent on a more intimate relationship. There's also Devereau Webb, who runs a small criminal syndicate and has offered me a mysterious gift that I'm certain I don't want. And across the span of one single day, supernatural hell breaks loose across the city of London.
A suicidal vampire has climbed up the London Eye.
Three werewolves have hijacked a tourist bus.
This might prove to be the longest day of my life.
---
Welcome to paranormal groundhog day.
Note: Small Spoilers from prior stories.
As I mentioned in the last review for Infernal Enchantment , Emma seems too free with her telling everyone about the very dangerous book that she and Lukas found called Infernal Enchantment and where to find one of the few copies locked away at the local library. Someone, say like the local crime boss, Devereau Webb, would have no problem with a little B&E.
As this story starts, Detective Constable Emma Bellamy who is in charge of Supe Squad is being to with all kinds of weird supernatural issues which seem to be happening simultaneously.  First she is called about a suicidal vampire on the giant Ferris wheel in London known as the London Eye.  Also there to help is sexy vampire Lord Lukas Horvath, who wants to know why Emma is avoiding his calls.  Emma manages to get the vampire down just in time for a call that werewolves have taken a bus hostage on London Bridge.   Is something making the supernaturals in the city act crazy or is this just a distraction?
Emma then gets a call that there was a robbery at the bank which is used almost exclusively by the supernaturals. Emma gets to the bank too late and several of the patrons and employees of the bank are already dead, but the robbers weren't there for money. They took safety deposit boxes, specifically those which belonged to Lord Horvath and the four werewolf clans. Emma is able to convince them all to trust her with what was being held in their individual boxes so that she could be on the look out for their missing items. The most shocking of all is the new box which Lukas just rented which includes all of the information he has been able to locate on the mythical phoenix.
Problem is that the Detective Inspector Collier comes in to take over her investigation and while Emma would be happy with the extra help since robberies of this magnitude (including murder) are a bit over Emma's three months of experience, she soon realizes that the lead investigator hates supes and he is quickly destroying all of the good relations that Emma has been working so hard to create with the community.
Emma then gets approached by Devereau Webb. She is hoping for some information she can use on the bank robberies or maybe even a confession. She isn't certain what to make of the vial of murky liquid he hands to her but drinking it isn't something she intends to do.
When Emma finds out that Lord Horvath received a call from the robbers to buy back his items and never called her, she is livid.   She barely makes it to the meeting point before all hell breaks loose and Lukas ends up dead. She doesn't know what compels her but when she finds that vial still in her pocket she drinks it and somehow ends up restarting her day. Confused, she seeks out Devereau who tells her that he obtained a copy of Infernal Enchantment (shocking!), he created this potion and now she will have three tries to get this day right.
Emma isn't going to waste any of her chances to stop the robbery, save the people inside and more importantly, stop Lukas from ever being at that meeting and who knows maybe there can be a happily ever after for a Vampire Lord and a Detective after all.
I must say that at first I rolled my eyes a bit and thought Really? Groundhog Day. but I quickly became invested in what Emma would do next, what her next plan was, and if that didn't work, what was she going to try next. Of course, Lukas goes with her for most of this time and while she tries to figure out their relationship, he doesn't remember what happens between them with each reset and she has to start again.
I did enjoy the story and they did get a HEA but there were still some very important questions that were never finished, such as whether or not she was truly is a phoenix and more specifically why we kept talking about Emma's parents being murdered and their killer was still in prison if it really wasn't relevant to the story. This was mentioned several times in these three books, enough that I knew it was something important but couldn't imagine the series would end with nothing further. I kept checking and now there is a fourth book coming out in May (Scorched Heart) which will focus on the murder of Emma's parents.  I am looking forward to more on this series.
---
Favorite Scene:
Here's the problem when you are romantically involved with someone who doesn't remember…
I strode up. 'I am Detective Constable Emma Bellamy. I'm with Supe Squad.' I gave both Hannigan and Paige a breezy smile. 'Don't worry. We'll get all this sorted out in a jiffy.'
I glanced at Lukas. I couldn't stop my gaze from softening. I looked him up and down, enjoying the opportunity to see him in his ridiculous ruffled shirt yet again. Then I thought about what it had been like to have his lips on mine and to feel his body next to me.
As Lukas registered my expression, a tiny crease appeared in his brow. 'Hello, Emma. If I didn't know better,' he murmured, 'I'd say you were thinking of something very interesting indeed.'
I licked my lips. 'I am.'
'How are you? You've been avoiding my calls.'
I didn't look away. 'I'm sorry about that. I should have spoken to you but I felt a lot confused and a little scared. You deserved better. I won't avoid you again, I promise.'
Lukas tilted his head, a lock of jet-black hair falling across his forehead. 'Something's happened,' he said. 'Something's changed.'
'Yes.' I nodded. 'It has.'
His eyes narrowed. Then his nostrils flared and he glanced at my shoulder. He stiffened. 'Are you bleeding? Have you been hurt?'
'It's an old wound. I'm fine.'
'You look more than fine,' Lukas muttered. 'In fact, scent of blood aside, you look as if you're glowing.'
I couldn't prevent the grin that spread across my face. 'Do you know,' I said softly, 'I feel like I am glowing.'
'What the hell is going on?' Hannigan screeched, while Paige stared at us both, her mouth hanging open. 'This isn't the time for some bizarre flirting session! There's a damned vampire halfway up my wheel! Get that freak down from there!'
'Don't worry, sir,' I murmured, my eyes still on Lukas. 'We'll sort this out.' I pulled myself away and walked over to the Eye. Adam Jones was already about halfway up. I tilted my head and stared at him as he climbed. The poor kid thought he was immortal.
A second later, Lukas joined me. 'Who is he?' he growled.
I yanked my attention away from Adam. 'Pardon?'
'Who's the guy? Who made you glow? You can't tell me that there's not a man involved. It's written all over your face.' He looked furious.
I felt a jerk of astonishment. I must have been far easier to read than I thought. I considered my answer before opting for the simple truth. 'You,' I said. 'You're the guy.'
'What?' hit bit out.
'It's taken me a while,' I said, 'but I've finally seen the light.'
His eyes glittered, searching my face. 'Are you teasing me, Emma?'
"No.' I drew in a breath. 'But this isn't the time for this conversation.' I nodded upwards. 'Can you climb up there and try to encourage the…vampire down? I have a feeling he doesn't want to jump and this is all some sort of show. I'm afraid he'll run off at the first opportunity. If I can position myself to stop that, perhaps we can find out what's going on here.'
'Believe me,' Lukas said. 'I want to know exactly what's going on here.' A muscle ticked in his jaw.
Related Posts