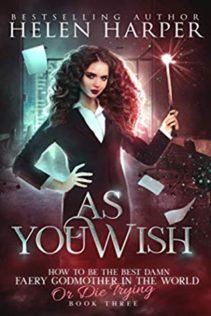 As You Wish (How To Be The Best Damn Faery Godmother In The World (Or Die Trying))
by
Helen Harper

Published by
Tantor Audio
Genres:
Fantasy
Format:
Audiobook
Narrator:
Ruth Urquhart
Length:
7 hrs 23 min


I received this book for free from in exchange for an honest review. This does not affect my opinion of the book or the content of my review.
This post contains affiliate links you can use to purchase the book. If you buy the book using that link, I will receive a small commission from the sale.
It's a dirty job when you're a faery godmother … but someone's got to do it.
Saffron Sawyer's world is spinning out of control in more ways than one. Her newly acquired pooch, Pumpkin, hates her guts and it's highly possible that the trolls are reneging on their promise of temporary peace. Saffron is also on her way to setting the world record for the number of magical wands lost in one month while the continued proximity of Jasper, the emerald eyed Devil's Advocate, is turning her into a near helpless lust puddle.
Unfortunately, life is never simple in the Office of Faery Godmother … especially when your past mistakes are preparing to come back and haunt you.
As You Wish is the third book in the refreshingly original series How To Be The Best Damn Faery Godmother In The World (Or Die Trying).
Are you freakin' kidding me?
Saffron gets attacked in her apartment and Jasper has her move in with him for her own protection which they are both excited to have the excuse to spend more time together.   I was very happy to finally have some good Saffron/Jasper time, including a kiss at dinner which almost leads to sex on the table of a busy restaurant until sanity returned.  Jasper/Saffron moments are the only thing I like about this series.
The rest of this review is going into a Spoiler Alert!
View Spoiler »
We once again spend an extraordinary amount of time with Saffron trying to figure out what her client, a former criminal, wished for and keeps ending up at his place of business where things are really shady and Saffron gets threatened with bodily harm more than once and more guns shoved in her face.  Life for Saffron has become a lot more dangerous than being a Dope Faery.   Memory Magic can't help Godmothers from being killed with real bullets.   Really, why is it so hard for a Faery Godmother to grant a wish?  It was wished for!  Trust me the other Godmothers aren't putting this much effort into it.

Saffron's playing fast and loose with the rules is catching up with her.  Someone remembers Faery Godmothers exists and has Saffron's missing wand, which she lost when she was beat up in the second story.  The Trolls are holding her accountable because if someone knows about Godmothers, it's not such a leap to Trolls.  Again, really, especially since Trolls don't look like ugly Trolls as we've been told.   I thought the hot Troll leader, who keeps watching Saffron was brought in for a love triangle but he is too much an ass to catch Saffron's interest away from Jasper.   Saffron agrees to fix everything and hopes not to have to tell Jasper or the Director about it, especially since it is all her fault.

The Trolls also threatened her friend (former drug dealer and human) Vincent because they don't trust him to keep quiet, especially since Vincent tells everyone he know that Faery Godmothers are real and that he knows one.  The only way to keep him safe is to bind him to Saffron like an indentured servant or slave  and she will command him not to tell anyone.  Of course, the side effect is that any pain inflicted on Vincent will be suffered by Saffron. (Sigh.  Can't see how that might be a problem, can you?)

Lastly, the Director has been no fan of Saffron (Really, why doesn't she just quit?  These guys suck!).  Neither does she like that the Devil's Advocate has finished his audit and is going to give his report of changes that need to be made to the Department of Faery Godmother.  How dare he!  They are awesome!  Blah, blah.   So the Director pretty much blackmails Saffron.  Since everyone is aware that she and Jasper have a connection, if Jasper makes reference to the nepotism in the Godmothers but doesn't recommend firing Saffron for all her gross errors, she will recommend he be fired for playing favorites, or alternately, Saffron should sleep with Jasper and then bring sexual harassment charges against him or else the Director will fire Safron for her errors and recommend Saffron not be hired for another Faery job.

Saffron refuses to step into the Director's trap and does the unexpected but not until Jasper confesses his deepest secret in hopes that Saffron will still want him.  She can't tell him about the Director's threats because Saffron knows Jasper will go straight to the Director and that the Director will have a contingency for that as well.   So she tells Jasper that she is overwhelmed by his confession and needs some time, breaking his little Devil's Advocate heart.  You can actually hear it crack.  🙁  Why didn't she simply say "I need you to trust me. I have to do something first then we'll make a date to jump each other's bones." and plan a date for when she figured something out.  Why does no one every say, We can't date right now because of this threat but let's meet up six months from now or next year and we'll have forever together.  Why not?  Why?????!!!    Then after breaking his heart, she goes in and quits.  FINALLY!!!! 

I was waiting to see how Saffron would finally figure this out, destroy the Director and have a happily ever after, and suddenly it ended.  ENDED!!!  I thought this was a trilogy.  They were all trilogies!   We know you can't end a frivolous fantasy story with such a shitty ending but when I finished it, there was no indication of a fourth story.  I lost it!  I invested too much time in this series for this crap!  « Hide Spoiler
It finally came up on Amazon and Goodreads that a 4th and thankfully final book was just released so I will finally get my answers and be done with this series. Could I get four books for the Lazy Girl's Guide to Magic? No. I loved Ivy and her cat, Brutus, and would have been so happy to read more.  No, I get left with my jaw hanging open on a meh series,  and have to waste another 7+ hours on the next book to finally get a satisfactory finish.  Grrr!!!
Related Posts