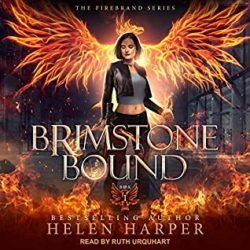 Brimstone Bound (Firebrand, #1)
by
Helen Harper

Series:
Firebrand #1
Published by
Tantor Audio
on September 3, 2020
Genres:
Paranormal/Urban Fantasy
Pages:
234
Format:
Audiobook
Narrator:
Ruth Urquhart
Length:
8 hrs



I received this book for free from in exchange for an honest review. This does not affect my opinion of the book or the content of my review.
This post contains affiliate links you can use to purchase the book. If you buy the book using that link, I will receive a small commission from the sale.
A werewolf killer. A paranormal murder. How many times can Emma Bellamy cheat death?
I'm one placement away from becoming a fully fledged London detective. It's bad enough that my last assignment before I qualify is with Supernatural Squad. But that's nothing compared to what happens next.
Brutally murdered by an unknown assailant, I wake up twelve hours later in the morgue – and I'm very much alive. I don't know how or why it happened. I don't know who killed me. All I know is that they might try again.
Werewolves are disappearing right, left and centre.
A mysterious vampire seems intent on following me everywhere I go.
And I have to solve my own vicious killing. Preferably before death comes for me again.
---
A good beginning with lots to keep us guessing and reading.
Emma Bellamy is almost finished with her Detective training and is looking forward to become a full Detective very soon. She believes her last stint will be with Cybercrimes before her graduation. She is shocked and dismayed to find herself assigned to Supernatural Squad. Generally, only those who have screwed up royally are sent to Supe Squad and Emma has been working hard and excelling in all assignments. Well, she will not be dissuaded from finishing by having to deal with supernaturals and she plans to put her all into this last assignment and then request a posting where she will excel.
If Emma is surprised about her trainer's apathy to his job, she is even more surprised to see that Supe Squad consists of only two other officers who are even more apathetic than her trainer. Emma's only knowledge of the supernaturals is the same general knowledge that the rest of the public has, which apparently isn't always correct. Her trainer hopes that she can survive the week without getting herself killed…which it turns out, she can't.
Emma wakes up and finds herself in the morgue of all places. She remembered being hit over the head and someone…cutting her throat?  But that can't be since she feels just fine and normal humans don't rise from the dead unless they are zombies. Is she a zombie? Probably not since the thought of brains makes her queasy. So, no zombie. So what happened to her?
The first thing she needs to do is find her trainer but he has suddenly gone missing. But you know who isn't missing, the sexy vampire who was investigating her murder and wants answers as to why she isn't still a corpse. Lucas keeps following her around and popping up out of the shadows and since someone might try to kill her once again, Emma decides to accept his offer to help her find her trainer and more importantly, to find her killer, and since her trainer isn't around to teach her about Supernaturals, she at least has a knowledgeable guide to escort her through this scary new world.
I enjoyed this much more than the last Fairy Godmother series.  Here Emma is a police officer in training trying to solve her own murder.  We don't get every answer of what is going on but more than enough to keep us interested.   As Emma investigates, with the help of the vampire Lucas, who seems a bit fascinated by her for more than just why she was reborn? reanimated?  We do know she is not undead but not much else, although I think the cover gives us a possible answer.  While the story progresses, we are introduced to the world building involving the vampires, the werewolves and other assorted supernatural creatures.
The story stayed focused on the police investigation, which includes what happened to Emma the night of her murder.  There are also little things that happen which won't be solved by the end of this story so I have already start that next book in the series.  With the exception of the last series, I enjoy Helen Harper's stories and the narration of Ruth Urquhart.
Related Posts