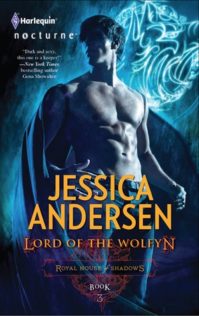 Lord of the Wolfyn (Royal House of Shadows, #3)
by
Jessica Andersen

Series:
Royal House of Shadows #3
Published by
Harlequin Nocturne
on October 18th 2011
Genres:
Paranormal/Urban Fantasy
Pages:
282
Format:
eBook



I received this book for free from in exchange for an honest review. This does not affect my opinion of the book or the content of my review.
This post contains affiliate links you can use to purchase the book. If you buy the book using that link, I will receive a small commission from the sale.
---
Once upon a time…the Blood Sorcerer vanquished thekingdomofElden.

To save their children, the queen scattered them to safety and the king filled them with vengeance.

Only a magical timepiece connects the four royal heirs…and time is running out.…

For practical Reda Weston, nothing could explain how reading a sexy version of "Little Red Riding Hood" catapulted her into another realm—face-to-fang with the legendary wolf-creature who seduced women. A wolf who transformed into a dark, virile man….

Dayn cursed the Sorcerer that turned him wolfyn and damned him to a lonely fate. As a beast, he mated with women to gain strength.

Strength he needed to rescue his royal parents. But as a man, he craved Reda's heated, sizzling touch. With little time left, Dayn had to either embrace his wolf to save his kingdom…or fight it to save his woman
---
This is the third book in the Royal House of Shadow Series.  Each of the four books in the series are written by a different author.   The books each feature the four children of the King and Queen of Elden who are murdered by the Blood Sorcerer and their kingdom stolen.  Before they die, they bespell their children with one spell to protect them and one filling them with a lust for vengeance.  Each child is also gift with a magic timepiece.
Prince Dayn was the hunter of the family who protected Elden from dangerous creatures, including any wolfyn who became trapped in the Kingdom realm.  The Queen's protection spell sends Dayn into the realm of the wolfyn to wait.  Before he dies, his father, the King, tells him through mindspeak that Dayn will stay where he is until a guide is sent for him and then he has 4 days to get to his siblings in Elden to storm the castle or all will be lost.  
Reda Weston was a police officer who's partner was killed during a robbery.  She blames herself for his death because she froze in panic instead of creating a distraction that could have saved his life.  Reda is searching for a book which her mother had given to her as a child, a dark version of Little Red Riding Hood.  Once she locates this book, it is a catalyst and opens a vortex which takes her to the wolfyn realm. 
Dayn realizes immediately that she is the guide his father spoke about and which he has been waiting 20 years to bring him home.  He convinces Reda to go with him to find the next vortex portal so he can get to his siblings and kill the blood sorcerer.
The one big issue with different authors in a series is making sure everyone is following the same rules.  In LOTW, I don't remember reading anything about Dayn having a timepiece, which is supposed to be a main premise of this series.  We do have an explanation of his spending 20 years in the kingdom of the Wolfyn waiting for his guide to show.  Nicolai lost 20 years trapped as a prisoner.  In the fourth book, Micah is only 4 when the King and Queen are killed, and obviously we need to make him old enough for his own HEA.  But apparently, I am not the only one who can't figure out Breena's age or the time difference in Lord of Rage.  Several reviews also indicate a discrepancy in that story. 
So far I am not impressed with the Queen's idea of safe places to stash her children; one was sent to a sex-slave market, another send to the kingdom of beserkers who are known for taking what they want, and now Dayn is sent into the kingdom of the wolfyn who HATE vampires.  He has to hide that little bit of information for 20 years to stay alive.
The story of Dayn and Reda moves quickly through the beginning of the book, then we hit a snag when both characters realize they haven't learned anything and are repeating past mistakes, now with each other.  Things get a little awkward between them.  Then things really awkward between them when Reda finds out Dayn is hiding more than just the fact that he's a prince and a vampire.   Reda tries to flee back home, but gets trapped in the vortex and a disembodied voice convinces her she needs to help Dayn get to his siblings and then she can return home.   The story improves from there after Dayn and Reda move past their issues and work together.
Received an advance copy from Netgalley.com, courtesy of Harlequin Books.
---
Favorite Scene:
Dayn yanked her up and against him and propelled them both to the main trunk; then he spun them and pinned her against the tree with his body, in case she was still thinking about trying to run.  Instead she burrowed both hands beneath his jacket to wrap her arms around him and grab fistfuls of his sweater as she buried her face in his chest and clung, shaking.
And if things had been entirely wrong in his universe only a few moments earlier, now they suddenly seemed very, very right.  She fit seamlessly against him and warmed him where he had been so cold.  She was safe.  She was unhurt.  And she was in his arms.
She's your guide, dumbass, snarled a very human-sounding voice of reason.  And you're supposed to be remembering your damn priorities.
But wasn't his guide a priority?  He didn't know what role she was supposed to play in his journey, but was beginning to suspect it wasn't nearly as simple as merely showing him where to go.  For now, though, it was enough that she hadn't left him stranded in the wolfyn realm, hadn't fallen to her death.
"Shh,"  he said against her temple, letting the subtle flowers-and-spice sent of her curly hair fill him with a touch of the feminine whimsy he had gone so long without, "I've got you.  You're okay."
She sucked in a shuddering breath.  "But you're, you're…"
"Not a threat to you, I promise."
Related Posts