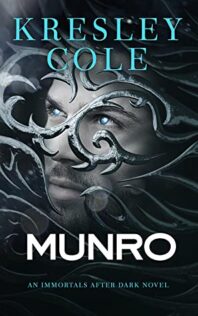 Munro (Immortals After Dark, #18)
by
Kresley Cole

Series:
Immortals After Dark #18
Published by
Valkyrie Press
on January 25, 2022
Genres:
Paranormal/Urban Fantasy
Pages:
400
Format:
eBook
Source:
Author



I received this book for free from Author in exchange for an honest review. This does not affect my opinion of the book or the content of my review.
This post contains affiliate links you can use to purchase the book. If you buy the book using that link, I will receive a small commission from the sale.
The next stand-alone installment in the electrifying Immortals After Dark series by #1 New York Times best-selling author Kresley Cole. Venture deeper into the Lore, fierce realm of the immortals—if you dare. . . .
TORMENTED IN UNIMAGINABLE WAYS Coming off torture at the hands of his warlock captors, Munro MacRieve never expected to find his mate, or to lose her just as abruptly. Driven to desperation, the ruthless warrior uses his enemies' own powers to reunite with her—in the distant past.
STOLEN FROM HER TIME When a crazed werewolf crashes her wedding, Kereny "Ren" Codrina does what any cunning huntress would do: she captures him. Yet she finds herself softening toward the wounded beast—until he turns the tables and forces her into an incomprehensible future.
CAN A HUMAN AND AN IMMORTAL UNITE IN ORDER TO SURVIVE?As danger mounts, Munro will do anything to make her undying, even sell his soul to an evil sorceress. But first he must convince his fiery mate that she belongs with him. If seduction means her survival, Munro will use every weapon in his arsenal to possess her—forever
---
Kresley Cole is back and better than ever. I didn't realize how much I missed this series until I started Munro.
Munro MacRieve, the lykae twin better known as Hot (or is he Hotter?), has been captured by Sorcerers who want to vassal and control his inner beast like the other lykae they have captured. But after centuries of controlling his beast, even torture can't force Munro to release his beast so the sorcerers find Munro's one weakness. They travel through time to find his one true mate and force Munro's beast to rise to protect her. Things go wrong and Munro needs to go back in time to find his mate before he loses her forever.
Kereny Codrina is a knife thrower with a traveling circus and also their leader as an Immortal hunter. They use the circus as a front for their Night War against immortals. Kereny knows all about the Lore and her people are currently planning to intercept a group of uncontrolled newling lykae who are about to descend on the local village. What she doesn't suspect is a gorgeous and absolutely controlled lykae interrupting her wedding to announce that she's his mate and that she needs to leave with him. Kereny will use all her skills as a huntress to thwart Munro's attempt to drag her away from her family and the people she protects.
Munro is shocked to realize not only that his fated mate is a human, but that he must have missed her almost a century ago.   As an Immortal lykae, Munro expected that fate would have him come upon his mate's scent when he was ready, never realizing she lived and died while Munro was busy with his clan or cavorting with nymphs. He isn't thrilled about what happened to him in the sorcerer's prison but he has to give props to them for giving him a second chance to find his mate.
Kereny and Munro are at odds. Munro knows that the Lore is no place for a mortal and will cross any line to make her immortal, and Kereny wants nothing to do with the Lore she grew up fighting and will cross any line to get back to her people. It is a battle of wills full of passion and purpose.  Don't assume that you know how this war will end.
I appreciated that Munro acknowledged his own foolishness in thinking that he would stumble upon his mate someday and because of his lackadaisical attitude, he actually missed out on finding her and without the sorcerers, he would have spent the rest of his life not realizing that he screwed up and completely missed ever meeting her.   Kereny is brave to the point of foolishness because Munro is right that mortals don't belong in an immortal world and it takes time for her too to realize she has been playing out of her league in fighting immortals.   Fighting newling lykae with too much power and no focus is easy with traps and skill but the Lore creatures  like Munro with age and experience could easily kill a mortal like her, they just don't see the point.  While we don't get too many visits from old friends, I found Munro and Kereny's visit to Dacia with Lothaire and Elle to by hysterical.    A relaxed, happy Lothaire is quite funny.   Sadly, we don't even get very much Nïx which was a little disappointing.
Fans have been waiting a loooong time for this story which was hinted at at the end of MacRieve which released in 2013.   It wasn't the first time that KC got us excited about a character and then took time to drop the story on us (see my whining about how long it took to get Dark Skye) but this was the longest wait that we have had to endure.  One of the most frustrating things about the last two IAD books was the fact that they drifted from our main group of characters while there were still many, many stories to tell.  I for one would have been far less grumpy about them if Sweet Ruin and Wicked Abyss were spinoff stories, such as Shadow's Claim and Shadow's Seduction.  That's not to say that I didn't enjoy those stories, but with anticipated characters with stories still to tell, it was frustrating to be pulled away from our current story arc.
What surprised me most, besides what happened in the story itself, was realizing how much I missed this group of characters.   In the five years since the release of Wicked Abyss, I was distracted by other books and series but there was a time I ran to the book store every six months to grab that newest IAD book because I couldn't wait to see what happened next.    I am hoping that with the release of Munro that KC  and the IAD family are back and we will finally get the rest of the stories we have been waiting for.
---
Favorite Scene:
This whole section is hilarious. Laid back Lothaire is pretty funny…
When a vampire page announced Munro and Kereny, the queen smiled. "Welcome to Dacia! We're so happy you two're here." Her accent was thick. Appalachian?
Lothaire said, "Are we happy, hellbilly?"
She slapped his shoulder. "Sakes, we are!" To Munro and Kereny, she said, "You've met Stelian, Dacia's gatekapper." The hulking male raised his chin. She pointed to the blond vampire. "That's King Kristoff of the Forbearers." Kristoff stood with barely contained aggression, as if he would trace into the center of the court and fight anything and anyone. "And this here is Balery, Dacia's oracle." She indicated the fey female, who gave a halfhearted wave, then said, "And please call me Ellie."
Munro like the queen right away, could tell she was as kind as Lachlain had said. Would she be so casual about Kristoff if the male was here against his will?
By way of greeting, Lothaire said, "You stand in the halls of an ancient kingdom before rulers of exceptional power. All the interesting courtiers are off searching for my missing niece–long story–and the sixth Dacian cousin refuses to come out and play. So you are here to distract us."
The gall of this prick. "We're no' your godsdamned court jesters."
Lothaire snapped his fingers. "There! That was funny." He relaxed back in this throne. "You may continue amusing us."
The queen was aghast. "These are our guests. They're not here to entertain us."
"Are they not? She's a time-traveling circus performer, and he could be the start of our very own menagerie." His red gaze flicked over Munro's face.
He's testing me. "I'm here as an ambassador."
Lothaire said, "Court jester or ambassador. Same difference. Either way you entertain the king."
Related Posts