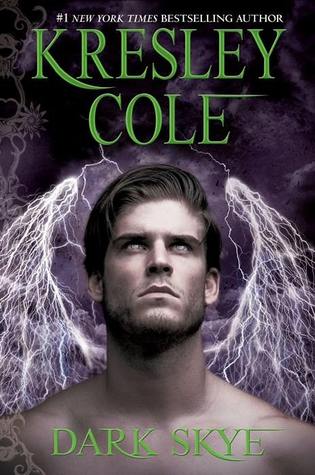 ---
ORDER A COPY: Dark Skye (Immortals After Dark)
Publisher: Gallery Books
Publishing Date: August 5, 2014
Hardcover: 384 pages
Rating: 5 Stars (Loved it!)
---
As a boy, Thronos, Lord of Skye Hall, loved Lanthe, a mischievous Sorceri girl who made him question everything about his Vrekener clan. But when the two got caught in the middle of their families' war, tragedy struck, leaving Thronos and Lanthe bitter enemies. Though centuries have passed, nothing can cool his seething need for the beautiful enchantress who scarred his body – and left an even deeper impression on his soul.

Lanthe, a once-formidable sorceress struggling to reclaim her gifts, searches for love and acceptance with all the wrong immortal suitors. But she's never forgotten Thronos, the magnificent silver-eyed boy who protected her until she was ripped from the shelter of his arms. One harrowing night changed everything between them. Now he's a notorious warlord with a blood vendetta against Lanthe, hunting her relentlessly.

With their families locked in conflict and battles raging all around them, will Thronos and Lanthe succumb to the brutal chaos that threatens everything they cherish? Or will the fragile bond they formed so long ago spark a passion strong enough to withstand even the darkest doubts?
---
Romeo and Juliet have nothing on the tale of Lanthe and Thronos. Melanthe, the Queen of Persuasion and Thronos Talos, Knight of Reckoning and Prince of the Skye, should have been mortal enemies. Vrekeners have always sought to curtail the activities of the evil Sorceri. Lanthe and Thronos met as children and enjoyed an easy friendship. Thronos recognized Lanthe as his fated female and knew that someday their friendship would grow into something much more.
Yet it only took a moment of hate and fear to destroy their future. Thronos's father, the King, brought his knights to murder Lanthe's parents. Although they were only children, Lanthe and her sister, Sabine, used their powers to fight back and killed the King and his men. Believing that Thronos betrayed her, Lanthe turned her power of persuasion on him, and commanded him to jump out of the high tower and not use his wings to stop his fall. As a young Vrekener, Thronos had not yet come into his immortality. It is a miracle that he survived at all. His face and body bear the scars from the glass and his deformed leg and wing are physical reminders of the betrayal of that night.
Vrekener's never abandon their hunt and a male never lets go of his fated female. She is his only chance for children. So for 500 years Thronos has been chasing Lanthe across worlds and dimensions, but she has eluded him every time. Now they have both escaped from the Order's prison and Lanthe is still wearing the torque which dampens her sorceri powers. She can't create a portal to escape and she can't persuade Thronos to leaver her alone. After 500 years of the chase, he finally has her in his arms. Now that he finally has her, he needs to decide what to do with her.
There is a part of him that wants to torture her for the wrongs she has done him. While he tried unsuccessfully to capture her, he had to watch his fated female take male after male to her bed while Lanthe tried desperately to find true love. There is also a part of him that still yearns for the friend he lost and the family they should have had together. Is there is too much pain and betrayal between them to ever get past?
As Thronos tries to get Lanthe to his home in the sky, they will need to fight as a team, instead of each other, to survive the perils surrounding them. They each feel the loss of their past connection like an ache, but is it enough to get them past 500 years of betrayal and treachery and find the friendship they left behind?
THOUGHTS:
Thank you, Kresley Cole, for finally giving us the story we have all been dying to read.
I have been desperate for this story since we first met Lanthe and Thronos in Kiss of a Demon King. We were tortured further in Demon from the Dark, when we left off with Thronos capturing Lanthe. Being so desperate for this story, I was both thrilled and terrified when Kresley Cole announced that Dark Skye would be her next book. Thrilled that it was coming out and terrified that it would not be as fabulous a story as I needed it to be. I received a copy on late Friday afternoon and had it finished to Saturday afternoon and I am so happy to say that Thronos and Lanthe's story will be on my list of top ten favorite stories ever.
My favorite part of this story was that Thronos gets pissed off every time Lanthe calls him a demon. Thronos is very black and white with his thinking and Lanthe forces him to see that life is mostly gray. He was raised to believe that Vrekeners were not demons, but Lanthe keeps pointing out everything that Thronos does that is demon-like.
"One more time, sorceress: I am not a demon! Vrekeners are descended from gods. We have purpose. His tone was harsher than he'd intended, because…because he had felt an affinity for the beast.
"I thought Vrekener horns were only for show," Melanthe said with obvious glee. "Yours straightened when I began to undress."
"I'm to take your word on that?" But how they'd ached!
"I'll bet you have a demon seal. You won't release seed until you're inside your mate."
"So I have a couple things in common with demons." He ran his fingers throug his hair. "I also have fangs—does that make me a vampire? My eyes turn silver, so I must be a Valkyrie."
Deny, deny, deny.
Much to his frustration, Lanthe is the only one who could challenge his rigid mindset and make him acknowledge the gray.
What I had disliked in the last two IAD books, Lothaire and especially, MacRieve, was that the heroes were sexually attracted to their heroines, but afterwards they acted disgusted by the fact that they gave in to those desires and touched a female like her. Before starting Dark Skye, I was afraid we would have more of the same especially since we are starting the story knowing that there is a lot of pain and anger between these two characters. The book starts off with a seething Thronos barely able to control his wrath against Lanthe. But we see as the story progresses that just having her with him is starting to calm him down. As his rage passes, we start to see that Thronos is naturally a calm and rational guy. He assesses each new danger or challenge before acting. Although we are still a long way from love, as he starts to think clearer he starts to work through his feelings of betrayal. He wants to get Lanthe home with him so that he can have a family since Lanthe is the only one who can have his children. Once he truly works through his feelings, he wants a family with her because she matters to him.
Thronos's biggest issue is that Lanthe has been sexually active with many, many partners trying to find someone who will love her, and Thronos is a virgin. Vrekeners are very, very conservative and have a giant book of rules of what is taboo or an "offendment" to his people. Kissing Lanthe before they are married is considered an offendment so you can see why her promiscuity is a problem for him. By the time we get to anything really sexual, they are already working through their problems and Thronos is never in any way disgusted by what he wants to do with Lanthe, even when he is angry with her.
Lanthe has no problem with Thronos scars. She thinks they make him look warlord-y and sexy. But it is not until Lanthe takes a peek into Thronos's mind and starts to see what happened between them from his point of view that she softens her heart and forgives him a little, but whenever he continues with the slut-shaming, he loses her again.
It is such a good story and there is such a gradual working through their issues which brings them a complete 180 from where we started that you almost forget how dark the story starts and how much seething hatred they had when we began.
All Immortal After Dark followers will be delighted with this next chapter in the series, and if you haven't tried an IAD story, you are missing out on a truly fun and sexy series.
Received an ARC from the publisher in exchange for an honest review. Thank you so much!!!
---
Favorite Scene:
So many scenes, which one to pick…
Lanthe hadn't caught her breath since she'd entered, her captivated gaze taking in every detail.
Happiness coursed through her veins. How had clever Thronos found this place?
Though she was in a room full of gold, her attention veered to him, crouched on that shelf. The muscles of his torso flexed with his movements. His stern, intense expression and that gargoyle-like position made him look very demonic.
She'd never bedded a demon before. Huh.
Yet as she strolled the temple, his constant scowl eased. Without that scowl, he was…gorgeous.
There was no more denying it—or her attraction to him.
Some females might consider his scars unsightly. Lanthe though they made him look tough and warlord-y. Besides, who could care about them when those silver eyes were so compelling? When his warrior's body seemed to have been sculpted from granite?
He'd once believed that she was "everything missing" from his life. Could he still feel that way? And why was she contemplating these things—instead of how to transpo this gold to Rothkalina or calculating karats?
Why did she have the urge to peer up at him with equal captivation? She surrendered to her impulse, turning to him. He seemed surprised by her perusal but held her gaze.
They were—dare she say it?—having a moment.
"You face me when surrounded by gold? Perhaps I rate after all?" The scowl returned, as if he was hardening himself. She wanted to cry, No, no, no, just a few more minutes!
"We had a deal," he said. "I grow impatient."
She could imagine—he'd waited so long to see her. And now she knew he'd already been struggling with his lust and curiosity when he'd been a young man.
A deal was a deal. She would take the sight of this gold into her, a memory to last forever. Unless I can return…
"Be about it, sorceress."
Since she'd planned on enthrall him, this would be a good start, but the way he was crouching forward, as if on the verge of pouncing, made her hesitate. "If I do this, how do I know you won't try to touch me? You're not supposed to, right?"
"I only intend to look," he said, though she could sense his aggression mounting.
"Uh-huh."
"Do it, then." When she still hesitated, he said, "Don't feign shyness—I know you've done this with a horde of males before me."
And just like that, her interest was checked. Though she was neither ashamed nor proud of the number of men she'd been with, his cruel jabs wounded her.
At least now she better understood his resentment. "I don't think it's a good idea to put myself in a sexual situation with you."
He growled at that. "After your purported year of celibacy, I would expect you to be climbing the walls for any male's attentions. And if I'm not mistaken, you're in season."
She flushed, lips thinning.
"I've heard tales of females like you." At her raised brows, he enunciated the words, "Easy quarry."
How could a maddened Vrekener hurt her so much?
Because he once looked at you with perfect acceptance, Lanthe. And she feared she'd been searching for that look ever since she'd lost it.
In order for her to be interested in a male, he needed to make her feel special—even if she knew it was a ruse. Despite Thronos's mind-blowing body and heartbreaking past, he stood no chance. "Even we 'easy quarry' girls have standards. And you, Thronos Talos, are leaving me cold."
He scoffed. "I could seduce you with ease. You've welcomed scores before me with only minuscule effort on their part. but I've no intention of taking you, nor even of touching you. Both are offendments. I only want to see my female."
"You think you can resist seeing your mate naked?"
"You think I can't?" A cunning light shone in his gaze. "You Sorceri like to gamble? To make bets? Then I'll enter into a wager with you—my first."
Dudley Do-Right makes a bet.
"If your body tempts me to touch it, then I'll tell you how I found this temple and opened the door."
"And if it doesn't tempt you?"
"The blow to your enchantress pride would be reward enough."
That is it! Now it was imperative to wipe that smirk off his face. "I'll take your bet." She thought she spied a flash of surprise in his expression. "No sex, though."
He glowered, as if she'd suggested something ludicrous. "I'll breed no bastards! Already my offspring will be half Sorceri. Do you think I'd allow the first to be illegitimate on top of that?"
Asshole! Only Thronos could ruin this: her, in a temple full of gold with a physically attractive male. He was like the anti-Sorceri—created to repel her.
Forget enchanting him! He didn't deserve her beguilement. "I'll remember this."
"What?"
"That you kill joy wherever you find it." She gave him her back as she unfastened the first of three clips on the side of her breastplate.
Had his breaths quickened?
She gazed over her shoulder, saw his claws digging into the gold shelf, his throat working. His voice dropped an octave when he commanded, "Off with it."
She unfastened the second clip.
"That's it," he murmured, his words dripping with pent-up lust.
As she was undoing the last clip, she heard something from beyond the main cave, and paused. The sound came again, growing in volume—movement down the mountainside. Something big was approaching. "Thronos, what was that?"
"Heard nothing. Continue."
"Come on, demon!" She began fastening the clips again.
"There's nothing to fear out there!"
When the entire temple rocked, she snapped, "Oh, really?"
He made a coarse sound of frustration; then she heard the swoop of his wings. She whirled around to find him charging toward her, that determined look in his grave face.
His eyes appeared to have darkened, and she could swear his horns were straightening—just like a demon's would when he became aroused.
In other words, Thronos doesn't live here anymore.
Reaching for her, he bit out, "To tide me over."
Til when?!
A roar sounded in the cave. Seeming to wake out of a daze, Thronos dropped his hands. And she could have sworn upstanding Dudley Do-Right grated "Fuck."