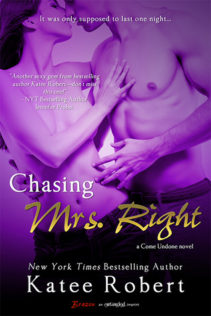 Chasing Mrs. Right (Come Undone, #2)
by
Katee Robert

Series:
Come Undone #2
Published by
Blackstone Audiobooks
on April 5th 2014
Genres:
Contemporary
Format:
Audiobook
Narrator:
Kasha Kensington
Length:
5 hrs 27 min



This post contains affiliate links you can use to purchase the book. If you buy the book using that link, I will receive a small commission from the sale.
"It was only supposed to last one night "

Roxanne Stokes doesn t believe in love. She does, however, believe in the sexy-as-sin stranger who literally knocks her off her feet in front of a nightclub. The chemistry sparking between them takes her breath away, and she ll do anything to ease the pain in his eyes until she realizes the handsome stranger is her best friend s older brother who s just come home from war.

Ian Walser had no idea the gorgeous woman he slept with the night of his homecoming party was his little sister s best friend or that she d be gone before morning. Roxanne s touch soothes him in a way nothing else can, and he s not ready to walk away from that yet. Not when spending time with her gave him a glimpse of everything he s ever wanted.

When his sister unwittingly pushes them together, he sees his chance. But convincing a woman who doesn t believe in love that she s his Mrs. Right might be harder than any mission Ian s undertaken. Good thing this soldier likes a challenge.
Ian Walser is just back from Afghanistan and is still trying to adjust to life back in the States. The last thing he wants to do is attend a homecoming party in a local bar. The noise and lights are not helping and neither is his mother's attempts to force him to make huge life decisions since he got off the plane. Right now he just needs a little air. As he leave the bar he runs into the most attractive woman he has ever seen. Literally ran into her, over her and knocks her down. As he helps clean up her scrapes, he can't help noticing that just talking with her and touching her is helping calm his shattered nerves. Their innocent flirting quickly turns things steamy between them, but after a night of incredible sex, Ian is surprised to awake to a note thanking him and leaving him $20 for cab fare. He isn't sure if he wants to find her again to kiss her some more or yell at her for treating him like a whore.
Just when he's trying to figure out his next move, he couldn't be more shocked to find his mystery woman is his little sister's best friend, and once again he finds himself calming just being with her. There is no way he is going to let her get away from him before he explores these feelings some more.
But one lesson Roxanne learned from her mother, and from the countless men in her life since then, was that the feeling of falling in love is wonderful, but it never lasts and men will always walk away and leave you and like any addictive drug, the crash isn't worth the high. Roxanne would rather just enjoy a one night stand then ever face the false high the falling in love would bring.
Ian knows that Roxy feels the same intense attraction for him so he can't understand why Roxanne always seems to be running away from him. Ian's time in the army has taught him patience and determination, and he will need to use all his cunning and skill, because he is not going to let Roxanne's fears keep them apart.
THOUGHTS:
The audiobook was well narrated by Kasha Kensington. She had a very natural flow to her narration. She spoke clearly without overly enunciating or being stiff. Her speaking voice was pleasant and her dialog voices were distinctive for the various characters. This was one of the better narrations that I listened to lately. At only 5 1/2 hours, it was a quick story.
The story itself was enjoyable, but nothing spectacular. I like Ian, but got annoyed by Roxy's continued, "I can't date him." "I'm not falling for that again." She gives details on prior relationships, so obviously it is not that she only has one night stands. She has tried a relationship. So here is a man who she not only has strong chemistry with, but who she notes that he is better than most of the men she's dated, but him she's giving a hard time to.
And in a very typical plot point, just when Roxy is finally willing to give them a chance, Ian has a panic attack and decides she doesn't need a man with all his issues and he breaks up with her. Now, it's his turn to be annoying since you could have given your relationship and your recovery a chance before deciding you have too much baggage.
I'd break up with him simply because his mother is awful. Someone needs to give her a kick in the pants. There's keeping the peace, and then there's letting someone dictate your life. Ugh!
Although the story was entertaining, the storyline was very typical and Roxy held onto her "no dating" policy long after we were thinking "just give the guy a chance." This was part of a series, and there is definitely a story with Ian's friend who is also just back from the war, but we'll see if his story pans out better.
Received a review copy from Audiobook Jukebox in exchange for an honest review.
---
Favorite Scene:
He was a stranger. She would never see him again after tonight. With that knowledge freeing up the restraint, she leaned into him and laid her hand on his thigh. Just high enough that his entire body went still. Pretending she didn't notice she said, "So, what do you do for fun?"
"Fun?"
"Yeah. You know that thing you do when you're not working. Gardening? Zumba? Underwater basket weaving? You name it. Everyone has something."
"I haven't really had a lot of time for hobbies." When she just stared, more than willing to wait him out, he sighed, "I spend a lot of time in the gym."
Yeah, she could tell. There didn't seem to be a soft spot on his body, though she was tempted to do a more thorough examination just to satisfy her curiosity.
"Do you wear spandex, grunt a lot and slap a lot of guys asses while you mutter encouragement."
"Actually, I usually just run until my thoughts stop circling."
There is was again, that hint of something darker. "Is that the only thing that helps?"
"I've been told that I should try meditating, but all the time sitting still and being alone with my thoughts…" He shook his head, "I like to sweat out my stress, and this helps." He motioned between them.
Whoa. So she hadn't only been imagining how he seemed to relax the more he touched her. Caution warned her to keep things light and flirty. "I bet you say that to all the pretty girls."
"Only you."
His low voice, paired with the smoldering way he was looking at her, damn near had Roxanne fanning herself. She scrambled for something to say that didn't involve sex and now. What were they talking about? Oh right, exercise.
"I get it. The whole sweating it out thing. I do yoga. Concentrating on breathing and holding and perfecting the poses actually takes a lot more effort than you'd think. It's my happy place."
"Yeah, I've heard it's great for that. I'm not exactly a yoga guy though."
"What? You mean you don't want to work on your flexibility? I'm so disappointed."
His grin was quick and wicked, "The advantage to being the guy is that I don't have to be as flexible as my partner does."
Related Posts