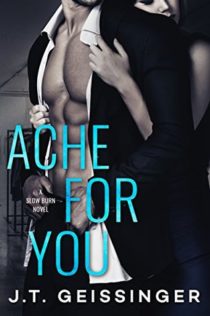 Ache for You
by
J.T. Geissinger

Series:
Slow Burn #3
Published by
Montlake Romance
on November 6, 2018
Genres:
Contemporary
Pages:
362
Format:
eBook



I received this book for free from in exchange for an honest review. This does not affect my opinion of the book or the content of my review.
This post contains affiliate links you can use to purchase the book. If you buy the book using that link, I will receive a small commission from the sale.
In this fairy tale with a sexy twist, she's a penniless San Francisco seamstress. He's the king of Italian couture. Who's got designs on whom?

Boutique owner Kimber DiSanto has seen better days. She's been dumped at the altar by Prince Charmless, her business went up in flames (literally), and now she's stuck in Florence, Italy, with an ice-queen stepmother, to try to save her late father's failing dress shop. Only one thing could make it worse: another man in her life. The arrogant Italian fashion tycoon offering to buy her father's shop is as rich as he is sexy, and their attraction is off the charts. But Kimber's not about to get burned again.

Women don't say no to Matteo Moretti—and certainly not with Kimber's stinging precision. With all the heat and fury sparking between them, Matteo can't resist baiting the gorgeous American. His plan? Win her over one scorching kiss at a time.

Kimber tells herself it's all just a game. That her broken heart isn't in danger, and that Matteo's touch does not make her Lady Land dance with joy. But sometimes it takes the fieriest of enemies to turn a fantasy into a real-life romance.
---
DNF. Absolutely disappointing. There was so many issues with the story plot which was bad enough but I just got tired of the whole thing.
Warning: A little spoilery and a little ranty.
I can't tell you how disappointed I was with this book. I actually stalked this book. I enjoyed Melt For You (and have re-read it several times because I love Cam and Joellen) and I also enjoyed Burn for You. I was so looking forward to this book so much that I stalked it. I looked for it over and over again on Netgalley. I couldn't wait until I could get my hands on a copy and then finally have a chance to read it. Then I couldn't finish it.   I tried really hard but it was too much like this…
The story is that Kimber Di Santo, a seamstress and designer in San Francisco, is left at the altar by her boyfriend, the son of a politian. It seemed everyone but Kimber knew he was marrying her to get to his Trust fund but even for several millions dollars he couldn't suck it up and marry the pretty, sweet Kimber who was so in love with him that she was blinded to all his faults.
Shortly after the wedding, after locking herself in her apartment to keep away from the paparazzi, Kimber receives a note by FedEx from her father's best friend that her father is dying at his home in Italy.
She gets to the airport and after an arduous trip to the airport (aren't they all) ends up waiting in American Express lounge where Matteo sees her and starts to flirt. She accuses him of being paparazzo trying to get a story from her. Rudeness ensues. Then Kimber is told she is bumped from the flight because they overbooked. She tells the girl at the counter that her father is dying and she needs to get on the flight. Airline employee is unimpressed by Kimber's dying father and meltdown ensues but Matteo happens to be on the same flight and offers his ticket to her. Since his ticket is first class and costs about $10,000, he offers it to Kimber in exchange for her sketchbook which he saw her doodling in earlier at the lounge because he "likes art."
Kimber gets to see her father before he dies but after he passes, she  learns that her father remarried to a woman who obviously wasn't by his side as he died. When she finally gets to the house she meets the stepmother and eventually her son — Matteo. Really?
Kimber's father was also a talented designer but not a good businessman. Kimber is told she should sell the business and her stepmother has a perfect buyer — her son, Matteo. Matteo whose new spring line will be created from Kimber's sketchbook. Matteo tells Kimber she knows nothing of Italian fashion and would never be able to compete here in Italy and she should just sell him the business and go home.
Matteo seems to be acting rude toward Kimber because anger is better than sadness, right? The sexual tension between these two is thick but every time Kimber's uterus takes over her brain (yes, she says that) she then remembers what has happened between them and asks Matteo "You still using my designs?" He says, "Yes." She says, "Fuck you!"
Halfway through the story, they are ready to hop into bed when Kimber again remembers he is using her designs and gives the FU. When Matteo offers to give her back her sketchbook, one page at a time for each passionate kiss, she gets offended as she should for that kind of dick move, and at this point, I tapped out.   And it should be noted that his people are gearing up for Italian Fashion week in two weeks time so I am guessing he can give back pages, but those designs are already being fitted on models at this point.
Let's stop here and rant but where, oh where to start.
#1: Her beloved father did not attend her wedding because of his fear of flying. She never suggested that they have the wedding in Italy so her beloved father could be part of her important day? Kimber hasn't seen her beloved father in five years. He never met her future husband. Her beloved father sent her to America to live with an aunt when she was three years old and Kimber grew up and went to school here while her father lived on a giant estate in Italy. Um, how beloved can this relationship be if they rarely see each other and only talked to each other occasionally on the phone. Her father doesn't keep any photos around of Kimber now since she looks so much like her mother (which is why Matteo didn't know who she was at the airport). How come none of the people close to her father was aware weeks later that she did not get married. They kept asking where the husband was, and her father never told Kimber he remarried because he didn't want to steal her thunder. I am not feeling the belove.  I am barely feeling a relationship between these two.
#2: A big deal is made of Kimber not speaking Italian and not understanding what is being said around her. Her parents are both Italian. She was born in Italy. After her mother died, she was sent to live with an aunt in America when she was three.  I am not even getting in to questions like citizenship and how she went to school and stayed in America if she was Italian of Italian parents. But Kimber explains that her father always wanted her to go to school in America and didn't want her to feel like a foreigner with an accent so he never taught her or spoke Italian to her…and no one else in her first three years of life in Italy ever spoke Italian to her? Her aunt didn't speak Italian to her when she got to America? It was stupid. I would have believed that she learned both English and Italian but hadn't spoken Italian since she was three and forgot everything vs. never learned it.
#3: Kimber goes to her father's store filled with his beautiful designs and finds that everything is priced too low. She states her father was a talented designer but a bad businessman. Kimber was a talented designer and apparently went to school and college in America. Why would Kimber not go home to live in her father's big estate in Italy (the Fashion capital of the world according to Matteo) and help build his business with her designs and business sense in the heart of the fashion world rather than starting from scratch in San Francisco and leave her beloved father to die in near poverty because he couldn't run the business properly.
#4: Kimber gets arbitrarily booted off the plane, but the airline people make no attempt to find someone else willing to wait and allow Kimber to get on the plane after she says her father is dying and she has to get there asap. They give her "not my problem, bitch" attitude. Matteo volunteered his ticket to Kimber after he hears her say that her father is dying (still haven't connected any dots, but she never told him her name).  She was rude to him in the lounge but he is being a nice guy. Now, I have never flown first class, but I am guessing if you bought a $10,000 ticket, they don't oversell the flight and you don't get booted off the plane. That is for the steerage passengers. So Matteo had to know that he was offering his first class ticket to Kimber that it was in exchange for her economy ticket. Yet, when the counter person indicates that he is giving her a $10,000 ticket and she balks that she can't pay him back, he suggests that she gives him her sketchbook in exchange, never indicating that he is a competing designer. Let's forget that obviously Matteo isn't in any rush to get to his dying stepfather's side and can catch a flight the next day. I would love someone's expertise on this, but to me giving him her sketchbook doesn't equate to giving him license to use her designs. He could use them anyway and when she threatens to go public with the fact that he is using her designs for his show, he asks if she really wants publicity after the wedding scandal and she balks. I would say sure, I was down on my luck, my father was dying and the rich bastard took advantage of my helplessness and used my hard work for his own gain, that would get her tons of sympathy with the public.
He also tells her she should sell her father's business to him because she can't compete with the Italian designers…but he is stealing her designs for his show…and she never seems to slap him back with this fact.
#5: This is supposed to be a Cinderella story but I don't think the evil stepmother was as bad as she was supposed to be. She seemed more standoffish and it was Kimber that was more shrewish and her emotions kept flipping from depressed to ragey.
Kimber had a handsome, yet gay best friend who I was liking. She had another female best friend but she was only mentioned as having big boobs and never really played more of a part. The ex-fiance shows up after Kimber's father's funeral to get her to give him another chance, admitting that he is secretly gay (yes, that is why I was always a sexist jerk to hide the fact that I was gay) and he freaked out.  But–Hey, I rethought everything and they could get married and have a great life together with all his trust fund now that she knows they don't have to have sex anymore since it was distasteful to him. Really? It would be bad enough to be left at the altar when just your friends and family to witness that, but to have that splashed all over the internet, and he flew to Italy thinking she would overlook all that and marry him anyway? Was that just a meet Matteo and make him jealous thing because it was nonsensical.
I really wanted to like this book and I kept going because I could see she was trying to make the chemistry between Matteo and Kimber sizzle, but it was just too painful to keep reading.
Related Posts