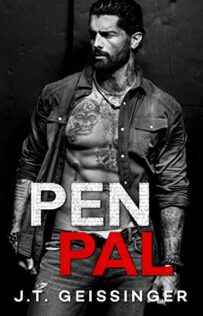 Pen Pal
by
J.T. Geissinger

Published by
Self Published
on August 16, 2022
Genres:
Contemporary
Pages:
320
Format:
eBook
Source:
Amazon


This post contains affiliate links you can use to purchase the book. If you buy the book using that link, I will receive a small commission from the sale.
The #1 international and Amazon Charts bestselling novel
The first letter arrived the day my husband was buried. It was postmarked from the state penitentiary, and contained a single sentence:
I'll wait forever if I have to.
It was signed by Dante, a man I didn't know.
Out of simple curiosity, I wrote back to ask him what exactly he was waiting for. His reply?
You.
I told the mystery man he had the wrong girl. He said he didn't. I said we'd never met, but he said I was wrong.
We went back and forth, exchanging letters every week that grew increasingly more intimate. Then one day, the letters stopped. When I found out why, it was already too late.
Dante was at my doorstep.
And nothing on earth could have prepared me for what happened next.
~~~~~~~~~~~~~~~~~~~~~~~~~~~
WARNING:
This novel contains content intended for a mature audience only. Due to explicit language, graphic sex, detailed depictions of death and grief, intense power play dynamics, and other possible triggers, it is not suitable for sensitive readers. (Full list of TWs on author's website.)
---
I am going to agree with everyone else's reviews and say don't read anything about this story. Go in blind.
The book description is a bit confusing as you start the story but of course, everything comes together at the end.   This is available under Kindle Unlimited.
People are posting trigger warning so I will note them here. There is graphic sex involving dominance, some question of domestic abuse and concern about the mental health of the main character, is she crazy or is her house haunted or is it something more sinister?  It is as much suspense and mystery as romance but it will definitely keep you guessing.
I am hit and miss with  this author.  Melt For You is one of my favorite books but there are others that she is written that I just couldn't stand to even finish.   I am not much for the heavy-handed spankings or the dominance portions, but this story did keep my guessing, trying to figure out what was happening to Kayla and where Dante fit into this story.
I am hiding this review. Don't spoil it!
View Spoiler »
As we begin, Kayla is suffering depression after her husband dies. Oddly, Kayla finds an envelope addressed to her on her kitchen table from a prison inmate named Dante telling her simply that he will wait for her.

Kayla and her husband had purchased an older house and have spend the last few years fixing it up little by little, but now Kayla is left alone with a leaking roof and randomly flickering lights. She has an electrician come in who tells her that there is no issues with her electricity but he recommends his psychiatrist to help with her depression. Kayla believes his issue is more self-medication and passes on his recommendation. The next knock on her door is a handsome but dangerous looking man named Aiden. Aiden agrees to fix her roof, but Kayla isn't sure she trusts him so she sends him away.

Kayla tries attending a group grief  session but heads out the bar across the street instead where she finds Aiden.  They start up  a conversation but Kayla again isn't sure of his brash attempt to take her home but he let's her know that his apartment is above the bar and she can stop in any time.

Later that night Kayla fears that someone has broken into her house, she runs out into the night straight to Aiden's house. This starts several weeks of intense hook ups which involved lots of spankings and calling Aiden master.

Aiden is pretty intense about the relationship. Kayla is still very confused about her feelings toward Aiden and her husband's recent loss.

Meanwhile, strange things are happening around the house. We have the flickering lights. We have a strange man watching her from the tree line. There is even a strange kid that Kayla sees a few times. Additionally, a buffalo nickel that was her husband's good luck charm keeps popping up, as well as more letters from the mysterious Dante.

I am not giving you much more in case you are trying to cheat but there are several people giving it away on Goodreads so you can head over there for your real spoilers.  Boo!

There are moments where it was very confusing where the author was going with the story but it all makes sense in the end.

« Hide Spoiler
Related Posts