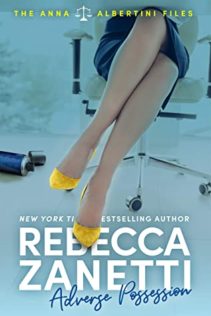 Adverse Possession (The Anna Albertini Files, #3)
by
Rebecca Zanetti

Series:
The Anna Albertini Files #3
Published by
RAZ INK LLC
on March 23, 2021
Genres:
Contemporary
,
Crime Drama
Format:
eBook



I received this book for free from in exchange for an honest review. This does not affect my opinion of the book or the content of my review.
This post contains affiliate links you can use to purchase the book. If you buy the book using that link, I will receive a small commission from the sale.
The plural form of Nemesis is Nemeses
Anna Albertini never thought she'd have to look up the plural form of nemesis. In fact, she never thought she'd have one, much less three. But as she and her new partner try to make a go of their fledgling law firm, enemies come from every direction.
First, there's a newspaper reporter trying to make a name for herself by dogging Anna's every move. Second, there's a lawyer on the opposite side of every case who just doesn't like Anna. And third, there's Aiden Devlin's ex-girlfriend, who decides to descend upon the sleeping Idaho town like a bird of prey. It's too bad she's discovered dead…after finding herself on the wrong end of a potato gun, putting Anna top of the suspect list.
Anna deals with every day as it arrives while juggling her developing relationship with Aiden, trying to pay her rent by finding at least one client who pays, and finally by partnering with her Nonna Albertini in the world's most chaotic plan to match-make her sister with the Elk County's prosecuting attorney, Nick Basanelli. It's a good thing Anna has learned to thrive in chaos.
---
Adverse Possession puts me in a very awkward position.  Now when I am asked which is my favorite Rebecca Zanetti series, how do I decide between Deep Ops and Anna Albertini?
Honestly, with the first book in this series, Disorderly Conduct, I liked the characters introduced and I was interested in where the story arc was going but I wasn't desperate to get my hands on the next book. With the release of Bailed Out, I was becoming pretty invested in the characters and how everything was unfolding. After reading Adverse Possession, I am checking release schedules to find out when I can get my hands on the next book.
I was trying to write this review to discuss this book without hitting too many spoilers but it is impossible so instead I am going to discuss what I like about the series.
In Adverse Possession, Anna Albertini has left the prosecutor's office and is opening up her own law firm with Clark Bunne.   Clark is the perfect straight man to Anna's frazzled chaos. Changing sides to the defense definitely opens up the possibilities for more interesting cases while going up against her former boss Nick Basanelli and Detective Grant Pierce, who Anna has already built relationships with even if they aren't always positive interactions.  These relationships will be especially important when Anna finds a body on her front porch and winds up as the prime suspect.   They know that Anna can't seem to keep out of trouble but even they would find it impossible to  believe Anna is cold-blooded killer.
"Has there been a detective assigned to this case yet?" I held my breath.
"Yeah. Detective Pierce is on it." Bud said. "Somehow he always gets stuck with your situations." Then he drew himself up and looked tall as well as beefy. "I didn't mean it like that."
Geez. Get a guy shot once, and he never lets it go.
Anna is officially dating Aiden Devlin, who was her hero from childhood.   Only a few years older, but it was Aiden who rescued Anna when she as abducted as a child.  Their mutual attraction when reunited at the beginning of the series was palpable and just like Anna, I was doing everything I could to make Aiden, the leader of the local motorcycle club known to running drugs and guns,  a "good guy."   And while their romantic relationship is still pretty new, they are both very focused on it.   In the first two stories, Aiden kept a lot of secrets from Anna, especially since she worked for the prosecutor's office.  I liked that Aiden has learned his lesson and won't keep Anna in the dark, no matter how much he wants to protect her from the truth, and we don't have any of those "misunderstandings" which ruin a perfectly wonderful romance if only someone has just said something.
"I've learned the hard way that when I try to protect Ann at arm's length, I end up getting shot. Or she gets something blown up. Whatever is going on, she know the full story. Period."
Even though Aiden won't keep secrets from Anna, he continues to try his best to protect Anna physically, but Anna still manages to find herself in the middle of trouble. Especially after everything that happened in Bailed Out, I was starting to wonder if Anna needs to wear a helmet whenever she leaves her house since she ends up in the hospital so often with a concussion and I had to laugh when not half a page later, Anna was wondering that same thing herself.
"Maybe I should start wearing a helmet all the time."
"Believe me, I've though about that."
We also get to know Anna's very close family and  with family barbeques every Sunday it gives us an excuse to spend time with them often.   In this story, we meet cousin Quint, who will have his own novella later this year.   Anna also spends a lot of time with her two older sisters: Tessa and Donna.  In the prior stories, Anna mentioned to one of her grandmothers that she noticed an attraction between  her sister, Tessa, and her (former) boss Nick Basanelli.   Her grandmothers are now determined to play matchmaker and set up Tessa and Nick and have even brought Nick's grandmother into the plan.
"I'm tired of you taking so long.  She's single, you're single, and you're obviously attracted to each other."
Nonna nodded vigorously.  "Anna told us you two kind of flirted, so why not?"
Nick swung his gaze to me. "You did what?" 
I sucked in air. Saying anything like that to our grandmothers was akin to waving a red flag at an angry bull.  "It wasn't like that." Oh, it was exactly like that.
There are so many things to love about the Anna Albertini series and with Anna's new job, the series is open to all kinds of exciting possibilities for storylines.   Now only six more months to wait until the September release of Santa's Subpoena.
---
Favorite Scene:
I blinked.
He looked at the three of us. "Where's my grandmother?"
My mouth dropped open. "Huh?"
He rubbed a hand through his hair and looked out into the hallway. "My Grams called and said something about the hospital and to get here right away. Where is she?"
His grandmother lived in Silverville, and it had a hospital there. What was she doing in town? "Huh?" I said again.
Nick pinned me with a frantic gaze. "She said she was with you and that you were both in the hospital."
Tessa cut here eyes to me. "She wouldn't have."
Donna covered her mouth with her hand. "They would have." The sound came out muffled.
"What is going on?" Nick roared.
I winced. "Hey. No shouting. Headache here." Before he could yell again, I held up a hand. "Call your grandmother. She wasn't with me tonight, and I have no idea what you're talking about." There was a chance she was in the hospital, but he should at least call her first.
He whipped his phone from his back pocket and pressed a button. I could hear it ring, even though he held the phone to his ear.
"Hello?" Gerty asked.
Nick sagged against the wall. "Grams? Are you okay?" He set the phone on speaker. That was decent of him, considering none of this made sense.
"Of course I'm okay," Gerty said. "Did you get to the hospital?"
Nick frowned. "Yes. I'm here. Where are you?"
"I'm at home, silly. Did you check on Anna for Elda? She's so worried, but there's a summer storm over the pass, and I didn't want them to drive over. I said you'd check on her," Gerty said cheerfully.
Nick's chin lowered. "Grams? You said you were in the hospital with Anna."
Gerty chuckled. "No, I didn't. I said I was worried and wished I could be there with Anna. You really must start listening better, sweetheart. How are you ever going to be governor if you don't listen to people?"
"Grams–"
"How is Anna?" she interrupted.
Nick swung his gaze to me, looking more bewildered than he had when he'd run inside.
"I'm fine, Gerty," I called out, pressing a hand to my forehead. "Just a little headache. Please tell Nonna not to worry."
"Good. I'll call her right now. Bye." Gerty knew when to get out of a conversation.
Nick stuck the phone in his front pocket. "I cannot believe this."
Tessa blushed a bright red. Like cherry tomato-red and not the lovelier damask shade she often blushed.
Nick swung his gaze to her. "We should just give in right now. I can call a magistrate and have us married by morning. What do you say? We can give them their first great-grandchild by next spring."
Tessa blinked. I swear, she blushed even more. "You're not my type," she retorted.
Nick paused. He turned his body to face her completely. "Excuse me?"
Donna set the magazine down to watch them, and I have to admit, I gazed on totally enthralled.
"Breathe," Donna whispered from the corner of her mouth. "You have a head injury."
Oh. I was holding my breath. In and out. That's right. I watched rapturously, but I remembered to breathe. "Thanks," I whispered.
Donna leaned forward.
Tessa smiled at Nick, and it was the slightly smart-ass–totally in control–sexy smile that I'd never been able to duplicate. "I said that you're not my type, Basanelli. Our grandmothers are adorable, but they'll move on to another project. You're tough enough to wait this out."
"Oh my." Donna's lips formed the words without sound, and I caught it out of the corner of my eye. The other two people in the room were obvious to us.
Nick cocked his head to the side. I'd seen him make that move in court and it was always like something had intrigued and pissed him off, and he'd accepted the challenge. Then he usually went and won the case. "Oh, baby. Waiting things out has never been my strong suit."
I blindly reached out and grabbed Donna's hand. She held on, tight.
Tessa rolled her eyes. As her sister, I was pretty proud of her holding her ground. As an attorney who knew Nick, I wanted to wince a little bit. Then she spoke. "Not a chance. We do have a cousin who's looking to mate if you really need that kid in time for an election."
"Daaaaammmnnn," Donna whispered.
"She…did…not," I whispered back.
Tessa kept her gaze on Nick. "We can hear you two dorks."
Nick's phone buzzed and he pulled it out to read the screen. "I have a hearing in an hour." Then he looked at me. "Are you sure you're okay?"
I could only nod.
He smiled at Donna. Then he looked at Tessa again. "We're not done with this conversation, Contessa Albertini. I'll catch up with you soon." He walked out the door.
Donna turned wide eyes on me, and I pressed my lips together.
"Wow," Donna said.
I wanted to clap but thought I should keep it cool.
Related Posts