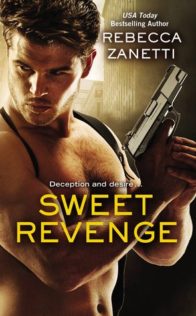 Sweet Revenge (Sin Brothers, #2)
by
Rebecca Zanetti

Series:
Sin Brothers #2
Published by
Forever
on December 3rd 2013
Genres:
Action
,
Military
Pages:
384
Format:
eBook



I received this book for free from in exchange for an honest review. This does not affect my opinion of the book or the content of my review.
This post contains affiliate links you can use to purchase the book. If you buy the book using that link, I will receive a small commission from the sale.
---
Matt Dean was born to fight…and kill. A member of a secret black-ops military unit, he and his brothers were genetically engineered by the government to be the perfect soldiers with an expiration date. Now, with time running out, he's gone rogue in a relentless quest for the one person who can save them. His mission leads him to Charmed, Idaho…and to a beautiful woman with eyes like emeralds and a body made for pleasure.

Laney Jacobs knows the mysterious, handsome stranger is trouble from the moment he walks into her bar, looking for a job. She's spent years running from her own past—the last thing she needs is a romantic entanglement. But Matt's strong arms offer her protection, and his gentle touch promises passion unlike anything she's ever known. As lethal forces surround them, revealing explosive secrets about Matt's past and putting everything—and everyone—he holds dear in danger, can he save them all before time runs out?
---
Matt Dean and his brothers, Nathan, Shane and Jory, were genetically engineered to be the ultimate soldiers. Unlike the other "brothers" in the experiment, these brothers fought for each other and to protect each other. But their time is running out. They escaped the facility five years ago and have kept themselves out of the Commander's reach, but each brother was implanted with a chip which, if not coded every five years, will detonate and snap their spines. With only weeks left to live, the brothers are working non-stop following leads and tracking down sources trying to deactivate the chips.
Matt is now in Charmed, Idaho, looking for one of the doctors who implanted the chip. The brothers aren't the only ones who went under after escaping the facility. Except the doctor has made a mistake and left a trail leading them to Charmed. They have narrow down the doctor to one of three women and Matt needs to figure out which one of them is also hiding from the Commander.
He arrives in Charmed wounded, and is amazed by the kindness shown by the local bar owner, Laney. When he sees a help wanted sign in her window, he knows he has found the perfect cover to stick around and uncover his missing doctor. He only has a window of two weeks to track her down and he doesn't have time to waste, but he can't help being drawn to Laney. She is trouble in more ways than one and when someone starts stalking her, Matt knows he can't just walk away and leave her defenseless.
Time is running out for Matt and his brothers so now isn't the time to fall in love but Matt just can't resist the feisty Laney and as danger surrounds them, their time might have just have run out.
THOUGHTS:
I loved it!!  I love Rebecca Zanetti and this series is just as exciting as her Dark Protector series. Matt is the oldest of the brothers and as such, he has appointed himself as their father-figure, their protector, and their trainer. He made sure the brothers were never split up as children going up against the ruthless Commander even at the age of 12. He has spent his life trying to keep his brothers alive and anytime they are hurt, he takes it as a personal failure. Falling for Laney and trying to keep her safe is the first time in his life that someone else is as important as his brothers and it is overwhelming to realize how important she is to him.  Matt's the kind of guy you want to be the center of his focus.
Laney has never had anyone to count on and she is torn between feeling annoyed at Matt's rules and restrictions and being overwhelmed by the fact that someone cares enough to stand by her. Laney is hiding many secrets and for a man trained to detect lies and seduce secrets them out of a woman, Matt definitely has his work cut out for him since Laney isn't willing to share those secrets no matter how sexy the temptation. I loved that she frustrated him by rolling her eyes at him ever time he gave her an order. Matt is used to his brothers following his orders. No one has ever sassed him before.
As always, Rebecca drops a bomb at the end of the story to make you frantic for the next installment. Added to that is the fact that their youngest brother Jory was captured and killed but that doubts have now surfaced that the video of his death was faked or he somehow survived being shot. After what happened to Jace in her Dark Protector series, I have no doubt we will find Jory alive, but probably not without some mental damage after being under the control of the Commander and his psycho doctor.
I am looking forward to seeing what happens next in Nathan's story.
Received an ARC from the publisher in exchange for an honest review.
---
Favorite Scene:
Of course, the family practitioner was the one woman who wasn't sitting around the table. He'd paid special attention to the coroner and the veterinarian's assistant, and the vet's assistant was currently checking him out behind the wire-rimmed glasses. Bright eyes showed intelligence and an interesting wariness. He shot her a smile.
Her cheeks pinkened, and she half turned to talk to the woman on her right.
Laney, sitting across from the vet, instantly shot a look his way, delicate eyebrows arched. He met her stare evenly, pleased when her high cheekbones filled with color. The fact that she kept his gaze with challenge in her eyes, even while blushing, pleased him even more. The polite thing to do would be to grant her a reprieve and look away.
Too bad he wasn't a polite guy.
Laney should learn not the challenge him.
Her chair scraped back, and she muttered something to her friends and when calmly maneuvered around tables toward him, hips swaying…keeping his gaze the entire time. His shoulders went back, and his blood started to hum. Who was this woman so full of surprises?
She reached him, her eyes sparking in irritation. "Would you please stop turning the most successful businesswomen in town into simpering morons?" she whispered.
He blinked. Damn it. He focused down a foot to her irritated face. "What in the world are you talking about?"
Her body remained relaxed, but he could hear her heart thumping, and her expression was quickly transforming into anger. She kept her face angled away from the women at the table. "Stop smiling, stop flirting, and do your job."
He lowered his face just enough to make her eyes widen. "You sound jealous."
Ah. There was the fury. "I'm not, you jackass. Keep the charm in your pants, and stop flirting."
Okay. He may have poured on the charm with the two women he needed to investigate, but he'd been trained in subtlety and covert action. "Why are you suddenly interested in what's in my pants?"
Laney's gasp heated him in all sorts of places. "If I have to tell you again to knock it off, you're fired."
The little spitfire had better be careful who she threatened. "So you want me unavailable to those women?"
Satisfaction filled her pretty face. "Exactly."
"Okay." He grasped her hip and covered her mouth with his. The kiss was hard, quick, and enough of a taste to make him crave more. He lifted away to gauge the shock on her face. "There. Now they think I'm taken."
The air vibrated as her hand closed into a fist, and he shook his head. "You don't want to hit me."
"Why not?" she ground out.
For the first time, he let his mask slip so she could see the predator the government had created. "The second you make contact, I'll have you on that bar, held tight, my cock pressed between your legs, my lips on yours until you beg for more. Even fully clothed, I may make you come—and I won't care who's watching."
Her sexy mouth dropped open. Surprise and fury lit her eyes…along with desire. She tried to mask it, but he was an expert at reading people, and the woman was intrigued. "You egomaniac. I'm not remotely interested," she whispered.
Surprising anger shot through him. "You want to threaten me? That's fine. Challenge me? No problem." He stepped even closer into her space. "But don't you ever lie to me. Ever, Laney."
She pressed her hands against her hips, confusion blanketing her features. "We just met."
The woman was correct. He had no right to demand a damn thing from her. For all she knew, he was a bad guy. But this once and with this woman, against all rational training and thought, he truly didn't give a shit. He didn't understand it, sure as hell couldn't explain it. so he went with his gut. "Yeah, we did just meet. Those are the ground rules. Period." He lowered his chin and waited for her to challenge him, anticipation lighting his veins.
Related Posts