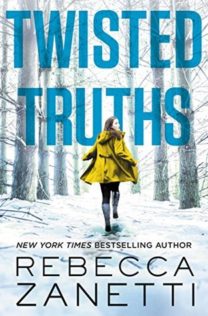 Twisted Truths (Blood Brothers #3)
by
Rebecca Zanetti

Series:
Blood Brothers #3
Published by
Forever
on November 14th 2017
Genres:
Action
,
Contemporary
Pages:
432
Format:
eBook



I received this book for free from in exchange for an honest review. This does not affect my opinion of the book or the content of my review.
This post contains affiliate links you can use to purchase the book. If you buy the book using that link, I will receive a small commission from the sale.
Full of intrigue and turns you won't see coming, TWISTED TRUTHS is New York Times bestselling author Rebecca Zanetti at her suspenseful best.

**THE PRINT EDITION CONTAINS EXTRA BONUS SCENES NOT AVAILABLE ANYWHERE ELSE!




You can't escape the past . . .

Noni is desperate. Her infant niece has been kidnapped, and the only person who can save her is a private detective with too many secrets to count--and more enemies than he can name. A man who walked away from Noni without any warning a year ago, a man who broke her heart. But with Talia's life on the line, Noni needs his help now more than ever--and this time, she won't take no for an answer . . .

The moment Denver Jones sees Noni, the memories come rushing back. The fire in her eyes. The determination in her voice. The danger of having her in his life. Denver had to push her away once, but now with vicious criminals threatening Noni and her niece, he'll do whatever it takes to protect them. But enemies from his past are circling, and they'll use anything--and anyone--to get to Denver.

With twists and turns that will blow you away, TWISTED TRUTHS is sexy, action-packed suspense at its very best from New York Times bestselling author Rebecca Zanetti.
---





A spectacular end to a trilogy which will leave you both delighted and satisfied.
Poor Denver.  For the first two books of the trilogy we have seen the result of his leaving behind Noni Yuka, who he fell hard for on his last mission in Alaska.  Denver might have been playing a part, but his feelings weren't part of the plan and Denver left Noni behind for her own safety.  Since his return, he has been drinking heavily to get past the pain and loss of her.  While he didn't begrudge his brothers finding love and keeping their women close, you could almost feel a hint of judgment that Denver left Noni to keep her safe, so why were his brother's taking the risk with the women they loved.
When Noni tries to find Denver by posting a picture of the two of them all over the internet and asking him to contact her, Denver knows he won't be the only one who sees it.  Denver knows that Noni has no idea she has just painted a giant target on her head.  Denver has to get to Noni first and find out why she is desperately trying to find him before someone else reaches her first and uses her as bait against Denver and his brothers.
Denver and his brothers have been on the run since they were young.  Ryder, Heath and Denver are each orphans who found each other while at a boys home which was run by a man with a heavy hand and enjoyed physically abusing the boys. When the man took Denver and another boy aside for a "talking to," Ryder and Heath knew they would never see their blood brother again if they didn't intervene.  They were too late to save the other boy, but Ryder and Heath managed to kill the man, save Denver and they all escaped after burning down the building.  The bigger problem was that the man's brother was the local sheriff, who also liked to abuse the boys.  Denver, Ryder and Heath were forced to keep under the radar all these years while the Sheriff hunted them.
What has helped them the most was the fact that the sheriff wanted revenge against them, more than justice, so he never sent out a BOLO.  He has been stalking them on his own.  At least until recently.  The sheriff is tired of always being a step behind and the brothers slipping from his grasp.  Now he is starting nationwide manhunt for the men.
The brothers didn't end up together by a happy accident either.  Dr. Madison was working with the General in the Sin Brothers trilogy to create supersoldiers, but Heath, Denver and Ryder were her own personal experiment.  She made certain to keep them together to see if they too would bond like the Grey brothers in the prior series.  Dr. Madison is using her considerable resources to find the brothers as well, but her plans might be more awful than the bloody death promised them by the Sheriff.  Madison wants to continue her experimentations and her work creating supersoldiers using Ryder, Heath and Denver's DNA, and their willing participation is not required.
The Sheriff and Dr. Madison are working together and they are closing in on the brothers.   We get a very satisfying ending to the trilogy, which will also bring in help from the Dean brothers (Sin Brothers series) because you know you want it.
Also, kudos to Rebecca for making the danger feel real and also having a reasonable and believable explanation of how the Sheriff and Madison were finding the brothers.  So many of these chase stories leave me feeling unsatisfied and asking "What?  How did they find them so fast?"
This story was full of tension, excitement and sweet romance.  While you can read this as a standalone, it will then lack the satisfaction you would receive if you were reading it as the final chapter of the trilogy.
---
Favorite Scene:
Heath's gaze narrowed. "Where are you anyway?"
Denver sobered. He'd almost convinced Ryder to stay in place, and now he needed to do the same with Heath. "Noni and I are at the Snowville safe house, and I'm researching her case."
"Why did she try to find you?" Heath asked, his eyebrows rising.
Ryker shoved him aside, half taking over the view. "She's chasing a baby kidnapped by a gang and they've turned on her."
The sleep completely deserted Heath's eyes, and he snapped awake. "We can be there in twelve hours if I drive."
Ryker rolled his eyes. "I drive faster than you do."
"Do not." Heath grabbed a chair and dropped into it, setting himself shoulder to shoulder with Ryker. They each took up half the screen, morphing their faces into a parody of a clown mirror. "How is she?"
"Fine." Denver shook his head. "Would you guys back away from the camera a little so I don't go blind?"
They did so, both looking disgruntled. "Better, Whiney Butt?" Heath muttered.
"Noni is fine. Now go back to your warm beds and keep dreaming about chocolate fountains and place settings," Denver said, wanting to discuss anything in the world besides Noni. "Have either of you set a date to get hitched?"
"No." Ryker's jaw firmed. "Not until we're done with the past. With all of it."
Yet another reason Denver had to get Noni and the baby settled and safe. He had one last job to do afterward that would guarantee his brothers made it to their weddings. "Agreed."
Heath craned his neck, trying to see behind Denver. "Where is she"
Denver held on to his patience with both hands. "In bed."
Amusement filled Ryker's eyes. "Ohhhhhhh," he said, grinning.
Heath clapped him on the back. "Yeah. In bed, huh? In that house all by yourselves with no chaperones? Hmmm. Yet you're not in bed."
"Maybe she kicked him out," Ryker mock-whispered.
Heath glanced at Ry. "Didn't you buy him that book about how to please a woman?"
Ryker frowned. "I thought you bought him that?"
"Well, shit," Heath said slowly, his lips tipping up. "Nobody gave him a book. He probably sucks in bed. No wonder she won't let him in."
Ryker rubbed his jaw and focused back on Denver. "Don't worry–I can draw you a couple of diagrams. You know. With the important places circled."
Denver couldn't help but snort. Sometimes his brothers were twelve years old again. Not that they'd had a normal childhood, but still. "Would you grow up?"
Related Posts