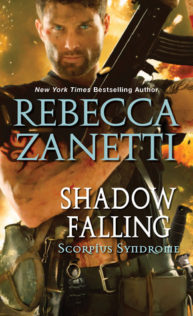 Shadow Falling (The Scorpius Syndrome, #2)
by
Rebecca Zanetti

Series:
The Scorpius Syndrome #2
Published by
Zebra
on August 30th 2016
Genres:
Dystopian
Pages:
400
Format:
eBook



I received this book for free from in exchange for an honest review. This does not affect my opinion of the book or the content of my review.
This post contains affiliate links you can use to purchase the book. If you buy the book using that link, I will receive a small commission from the sale.
---




[box style="rounded" border="full"]I haven't been this excited about a virus since Stephen King's The Stand. Rebecca Zanetti has me looking forward to the end of civilization. There has to be something wrong with that.[/box]
Surviving what comes next is the most pressing issue in the latest novel in the Scorpius Syndrome series. Most of the people still living have survived the Scorpius infection but there are still others who have never been infected. The initial wave is over and the survivors know that vitamin B can help the infected survive without losing their minds and becoming Rippers. But after several months it is becoming clear that the infected women who were pregnant both before and after infection, aren't giving birth. Where Scorpius failed to wipe out humanity, infertility might finish the job.
Finding the Bunker where Dr. Lynn Harmony believes the remaining doctors of the CDC are still fighting to find solutions to Scorpius has become top priority. Lynn has some ideas how to create a vaccination to allow people to be able to produce their own vitamin B without constant injections. Something that will help survivors and may be the only solution to help the infected carry their babies to term.  But finding the hidden Bunker might be the last thing they need to worry about.
Life after the apocalypse isn't going to be easy. With supplies scarce, the survivors of the Vanguard camp are already pretty busy fighting off the gangs and the next largest camp, the Mercs. There are also the Rippers to consider who range from wildly crazed to dangerously brilliant and the most dangerous of all is the current President of the United States. He thinks Lynn Harmony has a cure and that FBI Profiler Vivianne Wellington knows how to find the Bunker and he is mobilizing what is left of the army to get those women back from Vanguard.
But not all the dangers to the Vanguard survivors are coming from outside the camp. We have already witnessed what happens when survivors have their own personal agenda. Jax knows that Raze Shadow could be one of his best assets, but he also knows that Raze has his own agenda, one he is not planning on sharing with the rest of the group. Raze isn't the only one Jax has to worry about either.
When the dangers are coming from inside as well as outside, is there truly any safe place to be?
THOUGHTS:
I can't wait for the next book! The next book is about Tace and we will finally see inside the mind of someone effected by Scorpius.  Is Tace too far gone or is there still something of the noble man he was lurking inside?
Unlike King's The Stand, the aftermath isn't so much a war of good vs. evil. Here it is simple survival. Supplies are limited and if you have some, somebody wants them. "Safe" really isn't a word anyone can use to describe this world. Even if they can find the hidden Bunker, will that really be a solution or is it simply something that gives them hope to continue on?
While it looks like some "bad" guys might not really be as bad as we thought, others, like the President, are seriously crazy-ass dangerous. He has an army at his disposal, weapons and supplies and he just doesn't care.  You have to agree with Jax.  He is keeping what is left of the country together for now but is he simply to dangerous to let live?
There have been little notes that survivors of Scorpius sometime have some enhancements, some physical and some mental, and while the President believed Vivienne is psychic she doesn't appear, but it was on and off whether she was reading minds. The idea sort of came and went and never came when it would have been most helpful. I don't know if that was simply an idea being played with what the purpose of these notations are since no one seems to have developed ESP or other amazing paranormal abilities.  In the case of Vinnie, it may simply be an aftereffect of all the experimental CIA drugs the President pumped into her trying to break her.
There is a dangerous edge to this series which keeps it very exciting and hopefully we can keep that up. While it is hard losing favorite characters in a series, we know that safety isn't guaranteed in the apocalypse.
---
Favorite Scene:
Vivienne isn't able to censor herself since the President pumped her full of all those experimental truth drugs.
"Thanks for letting me crash here last night. I was exhausted."
She nodded and tugged the door open. "It's your place."
True, but now it felt like their place. He grabbed his gun off the top of the cupboard and tucked it into the back of his waist before following her into the hallway. They made it to the end just as Jax Mercury and Lynne Harmony stepped from the landing, plates of scrambled eggs in their hands as they headed to their apartment.
Lynne stopped and eyed Vinnie and then him. "Good morning," she said, her green eyes twinkling.
Jax's rough face, as usual, held no expression. "Sleep well?" he asked silkily.
Raze held his gaze and fought the urge to explain that nothing had happened. "Yes. Good morning." He grasped Vinnie's hand and tugged her past the couple.
"Morning." Vinnie said as she passed. "Don't worry. We didn't have sex, although he had a raging erection." She gasped and jerked free of his hold, running for the landing.
Raze continued after he, ignoring Jax's low chuckle behind him. The woman really had to learn to censor her thoughts before they entered the world.
Related Posts