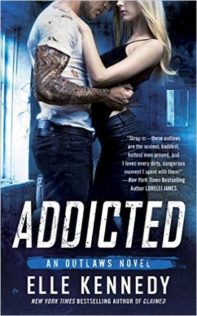 Addicted (Outlaws #2)
by
Elle Kennedy

Series:
Outlaws #2
Published by
Signet
on June 28th 2016
Genres:
Dystopian
,
Erotic
Pages:
368
Format:
eBook


I received this book for free from in exchange for an honest review. This does not affect my opinion of the book or the content of my review.
This post contains affiliate links you can use to purchase the book. If you buy the book using that link, I will receive a small commission from the sale.
---




[box style="rounded" border="full"]Elle Kennedy's again puts a titillating twist on dystopian with her Outlaws series.[/box]
I haven't been able to make up my mind whether or not I would agree with the fact that a post-apocalyptic world would be so sexually liberated.
In Addicted, Lennox and Jamie grew up in the same outlaw camp and were close. This friendship became an inseparable bond after both of their parents died. Over the years, both have been tempted to become lovers, but they each knew that sex could complicate their friendship and it was best left to fantasies.
Something changes when Lennox and Jamie go with Rylan and Pike to Reese's camp to help train some of her people to protect themselves. Reese has agreements with place with the Enforcers which has allowed her camp to grow into a town. Reese's almost homey town is allowing our outlaws to relax and for the first time actually feel safe. Time here is messing with Lennox and Jamie and their strict, no touching policy.  Both are starting to realize that the one person they want the most is right in front of them.
They start to cross the line from friends to lovers and Lennox believes they can keep that part of their lives separate from their life-long friendship but everyone else knows that believing sex won't effect their friendship is more of an illusion than feeling safe outside of the cities.
As the days go by, Lennox becomes more possessive and more protective of Jamie. When he begins to act as if Jamie can't protect herself and she starts to feel like a burden rather than a partner, it might just be the end of their relationship, but will it also be the end of their friendship?
THOUGHTS:
Elle Kennedy creates an exciting and dangerous post-apocalyptic world in her Outlaw series. There is always an element of danger and the problems arise just when everyone starts to feel safe. Safety in the outlying lands is an illusion.  Between the Enforcers who have decided to stop giving outlaws the option of moving into the cities and now just kill them and the bandits, who have no qualms taking whatever you have, be it your food, your woman or your life, there is no real safety to be had in this new world.
Elle Kennedy also proves to us that no character is safe from the dangers.  While everyone of age seems to be very free sexually, going as far as group sex in the rec center surrounded by the rest of the town, rape is still an everyday fear faced by the survivors, again with the danger coming from both Enforcers and bandits.
I haven't decided if all the sex is over-the-top erotica-style or if it is simply a matter that any day could be your last, so go ahead and join a willing group having sex on the pool table.  The only things I keep getting hung up on in the meticulous grooming, the sexy underwear and clubbing-style high heels and dresses, and the endless supply of condoms. When you are raiding houses for food and clothes, it seems a little frivolous to scrounge for club wear, especially when you have to pack up and run over and over again and fit everything you own in a backpack. I guess when you have a camp set up, you start to think "I need to wear something hot at the rec center or I won't get laid" but I have a feeling if you drop your ripped jeans, flannel shirt and flashed your plain white grannie panties, you wouldn't lose any willing takers on the free sex line, just as long as you bring your endless supply of condoms. Condoms must be the only thing still being manufactured at the end of the world since Lennox went through a case of them just with Jamie.
All kidding aside, with the exception of a few moments of "Hey, don't do that. That's not sanitary. You'll get an infection."  This is a very enjoyable series both as dystopia and as erotica.
---
Favorite Scene:
"You're an asshole, Lennox. I've always known that. I've tolerated it, laughed about it. But you went too far the other night. You don't want me? Fine. But don't play with me like that. At least pretend to give a shit about my feelings–"
He struck like a deadly snake, grabbing a hunk of her hair and yanking her backward. His hand cupped the back of her head before her skull could slam into the wall, but his grip remained stronger than steel.
"Pretend to give a shit about you?" he spat out. "Guess what, honey? You're all I care about."
Her heartbeat accelerated.
"Every move I make is directly driven by my feelings for you." His fingers tightened in her hair, his chest pressed right up against hers, a solid, immovable object. "When I make a decision, you think it's my safety I take into consideration? It's fucking yours. I don't take a goddamn breath without considering how it would affect you."
Jamie was stunned. And scared. And so turned on she couldn't breathe.
"I knew exactly who I was with." He shoved one large hand between their bodies and curled it over her. "This pussy? It was mine that night."
His big body began to shake uncontrollably. Jamie didn't know if it was from anger or lust, but it was goddamn beautiful. His eyes glittered like storm clouds releasing flashes of lightning. His pulse hammered in his throat. His hot breath incinerated her cheek.
"It's been mine for years" he hissed out, cupping her so hard she squeaked in pain. "I could've taken it whenever I damn well pleased."
The ache between her legs was so acute she nearly toppled over. Luckily there was nowhere for her to fall. Lennox's hard body was trapping her against the wall and she could feel his chest trembling as if he was struggling for control. She'd seen him like this before. It happened when he got frustrated, when he was faced with a problem he couldn't fix, an obstacle he couldn't overcome. The frustration would soon transform into rage or lust, depending on how he harnessed it. Depending on what he chose as an outlet for the aggression–his fists or his cock.
"Goddamn mine," he repeated, and in that moment she knew he'd made his choice.
His mouth crushed hers, swallowing her moan of surprise. It was a brutal kiss, violent and forceful and not at all how she'd imagined it would be when she was younger. She'd fantasized about gentle lips and a sweet tongue, but Lennox delivered something entirely different.
He took greedy pulls on her tongue not allowing her to come up for air. He suffocated her with his kiss until she was dizzy, until her lungs burned for oxygen and her frantic heartbeat was all she could hear.
Related Posts