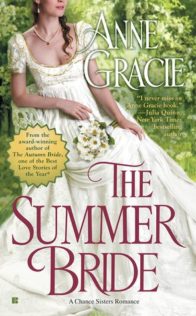 The Summer Bride (Chance Sisters #4)
by
Anne Gracie

Series:
Chance Sisters #4
Published by
Berkley
on July 5th 2016
Genres:
Historical
Pages:
320
Format:
eBook



I received this book for free from in exchange for an honest review. This does not affect my opinion of the book or the content of my review.
This post contains affiliate links you can use to purchase the book. If you buy the book using that link, I will receive a small commission from the sale.
---



[box style="rounded" border="full"]Anne Gracie saved the best for last. Daisy and Flynn overcame their humble backgrounds to fulfill their dreams and in doing so stumbled upon a love one dreamed of and one never dreamed could happen.[/box]
Tomorrow we will be talking with author Anne Gracie.
Irish-born Patrick Flynn was just a young wharf-rat when he decided he would make a killing in trade and then marry the grandest lady in all of England. Now that he was a rich man and co-owner of one of the largest shipping companies in England, it was time to find himself the finest Lady in England to be his wife. Flynn thinks he is no fool. He knows that a formerly Irish-upstart will need to buy himself a noble wife. But Flynn's dream of a high-born wife is the dream of a young boy. It takes a while for the man to realize that even marrying an aristocrat's daughter won't help him be accepted into London society. He will always be a barely tolerated upstart.  He might even be looked down upon by his own wife's family. Worse, finding just the right Lady to be his wife doesn't guaranty that she will love him, or even like him, and what man want to have an unwilling wife in his bed.
It has taken too long for common sense to find its way back to Flynn and realize that the perfect wife for him has been standing right in front of him for months now. Lady Beatrice's "niece" Daisy Chance and Patrick Flynn have been fast and easy friends since he arrived in London. They each know about having big dreams and about the hard work which is needed to attain those dreams. Flynn doesn't have to hide his work-roughened hands from Daisy. She understands that the only way out of the gutter is through hard labor. She also has a head for business.  Daisy and Flynn can easily talk for hours about topics considered gouache by the ton.
When goaded into a kiss, Flynn is quick to realize that the instant flair of passion between him and Daisy isn't something that comes around often and cements his decision to give up the idea of a high-born lady and turn his eye on the woman he wants to raise a loving family with — Daisy Chance.
But Flynn is in for a hell of fight if he wants Daisy for his wife. Daisy wants nothing more than to have her dress shop catering to all the rich ladies of the ton. She has no interest in husbands and what does she know about babies and small children. It's not like anyone ever raised one in the brothel. Worse, if Daisy were to get married, all her property would belong to her husband, including her hard-earned dress shop. Daisy has been taken advantage of before so she can't bring herself to trust that strongly ever again. She doesn't believe that Flynn would betray her like that, but…but, if he did, losing her dream after how hard she fought, that would destroy her.
If Flynn wants Daisy to be his wife, he is going to have a fight on his hands, but for the wharf-rat turned shipping magnate, the fight is half the fun.
THOUGHTS:
I am so sad to see the end of Lady Beatrice and her gels. I had been looking forward to Daisy's story for awhile now. Daisy had no interest in learning to dance or other ladylike society trappings. Daisy's only focus has been creating the beautiful gowns that the girls were wearing and someday owning her own shop where the fashionable ladies would come to her for their elegant ball gowns. Although Daisy fought against having a HEA, she deserved one most of all.
It took Flynn way too long to realize that having a proper Lady for his wife, one with the right pedigree and whose father was desperate enough to allow Flynn to marry her for his money, was not going to bring him the happiness that he remember his parents marriage to be.
I will say that I don't know that I would have been able to listen to hours of this story done correctly by a narrator especially the scenes with Flynn and Daisy between Flynn's Irish accent and Daisy's cockney accent.
This was a such an enjoyable story and if we must walk away, it was a wonderful conclusion to the Chance Sisters and Lady Beatrice.
---
Favorite Scene:
Flynn takes Daisy to one of his ships that has just docked so she can have first pick at the fabrics and items brought in.
The ladies merely glanced up at the arrival of the men, then returned to poring over fabrics. Mai-Lin held up a bolt of glittering silver-embroidered green gauze for Daisy's inspection. Daisy looked for all the world like a woman who'd wasted her time coming to the ship, that there was little of interest for her here. She fingered the delicate fabric and draped it this way and that, all the time with a pained expression, then sighed and made a careless gesture, indicating the bolt should be added to the pile on the table. "I s'pose it'll do. Are you sure you ain't got anything better to show me, Mai-Lin?"
Mai-Lin turned away to tell one of the seamen to bring forward the blue silk next and in that moment Flynn glimpsed a fleeting expression of glee on Daisy's face as she surreptitiously stroked the green gauze, then turned back, ready to be bored with indifferent blue silk.
In a dramatic movement, Mai-Lin unrolled the first few yards of shimmering silk for Daisy's perusal, saying, "You will find no finer than this anywhere in the world — see how from one angle the color is the purest turquoise, and yet when you move it, in the folds it shimmers the palest gold. It would make a superb ball dress, would it not?"
Daisy's eyes gleamed, but she managed a seen-it-all-before kind of sigh.
"But perhaps, being English, you have little experience with true Oriental quality," Mai-Lin said sweetly.
"Mai-Lin you mustn't–" McKenzie began, but Flynn laid a hand on his arm, and shook his head. "Let's leave them to it," he murmured.
"But Mai-Lin–"
"Might have just met her equal. Shall we step outside and blow a cloud?"
As the men left the day cabin, Daisy was heard to say, "I s'pose I might be able to find some use for this bit of stuff."
Flynn smiled to himself. The haggling had already begun. While the two men leaned peacefully against the rail, sampling a cigar from the selection McKenzie had acquired, the sound of battle could be heard drifting up from the day cabin. "A guinea a yard for that? Do you think I come down in the last shower, Mai-Lin?"
"Such ignorance of the quality of silk…"
McKenzie looked horrified, but Flynn chuckled softly. "Kindred spirits, they are, McKenzie, take my word for it."
Related Posts