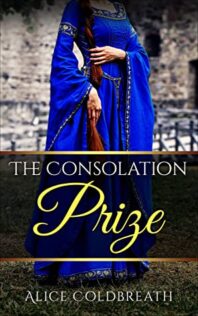 The Consolation Prize (Brides of Karadok, #3)
by
Alice Coldbreath

Series:
Brides of Karadok
Published by
Tantor Audio
on August 27, 2020
Genres:
Historical
Pages:
331
Format:
Audiobook
Narrator:
Anne Flosnik
Length:
10 hrs 22 min
Source:
Tantor Audio


I received this book for free from Tantor Audio in exchange for an honest review. This does not affect my opinion of the book or the content of my review.
This post contains affiliate links you can use to purchase the book. If you buy the book using that link, I will receive a small commission from the sale.
Princess Una harbors no illusions about her claims to Karadok's throne. The days of the royal house of Blechmarsh are done. The last of that ill-fated line, she is just grateful she emerged from the dark days of war with her head still on her shoulders. Now if only she could stop these rebellious northern lords from plotting to overthrow the King and set her up in his stead!
When her royal cousin bids her to join him at court, Una is eager for the opportunity to publicly renounce her rights. After three years languishing under house arrest, she is keen to start her own life afresh, hopefully in relative obscurity.
What she does not realize is extraordinary husband that fate has in store for her.
When Lord Vawdrey came up with the idea to marry off the defeated Northern Blechmarsh Princess to a lowly knight, thereby lowering her title, it seemed like the perfect plan to remove a rival to the crown without having to kill an innocent woman. Except now King Wymer isn't happy with the turnout of knights for the May Day tournament.  He is aware that several of his champions are now married but the field of competitors for the hand of a princess is quite pitiful.   He was rooting for Armand De Bussell to win.   If you wanted a shining example of a galant knight, Armand  would be the posterboy.  But in this important tournament, Armand lost the first round leaving only boys and unknowns still competing. Withdrawing the prize of the bride would be unheard of and he should have know that ever plotting Lord Vawdrey would find a solution that is both entertaining and gets King Wymer what he wants.   Vawdrey uses the Court Jester who usually plays the Lord of Misrule during Yuletide to flip the tournament prize to the loser of the tournament–Sir Armand.
Armand went to get drunk to celebrate his loss—especially since he would be collecting his part of the winnings for throwing his bout. He has had a long-running side gig with the local bookie and the purses are high enough, he throws his matches for part of the take.   At this point in the day, Armand had a nice buzz going only to find himself suddenly dragged back into the arena and given a wife he certainly didn't want.   Especially not the hideous Blechmarch princess with her masculine figure and that horrible frizzy hair.
Una probably should be concerned that her new husband isn't much of a fighter, if his tournament showing tells her anything, but she is so desperate to get away from Court she can only hope that she can get Armand to leave as soon as he wakes from his stupor.   Only now that she has removed her customary Northern Court trappings and hideous wig, even her new husband doesn't recognize her.
Armand can't believe his luck, especially since he expected a Northern Princess to be a demanding as all the rumors have stated, but Una is quite sweet and accommodating.  It seems that most of the portraits and rumors involving Una's battle charges and blood thirstiness were just propaganda started by her father and his most zealot lords.  Una hated her father.  He was a cruel man and his constant desire to war with the Southern court brought ruin to his people.   Una wants nothing more than to settle down into obscurity with her new husband.
As Armand falls further and further for his new wife, he starts to realize that his own unchivalrous  behavior might be the thing that ruins their happily ever after.
I really liked getting to know Una.   From the prior stories, I couldn't imagine how the author was going to get this HEA for this manly, war-mongering princess.  In the prior stories the Blechmarsh Princess is portrayed as a warrior riding astride her horse, waving her sword and wearing her metal breastplate with her ugly frizzy hair.  We felt bad for whoever would be forced to marry her.    Una is more than happy with Vawdrey's plan to strip her of the title of princess, and once she is free of the title, she is free to toss out the hideous Northern royal fashion and the giant wig she has had to wear.  In fact, no one recognizes Una once she drops all that and she is actually a slender, auburn haired beauty.   Una feared most being dragged back into war as her father's zealots kept trying to use her as a figurehead for their cause.
Going against what we might have expected, Una turned out to such a sweetheart and a perfect companion to Armand and it was a fun, light-hearted end to the series…wait, it's not.  It seems there are three more books coming out.
Related Posts