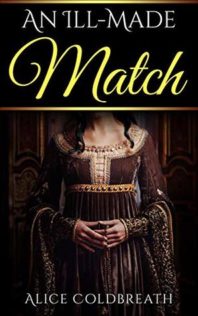 An Ill-Made Match (Vawdrey Brothers, #3)
by
Alice Coldbreath

Series:
Vawdrey Brothers #3
Published by
Self Published
on October 28th 2018
Genres:
Historical
Pages:
300
Format:
eBook


This post contains affiliate links you can use to purchase the book. If you buy the book using that link, I will receive a small commission from the sale.
Roland Vawdrey is used to the best. As the King's champion he sets all the maiden's hearts a-flutter. When it comes to picking out a wife, he knows exactly what he requires, perfection of face and form. Naturally, his choice falls on the fair Lenora. His dreams may be haunted by a stolen kiss with uptight Eden, but he's not about to throw himself away on some prim, paragon of virtue! Eden Montmayne prefers poets to knights, and would rather read a book than watch the jousting. When a betrothal feast goes awry, there is a truly scandalous outcome for Eden and Roland that throws the royal court into chaos. Even more shockingly, people soon start to wonder, could the resulting marriage be the making of them both? Despite the fact it was such an ill-made match? This is a stand-alone full length novel of over 108,000 words set in a medieval style landscape in the fictional kingdom of Karadok. Please do not purchase if you are offended by strong language and or sex scenes.
---
Roland was not my favorite of the brothers and his story does nothing to change my mind. Where Book 2 had too much unnecessary story, Book 3 could have used some extra scenes.
One thing that I cannot stand is wasting good characters and not giving them the story they deserve.   It is such a waste of potential. Maybe it isn't fine literature, but I enjoyed Her Bastard Bridegroom and I can even find good parts amongst the too much in His Forsaken Bride, but Roland's marriage with Eden was too short for us to really get a feeling of their bonding and therefore, it falls short of a good romance.
Roland, the youngest of the Vawdrey Brothers, only saw beauty to recommend a woman. Therefore, he couldn't understand what anyone saw in Eden Montmayne. She wasn't a great beauty like her cousin Lenora, and she was always reading or dancing or playing music or telling other people what to do. So no one is more surprised than Roland about why he can't stop thinking about her since they shared a brief kiss on Solstice. For the last six months, he has been thinking about her, dreaming about her…obsessing about her. So Roland's great solution to the problem is to offer to marry…her beautiful cousin Lenona.
Lucky for Roland that at the betrothal feast he passes out after one glass of wine and wakes up with a naked Eden. Neither remembers what happened but when both their families find them, there is no option but a quickie marriage between them. Eden is embarrassed and unaware of how she got to Roland's room but she has no choice but to go through with a wedding, hoping they will go on with their separate lives afterward. That hope is dashed when her family sends her packing without any packing. She gets tossed out with only the dress she is wearing to follow the Vawdreys.
While brothers Mason and Oswald return to Court to try and do damage control, since they Eden and Roland married without a royal blessing, Roland takes Eden to the jousting tournament on the way to his home at Vawdrey Keep. Eden gets a lesson in Tournaments and begins to understand what makes Roland tick. The only thing she doesn't really understand is why he is always touching her. She knows that Roland despises her and it is one thing to assert his husbandly rights but why does he keep touching and kissing her like she means something to him?
This might have intended to be an enemy to lovers story, but it lacked that type of passion. As we start this story, Roland is already falling for Eden. Just before he passes out at the betrothal feast, he tells his brothers that he can't marry Lenora since she is the wrong one, "she isn't Eden."  The biggest hurdle in this story is that Roland doesn't bother telling Eden that he likes her. As far as Eden is concerned, Roland hates her and she stole her cousin's bridegroom. Everyone should be upset with her, including Roland but Roland is like "what can you do?" Once they do have sex, they realize Eden was still a virgin and they never really did anything and didn't need to get married, but now it was too late. Roland even tells her that he believes she orchestrated the whole thing because there were in his room after all and "what can you do?" because he is truly happy with the arrangement.  Turns out that Eden used to suffered from sleepwalking, but apparently only at her Uncle's home, not at Court, but this is not delved into further. And since she has had episodes of sleepwalking, she fears that Roland is right and it is all her fault. So Eden is beset with guilt over taking Roland from her cousin as well as confusion why Roland isn't angry and why he keeps touching her when he hates her.
After the Tournament, they head off to Vawdrey Keep.  Yes, the same Vawdrey Keep that Oswald gave to Roland because the place is such a dump.   Oswald wanted to tear it down but decided just to pass it off to his little brother.   It was buil by some long ago Vawdrey as an impenetrable fortress in an area that no one would bother traveling to to ransack.  Since it is a fortress, it really isn't a great place to bring your new bride since his father left the Keep years ago once Mason and Linett married and he all but moved in with them and the grand kids until he died because he realized what a dump it was.  They get there and there is almost no furniture or bed to sleep in. Unless you want to sleep on one with the dozen dogs which have taken over the place.   Eden is a champ and makes do even though she is ripping up a scrap of paper so she can send letters to her family and her cousin to apologize.
Since Eden is having so much fun at Vawdrey Keep reading on old children's book that was left behind because there is nothing else for her to do, Roland thinks this is a great time to leave her there and go to the next Tournament so he is gone for a week.  When he finally makes it back to Vawdrey Keep, he barely gets his wife naked before someone comes banging on the door and the King and Queen are demanding their presence in Court to determine if Roland and Eden will be allowed to remain married.  Hmmm, that sounds so familiar!  Hey wait, wasn't that the big conflict in the first book when the King and Queen make Mason and Linnet go through a trial to determine if they can remain married.  Okay, I will agree that annulment seems to be a "Vawdrey" thing since it comes up in all three books, but really?  This is the same plot point for the same trilogy.  Some authors use the same formulas with series after series.  But we are talking the same series.
Now we are to believe that after three weeks of marriage, one of which Roland is gone, that they will be able to defend their marriage to the Court when Eden still believes she forced the marriage on Roland.  He's lucky she doesn't jump on this and beg the Queen to let her out of it because she's the Queen's favorite lady in waiting.
View Spoiler »
Of course we do find out–as I suspected–that brother Oswald, the King's Spymaster, orchestrated the whole thing because he was well aware of his brother's obsession with Eden as well as his brother's stubbornness to admit it. « Hide Spoiler
In the end, Eden and Roland didn't have enough passion popping off the pages nor did they get enough time together getting to know one another which would leave you to understand why they fought for the marriage.  Okay, why she fought for the marriage since we already know of Roland's secret obsession.
Related Posts