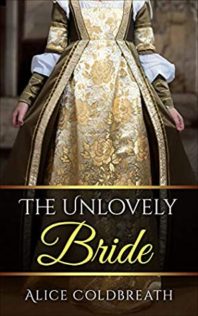 The Unlovely Bride (Brides of Karadok Book 2)
by
Alice Coldbreath

Series:
Brides of Karadok #2
Published by
Tantor Audio
on February 28, 2020
Genres:
Historical
Format:
Audiobook
Narrator:
Anne Flosnik
Length:
14 hrs 36 min


I received this book for free from in exchange for an honest review. This does not affect my opinion of the book or the content of my review.
This post contains affiliate links you can use to purchase the book. If you buy the book using that link, I will receive a small commission from the sale.
Lenora Montmayne leads a charmed life as the most beautiful woman at King Wymer's court, surrounded by admirers. And then disaster strikes. The red pox sweeps the summer palace at Caer-Lyones and Lenora's fair face falls victim to its ravages. Without her looks, what does Lenora have left to her? If ever there was a knight the crowd loves to hate, it's Garman Orde. Even his own family despises him. Then one night a heavily veiled lady offers him an extraordinary bargain. And he finds out that Lenora Montmayne was never just a pretty face. The Unlovely Bride is a stand-alone novel of over 136,000 words and is set in a medieval style landscape in the fictional kingdom of Karadok. Please do not purchase if you are offended by strong language and or sex scenes.
---
The heroine gets a personality and I'm supposed to be excited about it. Really?
Lenora Montmayne is a character we have met before in the prior stories. She was the remarkable court beauty where many a knight fought for her favor and courtiers had poems written in honor of her loveliness. But in His Forsaken Bride, Fenella tries to make conversation with Lenora only to get one word answers and she and Oswald discuss how awkward family dinners will be if his brother Roland married Lenora. In An Ill Made Match, Roland Vawdrey originally petitioned for her hand, but Lenora helped out with a plan to force her cousin Eden to marry Roland. At that point I thought there was more to Lenora than the vapid creature who was all beauty and no personality and we would find a secret interest undesirable in women such as learning, or a secret, unrequited crush. Really, there had to be a reason she was so standoffish. But after The Unlovely Bride, we find that Lenora wasn't deep at all. In fact, her personality was simply non-existent.
In The Unlovely Bride, Lenora contracted "the pox," which was mostly suffered by staff in the castle so I can't imagine how Lenora picked it up, but she was sent to the dungeons to die slowly and in agony with the rest of the inflicted. Lenora survived by sheer determination but in the end her face suffered from the ravages of this disease. Once she recovered enough to be put into a bed, Lenora overheard her father say that it would have been better of this plague had killed her rather than her lose her looks. Her father was also planning on hitting up one of her old suitors who had asked to marry her originally in hopes that he would be too afraid of his reputation to back out of the deal now that she was so hideous. Leonora might not have a personality, but she would not be a pity bride and forced on anyone.
Lenora lacks interests in life in general but one thing she does know is the knights of the jousts and she approaches Garman Orde, a man known to be unfriendly and rude. Masking her now hideous face, Lenora offers herself to Garman and asks if he will marry her for her dowry. She does this because she know that Garman would never pity her and will tell her plainly that she is not a beauty. Garman agrees simply because Lenora bravely shows him her scarred face so he knows there must be more to Lenora than he originally thought. Not really, Garman. He also tries to explain to her many times that while a few people might think her delicate beauty is gone, that she is still very pretty and shapely and that many men would be happy to take her as their wife. In fact, later on she is very surprised to find one of her prior suitors on his knees and despondent that she married Garman even though he can clearly see her face and obviously, it didn't matter to him at all.
The basic ploy of this story is that Lenora knows she was just like her mother, all beauty and no personality. Even her cousin Eden tried to get her to understand that she needs to make an effort to interact with the people around her. And once she loses her beauty, Lenora begins to develops a very basic personality, and I mean very basic. Even at the end of the story, there was nothing remarkable about her except she finally stops looking in the mirror to define herself. If anything, this story is more about Garman, who really wasn't as cold a bastard as Lenora believed, he just wasn't interested in getting to know his fellow combatants. So to a degree, Garman also lacked a personality just like Lenora and while he was considered a cold bastard, she was a cool beauty. But even from the beginning, Garman was attentive and courteous to his new wife realizing that although she believed herself scarred and ugly, Garman considered himself pretty lucky to have been chosen by Lenora.
Overall I found this story to be unremarkable and quite forgettable even as I finished it. I was surprised when I went to Goodreads to get the basic information for this review to see so many 4 and 5 star reviews. That's what makes reviews so interesting to why one book ranks with one person and not another. I find I am hit and miss with this series but I still keep plugging along. I realized that I never posted a review on the prior book, Married by Proxy, and that one I found to be enjoyable. I am going to go back and skim that one so I can write up a review later.
Related Posts