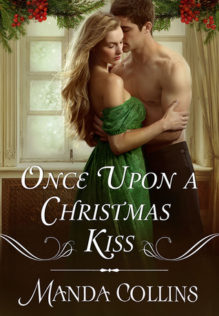 Once Upon a Christmas Kiss
by
Manda Collins

Series:
Wicked Widows #3.5
Published by
St. Martin's Paperbacks
on October 14th 2014
Genres:
Historical
,
Holiday
Pages:
200
Format:
eBook



I received this book for free from in exchange for an honest review. This does not affect my opinion of the book or the content of my review.
This post contains affiliate links you can use to purchase the book. If you buy the book using that link, I will receive a small commission from the sale.
---
This was an enjoyable novella which gives us a glimpse of a historical holiday house party, but also gives us enough intrigue and romance to keep it interesting. This is a companion novella to the Wicked Widows series since it makes reference to the new Duke of Ormond, but can certainly be read as a stand alone.
---
In this novella, Sir Lucien Blackwell would rather be home for the holidays or better yet with his friend, Trevor, the Duke of Ormond. But Trevor has recently married and he has other plans this season. Lucien has finally accepted the invitation from his cousins, Lord Hurst and his wife, to attend their holiday house party.
Lucien is certain he has made a mistake from the moment he walks in and sees all the eligible ladies and their marriage minded mothers. That is until he see the one young lady who has been occupying his thoughts of late. Miss Winifred Nightingale has been the governess to his friend Trevor's young sisters for the last few months and with all his recent visits, Lucien and Winnie have become good friends. Lucian has been thinking lately that it might be time to find a wife of his own and maybe it is time to change that friendship with the lovely Winifred into something more.
Winnie has been invited to attend the party along with her sister, Cordelia, who is the local school mistress, and not everyone in attendance is happy to see the pretty young governess and her equally pretty sister grabbing the attention of the unattached gentlemen. There is more than one lady that wants these lesser born ladies out of the house. And someone has become very forceful in their attempts to move them along.
It turns out that one of the gentlemen who shows up at the house was the young Lord at one of Winnie's prior positions. Lord Leaming came home for school and decided that raping the governess was a fun way to pass the time at home. He didn't succeed since Winifred got out a scream and woke the house, but she was fired all the same and the young Lord was deprived some privileges as punishment. Leaming wants to punish Winnie for his troubles but is he the one trying to run her out of the house?
Because of their friendship, Winnie approaches Lucien for protection hoping that a fake engagement between the two would protect her for any trouble with Leaming. Lucien agrees but only if Winnie will contemplate making it a real engagement. Winnie's plan for protection doesn't go exactly as planned since she is now under attack by the ladies of the house. None are happy to see a lowly governess snatch up a Lord of Lucien's wealth, standing or handsomeness and the claws have come out. They begin to slander Winnie and her sister's good names and Lord Leaming helps to fan the flames of jealousy.
As the attacks on Winnie start to become more violent, Winnie and Lucien need to unmask the attacker because she ends up seriously harmed.
THOUGHTS:
This was a nice holiday story where we get a glimpse of what kind of entertainment, etc. which would be involved in a holiday house party of the time. We also see how vicious the competition is for a rich, titled husband can be, especially one that is nice to look at.
In the way of nitpicking, it seems a bit of a bad decision to suggest a fake engagement between a governess and a lord. For one, I didn't think it was often a broken contract and breaking it off often made one or both parties look bad. Since she is a governess, it would look like Lucien promised an engagement to get into her bed and then broke it off once he got what he wanted. The only other alternative would be that Lucien was so horrible a person that a lowly governess couldn't even go through with marrying him.  Either way, breaking the engagement wouldn't look good for either of them.
They also took a lot of abuse and snide comments just from the tiny house party.  It seems a little reckless to risk the slander just for a fake engagement. Lucien could simply have talked to Leaming that Winnie was a personal friend and under his protection.
Without the nitpicking on the plot, it was quick read and a generally enjoyable story. Winnie and Lucien were both likable characters and there was a little side story involving Winnie's sister and a local Lord who was trying to court her and who was warned away by one of the Mama's since she was already trying to grab that lord for one of her four girls.
Received an ARC from the publisher in exchange for an honest review.
---
Favorite Scene:
"Far be it from me to ignore a man in need. Especially at Christmas," Mrs. Coweyes—dash it, he thought, Winnie had him thinking of her that way too!—said before she rose up on her tiptoes to kiss him full on the mouth. When she started to twine her hands around his neck, Lucien disentangled himself. Just in time to see Winnie glaring at them.
"I believe the usual practice is for gentlemen to kiss ladies beneath the mistletoe," Winnie said to the widow, her eyes narrowed with annoyance. "Unless the custom is different in your part of the country."
"Oh, you mean in strumpet-town, my dear?" drawled Mrs. Cowper. At Winnie's startled laugh, which she quickly disguised as a coughing fit, the widow shrugged. "I know how I'm perceived by other women, Miss Winifred. In part because I ignore convention when I find it to be contrary to my wishes. But I can assure you that mistletoe, like many other pleasurable activities, goes both ways."
"I would not wish you to think—" Winnie sputtered, clearly caught between sympathy and pique. But her automatic apology was forestalled by the widow, who took Winnie by the hand and shoved her under the mistletoe.
"There," she said with a speaking look at Lucien. "Is that better?"
To Lucien she said, "I'll let you take over from here. Don't say I never did you a favor."
Turning to his prize, Lucien saw that Winnie was looking up. "I was angry," she said, "because I'd intended to lure you under the mistletoe myself."
"What a hypocrite," Lucien laughed softly, the chatter around them receding as their eyes locked and the world narrowed into just the two of them.
"She was kissing my fiancé," Winnie said without shame. "I'd have done a great deal more if you weren't so obviously eager to remove her from your person."
"Jealous?" Lucien said with a grin. "I like it."
Related Posts