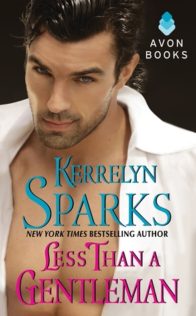 Less Than a Gentleman (Historical #2)
by
Kerrelyn Sparks

Series:
Historical #2
Published by
Avon Impulse
on July 2nd 2013
Genres:
Historical
Pages:
432
Format:
Paperback



I received this book for free from in exchange for an honest review. This does not affect my opinion of the book or the content of my review.
This post contains affiliate links you can use to purchase the book. If you buy the book using that link, I will receive a small commission from the sale.
---
In this never-before-published historical romance, New York Times bestselling author Kerrelyn Sparks returns to the 18th century, where the fight for freedom is as dangerous as the fight for love.

Between searching for the missing Munro sisters and South Carolina being all but lost to the British, Captain Matthais Thomas has more important things to worry about than finding a bride. But his mother has other ideas. When Matthais finds a beautiful woman in his bed who claims to be his betrothed, he is suspicious of her identity…and determined to discover the truth.

Caroline Munro had few options. The British burned down her home, and now, traveling with her very pregnant sister, Caroline is pretending to be someone she's not so they can have a safe place to rest. But she didn't count on a matchmaking matron or her rogue of a son…and certainly never dreamed she would fall in love with a spy.
---
In Less than a Gentleman, we find our heroine Caroline Munro and her sister, Ginny Munro-Stanton, almost 10 years after The Forbidden Lady. We are now in the midst of the Revolutionary War and Caroline and a very, very pregnant Ginny have been burned out of their home in South Carolina and are on the run with Ginny's two small children, trying to avoid the British soldiers. Ginny's husband Quincy was a blockade runner when his ship was burned by the British and Quincy has been missing for several months now. They don't know if he survived.
Caroline and Ginny come across an untouched plantation in the midst of the war and try to seek shelter. Jane Thomas has been awaiting a visitor; a woman named Agatha who Jane was hoping would marry her only son. To keep Ginny and the children safe, Caroline is willing to pretend to be Agatha and all is going well until Matthias Thomas stops home to visit his mother and, pretending to be a servant, declares to his mother that the lovely Caroline as an imposter. Much to Matthias's chagrin, his mother was already aware that Caroline and her sister were not who they were pretending to be, but with Ginny about to give birth, how could she not offer them sanctuary. Jane hopes that they will eventually come to trust her enough to confess.
Matthias continues in his disguise as a servant, determined to force Caroline into a confession. When Caroline volunteers her true identity to Matthias, he realizes how much her trust has come to mean to him, but he still continues his masquerade as a servant to see if Caroline might come to love him as a poor man, rather than the wealthy heir to the plantation. It is especially important once Caroline declares she will never give her heart to a soldier. Matthias knows that Caroline is aware that Jane's son is off fighting in the war, and there is a price on his head. He believes it is best that she is not aware that he is the man the British are hunting.
Matthias's orders are to destroy all the bridges and traveling routes in the area so that the British cannot get their supplies to Charles Town. Unfortunately, this plan has significant consequences to Matthias and his mother since their plantation is perfectly situated on the riverbank between the supplies and Charles Town and the British have decided to set up a barge route for their shipments and they move into his home, putting his mother and Caroline directly into the hands of the British officers.
Matthias orders have also changed now that the British are holding up in his childhood home. He is to spy on the officers there and gather needed information about the deliveries so the colonists can intercept. Caroline remembers Ginny helping Quincy spy on the British just before the war began and she has come to her own decision to spy on the officers in the house. Now Matthias must fulfill his orders, keep his mother, Caroline and her family safe and keep Caroline and himself from being caught and hung as spies, all while trying to win Caroline's love. That's why they say, war is hell.
THOUGHTS:
I am a big fan of Kerrelyn Sparks and I liked The Forbidden Lady but I loved this one more. Although the title is Less than a Gentleman, which made me think that Matthias would be a jerk to Caroline, but he ended up being quite the gentleman. He was fighting in the war for independence and he is a good soldier. He was swamped with guilt for anyone he killed or anyone of the colonist who were hurt by his actions. For example, in the opening scene, Matthias and other soldiers are captured and Matthias gets them freed. In the escape, he had to kill a young British soldier and that weighs on him as well as the fact that the British retaliate for their escape by burning the homes of the locals which is why Caroline and her sister are fleeing. So to Matthias, everything that is happening in the war somehow works back to some action he has done. That's a lot of guilt.
Caroline, now grown up since we last saw her, is as strong-willed and independent as her sister. With Quincy missing, their father and brother off fighting, and Ginny almost due with her third and caring for two small children, Caroline has taken up the burden of taking care for all of them. She is smart and thoughtful and she too is filled with guilt for lying to Jane to get her sister somewhere safe. She believes that with Jane's son off fighting the war, possibly never to return, that she and Ginny will be long gone before the might actually have to fess up to her lies or actually marry Jane's son. Caroline even helps out around the house so that she and her family are not a burden to Jane and her servants.
It is nice to see Virginia again, and meet her children, and we even, eventually see a grown up, Josiah, the little boy that Quincy "purchased" off the ship in Book #1 and raised as his own son. He is now grown and fighting in the war as well.
There are some enjoyable additional characters in this book and some great spy gadgets which are created by one of the slaves on the plantation.
A great follow up story to The Forbidden Lady.
Received an ARC from abovethetreeline.com, courtesy of the publisher. Thank you.
---
Favorite Scene:
"Are you all right?" Richard asked, slapping him on the shoulder.
Matthias winced. "I'm fine. Where are your horses?"
"Simon is nearby, guarding them in the woods."
Matthias motioned to where Caroline stood, still in her father's embrace. "May I introduce Caroline Munro?"
"I'm delighted to meet you, Miss Munro." Richard bowed and flashed Matt a smile that conveyed his approval. "My cousin has been singing your praises."
"Indeed?" Caroline wiped tears from her face. "Thomas is your cousin?"
Frowning at his cousin, Matthias shook his head. Then he extended a hand to Caroline's father. "Thomas Haversham, sir. I am pleased to meet you."
"Haversham, ye say?" Jamie Munro crushed Matt's hand in a brutal handshake. Matthias figured his smile looked more like a grimace. "Yes, sir."
"And who is yer friend behind you?" Munro asked.
Matthias glanced over this shoulder, surprised that Jacob was still there.
"You must be Jacob." With a smile, Richard shook Jacob's hand. "I've always wanted to meet you."
"You're…Richard? The cousin?" Jacob asked.
"My parents would be happy to meet you," Richard continued. "You should come for dinner."
"I…" Jacob withdrew his hand. "I don't usually leave the plantation."
"Jacob, is it?" Jamie stretched out a hand. "I'm Major Munro, Caroline's father."
"How do you do?" Jacob shook his hand.
Matthias glanced at the sky. The last of the sunlight was fading away. "We should take care of business. Major, could I speak to you in private for a moment?"
Jamie Munro looped an arm around his daughter. "Why in private, Haversham? Ye wouldna be keeping secrets from my daughter now, would you?"
Matthias could feel the man's eyes focused on him, sharp as daggers. He took a deep breath. Caroline would hate him for this, but he couldn't allow her to jeopardize herself. "Your daughter has taken a foolish notion into her head, sir."
Caroline gasped.
Matthias continued, "She believes she should be allowed to spy upon the British. I have forbidden it, of course, but she refuses to obey."
"I see." Major Munro tilted his head to look at his daughter. "Is this true, lass, that ye refused to obey such an order?"
Her gazed dropped to her feet. "Aye."
"That's my girl." Jamie kissed the top of her head.
Matthias's mouth fell open.
With a grin, Caroline hugged her father. "Thank you."
"My daughters can make their own decisions," Jamie announced.
Matthias found his voice. "Sir, it is far too dangerous."
"Ye think my daughter doesna ken it is dangerous? Do you think she's lacking in intelligence, then?"
"No. But I will not allow her to endanger her life?"
"Ye know it is dangerous, lad, but ye do it all the same. Why should Caroline be any different?"
Matthias gritted his teeth. "She is a woman, sir."
"Aye, and I'm certain ye've noticed it on more than one occasion." Jamie released his daughter and moved closer. "A word of advice, laddie. Ye're treadin' on slippery ground here. Ye should start back steppin' fast before ye drown yourself in a bog."
Matthias lowered his voice. "Sir, I'm trying to take care of her."
"Why?"
Why? What did the major expect? An admission of love? A lump in Matt's throat choked any hope of a response. God help him, he did love her.
Related Posts