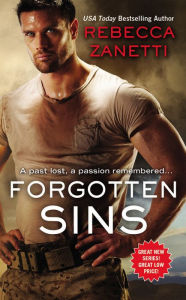 Forgotten Sins (Sin Brothers, #1)
by
Rebecca Zanetti

Series:
Sin Brothers #1
Published by
Grand Central Publishing
on July 2nd 2013
Genres:
Action
,
Military
Pages:
384
Format:
eBook



I received this book for free from in exchange for an honest review. This does not affect my opinion of the book or the content of my review.
This post contains affiliate links you can use to purchase the book. If you buy the book using that link, I will receive a small commission from the sale.
---
From the moment Josie laid eyes on sexy, mysterious Shane Dean, she was in love. Their desire ignited a passionate affair, and within weeks, Shane had slipped a ring on her finger. It seemed her every fantasy was coming true . . . until her new husband disappeared without a trace. Now, two years and one broken heart later, Josie is shocked by the hospital calls: Shane has been found . . . at a crime scene with no memory of how he got there.

Shane can't remember the blue-eyed angel at his bedside—or who he even is—but he knows something isn't right. His hearing is razor sharp, his physical strength incredible, and the urge to protect Josie overwhelming. For powerful enemies are hunting him, and Josie is the key to discovering why. As Shane struggles to unravel his past, dangerous new truths come to light. Can he protect the only woman he's ever loved? And can Josie trust a man she thought she knew—one who carries such a deadly secret?
---
Josie thought she had seen the last of Shane when he walked out of their house two years ago without another word. Their whirlwind affair and quick marriage made Josie believe that she met the man of her dreams, but she realizes now that Shane never shared anything about himself. Their passion blazed hot but intimacy—real intimacy was never there.
Now as she walks into the hospital where her husband is, she doesn't know how to feel. The police think he might have been mugged, but that really doesn't explain the three dead bodies near where Shane was found unconscious from being hit in the head with a metal bat. Shane can't remember what happened or even why he is in Washington so close to where Josie now lives. What was he doing here? Had he come to sign the divorce papers? The police want her to take her husband home. She wants to help him, or more to the point, her heart aches for Shane. It has since she first laid eyes on him. And nothing ever hurt more than him walking away from her—from her dream of finally having a family and belonging to someone.
She finally agrees to take him home, but when more men attack, has she invited danger into her house? Shane can't remember what happened, and he certainly can't remember who is after him, but when they find bugs in Josie's house, the question becomes who is the danger? Are they after Shane or are they really after Josie?
THOUGHTS:
Another incredible story by Rebecca Zanetti. She has a talent for drawing you into the story from the first few pages and dangling enough little fragments which will keep you reading "just one more chapter" until the wee hours of the morning.
We start off by seeing young Shane housed with other boys. Is he at camp? Are they orphans? So you know you have to solve this mystery. Where are they? Who are the other boys?
Then we move into the story of Shane's amnesia and Josie's heartbreak. All you can wonder is What happened to Shane? Why did he leave Josie in the first place? Who is trying to hurt them? Will she risk her heart and succumb to their intense attraction?
Questions, questions, questions. Oh, you are not sleeping tonight!
The story included several pages from book two and I made myself stop because I was already getting into the story and it will be months before it is published. Damn!
Intense, intriguing, sexy, funny, action-packed…everything I have come to expect from Rebecca Zanetti.
I highly recommend picking up a copy of Forgotten Sins, especially those who aren't fans of paranormal and haven't experienced her Dark Protector series. Hell, I've been dying for the last story of that series since the first book. HOW WILL IT END???
---
Favorite Scene:
She reached her office, hurrying inside and shutting the door to keep noise out. She didn't have time to mess around—now she needed to go get a bunch of new clients to complete with freakin' Daniel.
Hurrying toward her desk, she glanced at her appointment book.
"Hi, angel." The heavy oak door swished shut behind her, the lock engaging with a click.
She froze. In slow motion, she turned around. The files trembled in her hands.
"Sit down." Shane had been waiting against the wall. He tilted his head toward a leather guest chair. She'd chosen the light brown carefully to match the chairs her foster father Arthur had had in his office so many years ago. Classy and plush.
The phone. She could get to it, or she could scream. But if she screamed, who'd come running? Her secretary, Vicki? Vicki couldn't handle Shane. Crap. She'd probably take on look at the soldier and rip his clothes off.
"Now." He wore a fresh black shirt and new jeans, kick-ass boots covering his size thirteens.
"Nice boots." Josie tossed the file on the desk and slid into a chair. She was wearing three-inch heels on her feet; they'd cause serious pain if necessary.
"Turns out I had cash hidden at the bungalow. Went shopping earlier." He stalked forward and dropped into the matching chair, swiveling her to face him. Both legs stretched out on either side of hers, trapping her. "Miss me?"
"No." She straightened her back with a sharp snap. So he admitted he'd stalked her from the bungalow. Was that a good sign or a bad one? Either way, her chest hurt. "How's the head?" A new bruise covered his left temple. From her foot. Her grin even felt malicious.
"Excellent kick, angel." He leaned forward, his hands clasping her knees above her skirt, his scent of heated cedar washing over her. "I taught you well." He wore his soldier face today, no expression showing. But those eyes, Dark, gray, and swirling with emotion. He usually veiled better.
Her abdomen began to hum…in warning and something darker. A feminine desire for him to explain everything—for him to say it was real. But the only thing that was real was the lust they'd felt. Still felt. "Don't make me kick you again."
His smile slid slow and sure across his face. Dangerous. "Ah, darlin', I'd love for you to try it again." His hands dipped under the skirt, pushing the silk up, his palms heating her thighs. "Something occurred to me last night."
Desire rippled through her with memories of what those hands could do. Even lying to her, he'd exploded her world. She grabbed his hands, halting their journey. So close to where her body was beginning to ache. The man knew her body and exactly how to play her. The thought brought both unease and intrigue. "What's that?" Her voice came out hoarse.
"I've been too easy on you." He flipped one hand over, easily trapping both of hers. "Treated you with kid gloves, kept you out of my life."
She frowned, her lids dropping. "You remember."
"No." He sighed, his free hand curling to the side of her thigh and heading toward her hipbone. "I've been thinking about what you said. What you were able to do by kicking me in the face." He traced a path over her thigh toward her core, his gaze dropping to her breast. "Let me feel you, Josie." Three fingers pressed against the outside of her panties. "Just once. Before everything goes to shit. Open for me, baby."
Electric shocks cascaded out from his fingers. Molten lava. Fire whipped through her until she tilted against his hand. She knew the pleasure he could bring. Even with the pain that would follow, that pleasure was seductive. To get lost like that again. Sometimes to feel the fire, you had to get burned. She swallowed. They were in her office, for goodness' sake. The temptation made her catch her breath. So much temptation.
So wrong.
This time the fire would consume her. She just knew it. So she tugged her wrists free, scooting back and smoothing down her skirt. "Keep you hands off me."
Shane sat back, desire flushing red across his high cheekbones. "Never."
Related Posts