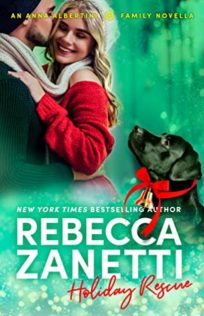 Holiday Rescue (The Anna Albertini Files #3.5)
by
Rebecca Zanetti

Series:
Anna Albertini Files #3.5
Published by
RAZ INK LLC
,
Self Published
on August 30 2021
Genres:
Action
,
Contemporary
Pages:
110
Format:
eBook
Source:
Amazon



This post contains affiliate links you can use to purchase the book. If you buy the book using that link, I will receive a small commission from the sale.
The Albertini Family is Back in this Holiday Romance!
Quint Albertini likes his life as a smokejumper and search and rescue expert. He has his dog, his friends, and his freedom. He's had it with women who can't commit or who want him to change, and now all he has to do is dodge the family match-makers so he can live his peaceful life when he's not leaping head first into danger.
---
I love this Albertini Family. ❤
Falling down a mountain and breaking an ankle might be the best thing that ever happened to Heather Davis. That might not have been her first thought while lying in the snow, but once Heather looked into the bright brown eyes of Zena the rescue dog followed by gorgeous topaz eyes of the man following her down the mountain, falling down might be the best pick me up a girl could get
Quintino Albertini isn't looking for romance. His last few women in his life, besides family, have all been one bad decision after another. The last being Jolene, a reporter who used him to get information on his cousin Anna and run a string of articles indicting that trouble follows Anna. Okay to be fair, trouble does always manage to find Anna but highlighting that in the paper wasn't fair, nor did it speak to any long term relationship possibilities
But Quint can't stop thinking about Heather since he helped her down the mountain. She is smart and funny and it seems that Anna isn't the only one who can find trouble. He might not be ready for the feelings that Heather brings out in him but as a natural protector, Quint doesn't want to step away if Heather needs him. Especially when her ex shows up to help Heather in a way that is way too stalkery. If only Quint can convince his matchmaking Grandmother that his interest in Heather is only friendly.
Rebecca Zanetti proves that Anna isn't the only interesting Albertini in town. Of course we have already been waiting for more stories including her sisters Donna and Tessa. Holiday Rescue gives us a chance to get to know the Albertini cousins and spend more time at the family BBQs.
Not that Rebecca doesn't have plenty of series at this point to give her lots to write about, but with Quint's job as a smokejumper and him and his brother also doing search and rescue work with their dogs, I am sure Rebecca could always create another spin off series featuring the Albertini cousins. That is if she ever gets tired of bashing Anna in the head (although Anna managed to get through this short story with no bruises).
Love the Anna Albertini series and this side story adds more depth to this wonderful family. More please!
---
Favorite Scene:
Anna drove to the far end of the parking lot to Molly's Motel, which was just off I-90. "Anyway, no matter what happens, I'm glad we've become friends."
"Me, too," Heather said, settling comfortably into the heated leather seat. She had friends already. Life was definitely looking up.
The motel was painted a bright red and white, and cheerful blue Christmas bulbs lined every eve. A larger than life blown up Santa stood by the main door, his hat covered with real snow and icicles extending from his arms and wide nose.
"Jack is in room 12 on the first floor," Anna pointed.
"I recognize his car out front." Heather took another sip and studied the snow-covered SUV that now had key marks and dents all over the metal.
A maroon-colored Buick fired up at the other end of the parking lot and drove their way, parking on Anna's side. The window rolled down to reveal Nonna Albertini with her hair in a scarf, and her eyes covered by wide Audre0y-Hepburn style sunglasses. "The perp hasn't moved an inch," she whispered.
Anna leaned out the window. "Tell me you aren't wearing a trench coat."
"It's your grandfather's," Nonna confirmed. "I say we make things happen here. How about I roust him out of the room and you two follow him?"
Heather's mouth gaped open.
Anna somehow managed to keep a straight face. "I think we'll do this the old-fashioned way, Nonna. You go on home, and we'll just watch and see what Jack does. If we need backup, I promise you're the first person we'll call."
Her grandmother's eyebrows rose. "Are you armed? If not, I brought the Glock."
"I'm armed. My Smith and Wesson is in the glovebox," Anna said.
"Don't be afraid to use it." Her Nonna dug around in a monstrous purse and handed up a wooden spoon. "This is an extra weapon. Just in case you don't need bullets."
Anna dutifully accepted the spoon. "You're the best. Thanks."
"Any time. You girls be careful." The window rolled up, and Nonna drove sedately out of the parking lot to the quiet road.
Anna set the spoon on the seat between them. "See why I wanted to hurry?"
Heather burst out laughing, unable to stop herself.
Related Posts