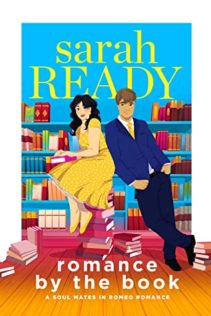 Romance by the Book (Soul Mates in Romeo Romance, #3)
by
Sarah Ready

Series:
Soul Mates in Romeo #3
Published by
Swift & Lewis Publishing LLC
Genres:
Contemporary
Pages:
196
Format:
eBook
Source:
Netgalley



I received this book for free from Netgalley in exchange for an honest review. This does not affect my opinion of the book or the content of my review.
This post contains affiliate links you can use to purchase the book. If you buy the book using that link, I will receive a small commission from the sale.
Welcome to Romeo, NY where it's not a matter of if you find your soul mate, only when.Book-loving librarian Jessie has loved Gavin Williams for practically her whole life. So when a psychic predicts that Gavin is Jessie's one fated soul mate, she's ecstatic. There's just one itty bitty little problem.Gavin's engaged to marry another woman. What's a book lover to do? Easy. Check out dozens of romance books, study the (totally realistic) way characters fall in love, and make a foolproof plan on how to win her soul mate (in one week). Meet cute? Check.Dance under the stars? Check.Kiss in the rain? Check.Romance books don't lie – it'll all go perfectly.Except, there's another problem. Gavin's twin brother: William Williams IV. Jessie has hated William for as long as she's loved his brother. William is grump to Jessie's sunshine, stand-offish to her extrovert, cold to her warm. And when William learns of Jessie's plan to derail his brother's engagement he swears that he'll do anything to stop her.But after William and Jessie (unwillingly) share a dance…a romantic dinner…a kiss…Jessie starts to wonder, is William actually her soul mate? Or is this just another one of his games? She can't tell, because this romance definitely isn't going by the book.
Romance by the Book is Book 3 in Sarah Ready's Soul Mates in Romeo Romance Series.
---
An enjoyable idea and a good try, but the characters lacked any depth.
In the little town of Romeo NY, if Miss Erma can predict your soul mate, you will be happy for life. When Miss Erma indicates that Jessie's soul mate is "that Williams boy", Jessie needs no more convincing that it must be Gavin Williams, who she has loved from afar all these years and not his annoying twin brother, William Williams. Now her dreams that Gavin will love her back are guaranteed. First, Jessie has to get him to notice her.
While William spends a good deal of time in Romeo, Gavin rarely returns, always traveling and seeking the next great adventure. Gavin has returned to Romeo as he prepares for his upcoming nuptials and William won't allow Jessie or Miss Erma's prediction to interfere with the best thing to happen to his frivolous brother.
Meanwhile, fiancé or not, Jessie is determined to win her soulmate and sets up a slew of meet-cutes with the help of the seniors in her computer club so that Gavin will fall for her before he makes the
mistake of marrying someone else. William becomes aware of Jessie's plan and is determined to thwart her efforts. Yes, first because Gavin's fiancé is the beat thing that has happened to his brother but more importantly, the idea that the woman he has loved for the last 20 years ending up with his brother is unbearable.
William and Jessie met when they were eight in a moment which should have bonded them forever. And while poor William has been in love in Jessie all these years, Jessie mistook which twin was kind to her in her darkest moment and which twin pushed her into a mud puddle and she spends they next 20 years mooning for the wrong boy.
Poor William gets the short end of the stick in this story and we feel bad for him.  He is a business/numbers prodigy which is father figured out before William was ten and shut down anything that would distract William from focusing on his studies, such as friends or books and even got rid of poor William's dog. William even gave Jessie the cold shoulder when he saw her because if his father knew how much attention William focused on Jessie, he would have made her go away as well.   And while William was forced to study non-stop, Gavin was free to play all day and grew up to be just as frivolous as an adult. I did like that while one was all work and one was all play, there was no animosity between the brothers.
You feel for William in this story because he has absolutely misunderstood and if Jessie had realized from the start which twin had changed her life, she and William would have had a happily ever after much sooner. Jessie's friends point out that while she insists that she loves Gavin, William appears to be the man she loves to hate and spends a lot of her time focused on him. William has mooned over Jessie quietly from the shadows but when she focuses her attention on Gavin, he has no choice but to finally make a move to win the woman he loves.
The premise of the story was good but the characters lacked any real depth.  Is this simply because the whole story is less than 200 pages leaving not time for character details.  This would  be a perfect Hallmark Channel story.   And while parts of this story were silly and the sexy parts were kind of ridiculous (see spoiler below), I was entertained by Jessie's attempts to catch Gavin's attention and William's ever present attempts to block her.
View Spoiler »
Part of the lack of depth of the characters is while Jessie works at the Library, I'm not sure if she is an actual librarian, which usually requires a degree, but there is no discussion of whether she goes away to college.  No discussion if she has ever had a boyfriend and if she hasn't because she has longing for Gavin since she was eight, that would make her a 28 year old virgin.  Same question goes for William.   Being a virgin is not a problem except her first passionate kiss, not with her true love Gavin, but with William on a public bike trail leads  to her quickly removing her blouse and bra and all by shoving her a breast in his mouth, which seemed a little rushed especially for someone who is probably sexually inexperienced.  We couldn't start with some simple groping?   Also her choice of a first sexual encounter with William is after hours at the library surrounded by books.  Are there no security cameras in this small town library?  Plus there was no condom or even talk of a BS reason to be on birth control, which is a pet peeve of mine for any romance.   They go at it pretty hard for someone who is either completely inexperienced or has been without a boyfriend for quite awhile since she doesn't have an ex-beaus in town.  Jessie and William's exploits came off as less sexy and more desperate attempt to be erotic.    « Hide Spoiler
---
Favorite Scene:
"Sometimes I wonder, if even my soul mate doesn't want me, then who will?" Her voice breaks and I see her sitting in the tree, telling me that her mom's gone, that her dad doesn't want her and that she's all alone. A tear trails down her cheek and she angrily wipes it away.  She turns her face away from me. I feel unequal to this moment. I don't have the words. Me, I want to say, you'd have me.
"I…" I begin. She looks at me and I swallow the lump in my throat.
"I know. You don't have to say it. I'm a fool. He's getting married, he's not interested, I'm not his type, blah, blah, blah. I know." Her voice breaks again, and I want to reach out to her.
"But you know what?" she asks.
I shake my head. "What?"
"I disagree. I believe in love. I believe in fate. And even if I have to get drenched in coffee, or spaghetti, or…whatever…I'm going to keep trying. Because…" She pauses, then tilts her chin up and continues. "Because I have a lot of love to give. A lot. And I've been waiting my whole life to give it to that boy I fell in love with a long time ago. So…so there."
I don't say anything. I just stand there and take in the passion coloring her cheeks and the spark in her eyes. I want her so badly it hurts.
A water drop hits me in the forehead. Then another. Jessie looks around, and an expression of shock then guilt comes over her. The sparse drops turn to a light shower. Jessie closes her eyes and groans.
"Jessie?"
She shakes her head. I look around. It's raining in a five-foot circumference around us. I look up. Petunia and Gladiola wave gleefully at me from a second-story window. Wanda holds a large sprinkler over us. A suspicion enters my mind.
"Is this a kiss in the rain?"
"No," Jessie says. She opens her eyes and peeks at me. "Turn it off," she shouts up at the ladies.
I take a step toward her. "Were you going to lure my brother here for a romantic kiss in the rain?"
"No. Of course not." She takes a step back. "Turn it off, Wanda," she shouts up.
"Can't hear you, dear, I lost my hearing aid after class," yells Wanda.
"She said turn it up," Petunia says.
A slow grin spreads over my face. I take another step forward. Jessie takes a careful step back. Water runs down my face. I wipe it from my eyes. Strands of hair are starting to fall out of Jessie's French twist. I reach forward and brush a lock off her cheek. Jessie takes another step back and bumps into the brick bakery wall.
The rate of the fake rain shower increases. Water pours down around us. Drops stream over Jessie's face and onto her dress, washing away the spaghetti and sauce. I put my forearms to the brick wall on either side of her, closing her in. I bend down, until our mouths nearly touch.
"Did you think a kiss in the rain would make him fall in love?"
"No." Her eyes turn dark and luminous. A drop of water trails down her cheek and settles on her lip. I groan. I've never ached to taste a drop of water so much.
"You want to know who would want you, Jessie?"
"Who?" she asks reluctantly.
"Me."
I press her against the wall and send me lips to hers.
Related Posts