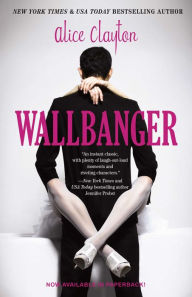 Wallbanger (Cocktail, #1)
by
Alice Clayton

Series:
Cocktail #1
Published by
Omnific Publishing
on November 27th 2012
Genres:
Contemporary
Pages:
384
Format:
eBook



This post contains affiliate links you can use to purchase the book. If you buy the book using that link, I will receive a small commission from the sale.
---
The first night after Caroline moves into her fantastic new San Francisco apartment, she realizes she's gaining an—um—intimate knowledge of her new neighbor's nocturnal adventures. Thanks to paper-thin walls and the guy's athletic prowess, she can hear not just his bed banging against the wall but the ecstatic response of what seems (as loud night after loud night goes by) like an endless parade of women. And since Caroline is currently on a self-imposed "dating hiatus," and her neighbor is clearly lethally attractive to women, she finds her fantasies keep her awake even longer than the noise. So when the wallbanging threatens to literally bounce her out of bed, Caroline, clad in sexual frustration and a pink baby-doll nightie, confronts Simon Parker, her heard-but-never-seen neighbor. The tension between them is as thick as the walls are thin, and the results just as mixed. Suddenly, Caroline is finding she may have discovered a whole new definition of neighborly. . . .

In a delicious mix of silly and steamy, Alice Clayton dishes out a hot and hilarious tale of exasperation at first sight.
---
Caroline loves her new apartment. The view is beautiful, the kitchen is a dream which allows her to live our her Barefoot Contessa fantasies, and the walls are paper thin.
Caroline can't get any sleep because her neighbor Simon—and she's pretty sure it's Simon due to all the times she hears "Yes! Simon!" being screamed through the wall or as she likes to call him Simon Wallbanger—keeps her up with his late night sexcapades with his harem of women. A different one each night, including her favorites: Spanx, who's been a very bad girl; Purina, who meows and the Giggler, who—oh you get it.
Not that Caroline's jealous. Just because she hasn't dated in a while or the fact that her O has disappeared after that horrible one-night-stand with Cory "the Machine Gun" Weinstein. She doesn't care what or more specifically, who, Simon does. She just would like them done at a decent hour since she has to go to work in the morning.
It just would be common courtesy for him to stop banging his headboard into her wall at all hours of the night, knocking pictures onto her head.
It doesn't help her anger when she goes to confront him to find out that he is as gorgeous as his wallbanging makes him sound or that his sexy smirk and twinkling blue eyes makes her want to grab a number and get in line.
Stupid, stupid…sexy, hot, Simon Wallbanger is gonna be a problem.
THOUGHTS:
This book was recommended to me very highly. So highly in fact, I jumped it to the top of my TBR list, and I was not misled. This book is absolutely hilarious. It was so hard to pick a favorite scene as there were so many and like the Molly Harper books, there were many one line zingers that made me stop and laugh so hard.
He was giving me a sexy little grin, and I knew that's what he used to make the panties drop. Ha—little did he know I wasn't wearing any.
The fire between Caroline and Simon is wonderful as they toss back insults. Once they decide on a neighborly truce, their lively bantering turns them into great friends and eventually lovers.
I loved that Caroline's cat even has a personality and falls in love with one of Simon's harem who meows during sex. There is a great scene where Clive sees her come in the building and chases her around the apartment. "Clive was strutting. Strutting back and forth in front of her, giving it his all. He turned like he was on a runway, pacing along a line on the floor and glancing at her nonchalantly. If Clive could wear a blazer, he would have taken if off, draped it casually over his kitty shoulder, and pointed at her. It was all I could do not to fall down laughing."
The story is full of wonderful characters, including Caroline and Simon's friends.
If you like your love story with a lot of laughs, definitely pick up a copy of Wallbanger. Alice Clayton also has a series "Redhead" which was also recommended to me. The audible version of book #1 comes out soon and I have already added it to my cart.
Just for the record, I vote that this be made into a movie. It would beat any romantic comedy out there.
---
Favorite Scene:
Ever since the night Simon and I "met" in the hallway, I couldn't stop dreaming about him. I didn't want to, really didn't want to, but my unconscious mind had taken over and was having her way with him. Nocturnally. My body and brain were separate on this one: Brain knew better, Lower Caroline was not so sure…
Clive pushed past me and ran into the kitchen to do his little dance next to his bowl.
"Yah, yah yah, settle down," I croaked as he threaded himself in and out of my ankles. I dumped a scoop of kibble in his bowl and hit the coffee. I settled against the counter and tried to collect myself. I was still breathing a little hard.
That dream had been…well, it had been intense. I thought again of his body perched over mine, a bead of sweat rolling off his nose and dropping onto my chest. He'd lowered himself and dragged his tongue up my stomach, toward my breasts, and then…
Ping! Ping!
Mr. Coffee brought me back from my saucy thoughts, and I was grateful. I could feel myself getting worked up again. Is this going to be a problem?
I poured myself a cup of coffee, peeled a banana, and looked out the window. I ignored my compulsion to massage the banana and thrust it into my mouth. Oh, sweet Christ, the thrusting! This was headed south fast. And by south I mean…
I slapped myself in the face and forced my mind to think of something besides the manwhore I was currently sharing a wall with. Inane things. Innocuous things.
Puppy dogs…doggy style.
Ice cream cones…licking his cone and two scoops.
Children's games…damn, did I want to do whatever Simon Says…Okay, enough! Now you aren't even trying.
While showering I sang "The Star Spangled Banner" over and over again to keep my hands from doing anything other than washing up. I needed to remember what an asshole he was—not how he looked in only a sheet and a grin. I closed my eyes and leaned into the spray, remembering that night again. Once I'd stopped staring at his, well, his below the sheet, I'd opened my mouth to speak:
"Now you look here, mister, do you have any idea how loud you are? I need my sleep! If I have to listen to one more night, one more minute, in fact, of you and your harem banging away on my wall, I'll go insane!"
I yelled to release all the tension that would have, could have, should have been released already in a very Clooney way.
"Just settle down. It can't be that bad. These walls are pretty thick."
He grinned, pumping his fist against the doorframe and trying to unleash a little charm. He was clearly used to getting what he wanted. With abs like that, I could see why.
I shook my head to impart focus. "Are you out of your mind? The walls are not nearly as thick as your head. I can hear everything! Every spank, every meow, every giggle, and I have had it! This shit ends now!" I screeched, feeling my face burn with fury. I'd even used air quotes to emphasize the spank, meow, and giggle.
As I spoke of his harem, he began to downshift from charm to chastise. "Hey, that's about enough!" he shot back. "What I do in my home is my business. I'm sorry if I disturbed you, but you can't just come over here in the middle of the night and dictate what I can and can't do! You don't see me coming across the hall and banging on your door."
"No, you just bang on my damn wall. We share a bedroom wall. You're right up against me when I'm trying to sleep. Have some common courtesy."
"Well, how come you can hear me and I can't hear you? Wait, wait, there's no one banging on your walls, is there?"
He smirked, and I felt the color drain from my face. I crossed my arms tightly across my chest, and as I looked down, I remembered what I was wearing.
Pink baby doll nightie. What a way to establish credibility.
As I fumed, his eyes drifted down my body, unabashedly taking in the pink and lace and the way my hip jutted out as I tapped my foot angrily.
His eyes finally came back up, and he met my stare, not backing down.
Then with a twinkle in those baby blues, he winked at me.
I saw red. "Oooohh!" I'd screamed and slammed back into my apartment.
Mortified now, I let the water wash away my frustration. I hadn't seen him since, but what if I did? I thumped my head against the tiles.
When I opened the front door forty-five minutes later, I tossed a goodbye to Clive over my shoulder and prayed silently that there'd be no random harem girls in the hallway. All clear.
I pushed my sunglasses on as I walked out the door of the building, barely noticing the Range Rover. And by barely, I mean I barely noticed that rover rhymed with over, as in bend me over the chair in my family room and—
Caroline!
I might have a problem here.
Related Posts