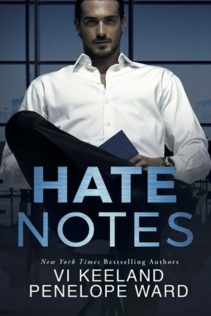 Hate Notes
by
Penelope Ward
,
Vi Keeland

Published by
Montlake Romance
on November 6, 2018
Genres:
Contemporary
Pages:
304
Format:
eBook



I received this book for free from in exchange for an honest review. This does not affect my opinion of the book or the content of my review.
This post contains affiliate links you can use to purchase the book. If you buy the book using that link, I will receive a small commission from the sale.
It all started with a mysterious blue note sewn into a wedding dress.

Something blue.

I'd gone to sell my own unworn bridal gown at a vintage clothing store. That's when I found another bride's "something old."

Stitched into the lining of a fabulously feathered design was the loveliest message I'd ever read: Thank you for making all of my dreams come true.

The name embossed on the blue stationery: Reed Eastwood, obviously the most romantic man who ever lived. I also discovered he's the most gorgeous. If only my true-love fantasies had stopped there. Because I've since found out something else about Mr. Starry-Eyed.

He's arrogant, cynical, and demanding. I should know. Thanks to a twist of fate, he's my new boss. But that's not going to stop me from discovering the story behind his last love letter. A love letter that did not result in a happily ever after.

But that story is nothing compared to the one unfolding between us. It's getting hotter, sweeter, and more surprising than anything I could have imagined.

Something new.

But I have no idea how this one is going to end . . .
---
For the most part, I didn't enjoy Hate Notes. I didn't like how Reed treated Charlotte. Although I did come to understand why everything happened the way it did, I can't say that I would ever do a re-read on this one.
I was a bit undecided with my feelings on Hate Notes. I almost pushed it aside with a DNF because I was unhappy with how Reed was treating Charlotte for most of the story but I kept reading because I needed to know what his deal was.
Reed was very antagonistic to Charlotte. He berated her for her glass-is-half-full attitude on life and he got angry with her every time he realized he admired her.  He was attracted to her but refused to succumb to her charms. Yet he would lose his mind when other men flirted or gave any indication they wanted Charlotte if he didn't.
I was confused why Charlotte's feelings toward Reed kept growing when he was treating her so awfully. It was almost abusive as he would be nice to her and then almost in the same sentence snap with anger because he was starting to like her.   It seemed off that a woman like Charlotte, who was trying to reclaim her life, shouldn't have stood for his treatment let alone keep going back for more.
Both Charlotte and Reed were supposed to be married (to other people) but the ceremonues didn't happen. We know that Charlotte's fiancé cheated on her and she walked away.   We anticipated a similar story with Reed.
We also learn the Charlotte lost her sense of self during her time with her ex.  She put her wants and dreams aside to be the perfect wife that he wanted.   She no longer sculpted or did anything she normally would enjoy. So Charlotte wrote a Fuck-it list vs a. Bucket list of things she always wanted to try. We also find out that Reed too stopped doing things he enjoyed after his engagement broke up.  Again, we anticipate hearing as similar story to Charlotte.
Charlotte inspires Reed to write his own list of things and then she wants to become list buddies to inspire and help each other try to achieve their goals.
I am glad I finished the story as I have to admit Reed's reason for not giving in shocked me and I sympathized and appreciate what he was attempting to do in keeping Charlotte at arms length.   It wasn't the usual "turns out she only loved my money" shocker.
I applaud the authors for taking us places that most authors don't in fear of losing the audience. It was not Reed's issue that alienated me, but his treatment of Charlotte.
While I sympathize with Reed and understand his attempt to keep Charlotte at a distance, I really can't get past his hot and cold–almost to the point of abusive–attitude toward Charlotte.   At first he thought Charlotte was a little unstable and then he craved her joyous outlook on life, even after her own part hurt.   Yet every time he thinks well at her, he attacks her and belittles her because he is angry.  He was angry that he couldn't have what he wanted. He protecting her by kicking at her.  Keeping her at a distance is one thing;  belittling her because you are angry is just not acceptable.
Related Posts