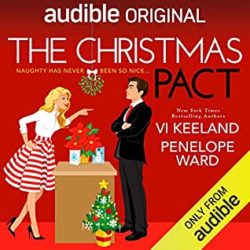 The Christmas Pact
by
Vi Keeland
,
Penelope Ward
,
Andi Arndt
,
Sebastian York

Published by
Audible Original
on December 5, 2019
Genres:
Holiday
Pages:
161
Format:
Audiobook
Narrator:
Andi Arndt
,
Sebastian York
Length:
3 hrs 54 min



This post contains affiliate links you can use to purchase the book. If you buy the book using that link, I will receive a small commission from the sale.
Listening Length: 2 hours and 54 minutes
Heat up the holidays with this sizzling new novella from New York Times best-selling authors Vi Keeland and Penelope Ward!
Riley Kennedy's emails keep getting crossed with her colleague, Kennedy Riley.
The infuriating man forwards them along with his annoying commentary and unsolicited advice. At least she never has to see him in person since they work in different locations…until they come face to face at the office holiday party. As luck would have it, Kennedy turns out to be gorgeous…though still a jerk. Yet somehow he's able to charm her out on the dance floor—and convince her to participate in his crazy scheme: He'll go home with Riley for a Christmas party and pretend to be her boyfriend if Riley agrees to be his date to a wedding.
It sounds easy enough. But little by little, the act they're putting on starts to feel like so much more than a Christmas pact—and Riley's about to learn there's more to Kennedy than she ever imagined.
---
A cute holiday short.
I had this audiobook downloaded on my phone since last year and decided this was the perfect time for this holiday story. It was an enjoyable holiday story but suffered from the same problem as most other short stories, not enough time for a good set up, plus conflict, plus romance.
Riley Kennedy is tired of being the missing kid on her mother's holiday newsletter. In a moment of drunken enlightenment, she writes an email to Dear Ida asking for advice of what to do about her mother's letters which spout the wonderful accomplishments of her siblings and only a footnote about herself. Riley isn't sure what is more insulting, the response from Dear Ida's assistant that she should get a life if she wants to be included in next year's newsletter or the response from her office nemesis, Kennedy Riley.   You see, instead of sending a direct email to Dear Ida, Riley filled out the online form and obviously Drunken Riley mistakenly typed her responding email which went, once again, to her colleague at the publishing company, a man who, instead of just forwarding them on to her,  has no problem reading and giving his opinion on all Riley's emails.
Since they work in different departments in different buildings, at least Riley never had to cross paths with Kennedy until this year's Christmas party which will be a joint event.   Try as she might to avoid him, Kennedy was obviously curious about Riley and tracked her down.  Not only is Kennedy Riley nosy, he is also model gorgeous, which is just further proof that life is not fair.
But Kennedy not only tracked Riley down at the party, he also follows her to the airport where she is flying home for Christmas. Kennedy convinces Riley that if he accompanies her home for her Christmas gathering pretending to be her new boyfriend, that Riley will go with Kennedy to his brother's post-Christmas wedding posing as his new girlfriend.  Thereby, they can both avoid the annoying family nosy bodies.
The Christmas pact is made and comedy ensues, especially when Kennedy decides that instead of setting up their story, they should improvise everything with her family which will be much more entertaining.
This was a decent premise but the fact that it was a short story required us to just go along with things like why Kennedy would go so far as to buy a ticket on Riley's flight home so he could talk her into his plan of deception and swapped family gatherings. He went to a lot of trouble to get a women he really didn't know at all to go with him to a family gathering. Thankfully we don't have instalove, we just end with an interest in giving a real relationship try which was more believable considering the small amount of time they spent together.
This is now available in ebook for those to don't like audiobooks and currently free on Kindleunlimited.
Related Posts