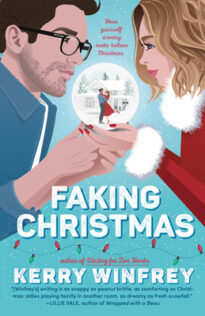 Faking Christmas
by
Kerry Winfrey

Published by
Berkley Romance
on September 26, 2023
Genres:
Contemporary
,
Holiday
Pages:
288
Format:
eBook
Source:
Netgalley



I received this book for free from Netgalley in exchange for an honest review. This does not affect my opinion of the book or the content of my review.
This post contains affiliate links you can use to purchase the book. If you buy the book using that link, I will receive a small commission from the sale.
Laurel Grant is playing house for the holidays--complete with a fake husband and kids--in this delightful, cozy rom-com by Kerry Winfrey.
Laurel Grant works as the social media manager for Buckeye State of Mind, an Ohio tourism magazine and website. She is most definitely not an owner of a farm...but one tiny misunderstanding leads her boss, Gilbert, to think she owns her twin sister Holly's farm just outside of Columbus. Laurel only handles the social media for the farm, but she's happy to keep her little white lie going if it means not getting fired.
And keep it going she must when Gilbert, recently dumped by his wife, invites himself over for the farm's big holiday dinner (as advertised on Meadow Rise Farm's Instagram, thanks to Laurel herself). Laurel immediately goes into panic mode to figure out how she can trick Gilbert into thinking she's basically the Martha Stewart of rural Ohio and keep her job in the process.
Laurel and Holly come up with a plan--all Laurel has to do is pretend to own the farm for one dinner. But when Laurel shows up at the farm, an unwelcome guest is there: Max Beckett, her nemesis since Holly's wedding. The annoyingly attractive man she hates will be posing as Laurel's husband just for the evening, but when a snowstorm traps them all for the entire weekend, Laurel is going to have to figure out how to survive with her job and dignity intact. Whatever the case, this promises to be the most eventful Christmas in ages...
---
This is my second and last Kerry Winfred novel.
Laurel Grant and her twin sister, Holly, love, love, love everything Christmas. Being born on Christmas day, may have something to do with that. But the family begins their Christmas celebrations with a big family dinner on Christmas Eve Eve. This year before leaving for her sister's farm, she stops by her office and finds her boss crying miserably because his wife left him for their accountant. One miscommunication later and Laurel's boss believes that Laurel has invited him for her big Christmas Eve Eve dinner. A dinner he is fully aware of since part of Laurel's job is to write little anecdotes about her lift on her family farm, except it's not Laurel's farm, it is her sister Holly's farm. So begins an elaborate lie where Laurel pretends Holly's farm is her, that Holly's kids are hers and that Laurel's husband is…whoa, hold on there. Holly will share her farm and her children but she won't share her husband and so enters Max Beckett, Holly's husband's BFF and Laurel's nemesis. Max has agreed, or more accurately, roped into, being Laurel's fake husband.
Of course, Columbus, Ohio hasn't had a white Christmas in a decade but tonight, they receive over a foot of snow leaving everyone stranded for two days with Laurel's boss and an elaborate ruse which is unraveling more and more with every passing hour. If the family can't keep her boss distracted enough, Laurel might just get a pink slip for Christmas this year.
Thoughts:
I was attempting my own little Christmas in July and it didn't go as expected. This is my second and probably last Kerry Winfred novel. In Very Sincerely Yours, while I wasn't enamored with the main character, Teddy, I did love Everett, our Mr. Roger's knockoff. Here in Faking Christmas, I felt absolute no connection to any of the characters.
Laurel is supposed to be a very 'spur-of-the-moment, let's have fun' kind of girl but with the lies to her boss and her bitter attitude toward Max, it doesn't really come across. It does turn out that Max does deserve Laurel's distain. He tries to apologize and indicate that he is working on his own self-improvement but again, mostly what we hear from Max is that he doesn't like Christmas or Christmas music or dancing or just about everything that Laurel is excited about. So while we know Max spends a lot of time with Holly and her husband and knows all about working the farm and Max is "working on himself" but all we hear from Max is negative, negative, negative.
The boss could be comic relief since everything set him off into a crying jag. He is so observant that he can tell the identical twins apart (not by hair style but by a random freckle) but he doesn't seem to notice that "Laurel's" children are mixed race (Holly's husband is African American) while Laurel and Max are both pale white. I kept waiting for him to go "Of course, I realized this was not your farm or your children. I was just waiting for you to come clean," but no, he buys into this charade hook, line and sinker and his hurt and shocked when he finally finds out.
We also start off with Laurel, who can't cook, being forced to cook Beef Wellington since her boss believes that "Holly" can't cook. But why does she need to make dinner by herself. I get the idea since now Laurel is forced to work with her fake husband, Max, but really it wouldn't be unreasonably for someone who can't cook to be in the kitchen helping even if they are only cutting and washing dishes. It is noted that this kitchen was separated by a door so why did Laurel need to be there by herself without her gourmet chef sister, Holly, helping to make a giant dinner for the family?
I was looking for a cute Christmas story to read but nothing about this story appealed to me. The story didn't made sense, neither Laurel nor Max held any appeal to me and had no chemistry that would make me think that sexual tension overcomes dislike–especially when Laurel seems to flip on a dime and suddenly is looking at Max like the love of her life.
Related Posts