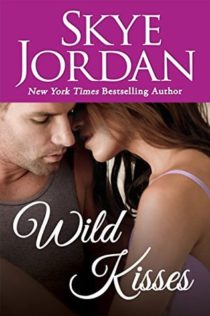 Wild Kisses (Wildwood, #2)
by
Skye Jordan

Series:
Wildwood #2
Published by
Montlake Romance
on January 10th 2017
Genres:
Contemporary
,
Small Town
Pages:
280
Format:
eBook



I received this book for free from in exchange for an honest review. This does not affect my opinion of the book or the content of my review.
This post contains affiliate links you can use to purchase the book. If you buy the book using that link, I will receive a small commission from the sale.
Newly divorced, Avery Hart returns home to Wildwood eager to take on her dream opportunity and transform her family's dive bar into her own bakery. The contractor for hire isn't just a master with his hands—he's big, built, and wears a tool belt like nobody's business. Despite being an ex-con, Trace Hutton is irresistible. Too bad he'd never go for someone as inexperienced as Avery.

Trace needs to focus on the job at hand, not daydream about smearing icing all over the sexy baker…and licking it off. This job is the key to getting his construction company back on its feet after his time in prison. Besides, no one deserves a fresh start more than Avery, and she certainly won't get that with him.

After a delectable night of passion (and pie), Trace craves something more. But he'll be damned if he'll let his checkered past crush her dreams. And as Avery starts to realize how Trace fulfills more than just her physical needs, she struggles with whether to let her history decide her future, or explore the wild new possibilities of forever…
---



Romantic and sexy. I just loved Avery and Trace.
This is the second book in Skye Jordan's Wildwood series and while it appears that the main characters met in the first book, it did not detract from this story. In fact, because of it, we jumped right into Wild Kisses with no need for any additional set up. It flowed nicely and I never felt that I missed out. Their romance begins from the first pages and because of the prior meet, it never feels like instalove.  It all balances very nicely to give us a sweet, sexy, romantic story.
Trace is an ex-con trying to rebuild his life and his construction business.  He is also trying to take care of his father who is suffering from dementia.  Trace has agreed to take on the conversation of the old family bar into Avery's new cafe/bakery for an affordable cost in order to prove his talent to the naysayers in town.  This is Trace's chance to get his life back on track and he can't let his attraction to Avery derail that but every time she does something sweet, he can't help falling further and further for Avery.
Avery has just gotten out of a loveless marriage and has returned to Wildwood in hopes of rebuilding her life. Avery can't help her own attraction to Trace but he has a bit of a reputation with the ladies around town and she feels that her lack of sexual experience wouldn't interest him. She can feel the tension building when she and Trace are together but he keeps running away from her.   After eight years of a husband who no longer showed her any affection, she withdraws whenever she feels rejected by Trace.
Avery and Trace were such likable characters and you have to feel for them as they try to fight their attraction for different reasons. Once they finally stop fighting the attraction and things get hot and steamy, Trace no longer fears that the job will get between them, but that Avery's chance at a new life and a new business will be smeared by hooking up with an ex-con. And it is not hard for someone who wants to cause trouble for them, to use Trace's past to try to ruin their success and destroy their blooming relationship.
I definitely enjoyed the blossoming romance between Avery and Trace and I hated how everyone was so against their relationship. I was actually sorry to finish this story and say goodbye to Trace and Avery.
---
Favorite Scene:
He paused to watch her, loving the way she sang and danced a little, then refocused and became intensely still as she put piping tip to cupcake. A furrow of concentration between her brows, she assessed the next cupcake like an artist looking at a blank canvas. She twisted her pastry bag and bent toward the counter.
Trace's devilish streak sizzled across his shoulders. Grinning, he slapped the plastic aside, ripping the Velcro open. "Hey, Snickerdoodle, how are you doing?"
Avery startled. Her hands slipped, and an icing squirted onto the stainless steel counter. "Dammit, Trace. How many times have I told you–"
As she caught his grin, her frustration turned hot. She aimed her pastry bag at him and squeezed. Icing shot across the space, splattering his abdomen in a cold blast.
Shock tripped Trace back a step with a laugh. Arms lifted out to the sides, he looked down at the gooey mess and laughed harder. That wickedly playful move was not what he'd expected, but the longer he spent around this woman, the more she surprised him.
Avery looked a little surprised, too, her cheeks turning a deeper pink. But she was laughing. "You deserve it. You can be such a little shit."
Trace approached the counter, swiping a finger full of icing off his gut. "Is this royal or cream cheese? Because you know I hate royal."
The way she pressed her lips together in annoyed humor told him it was cream cheese, and with a laugh of triumph he sucked the icing off his finger. But this wasn't just cream cheese frosting. She'd added spices and that made him hum with pleasure.
Her hair was up in a messy bun with wisps falling around her face and neck, and she looked absolutely adorable.
She smiled, her light-blue eyes twinkling. "You ass."
"Just part of my charm." He reached for the cupcake she'd messed up. "Guess that's going to have to be donated to the less fortunate."
She smacked his hand hard, the sting singing through his skin.
He pulled back but remained poised to grab the treat, and he leveled a look at her. "You're feisty today. Am I going to have to fight you for that? 'Cause I was quite the wrestler in high school. My moves combined with all the icing around here…" He added a teasing warning to his voice. "It could get really mess, really fast."
"Maybe you will." She tilted her head and narrowed her eyes. The look she gave him–as if she were seriously considering–shot a little thrill through his chest. "I should fight you for it on principal alone."
Oh, the images that flashed in his head…
If only.
But he just wasn't that lucky, and this project was just too important to both of them to mess it up with flirtation gone wild.
Truce purposely brought the teasing back to a respectable level. "But you won't because you know it's late, you know I've got to be starving, and you know I won't have time to stop for lunch today."
Her gaze darted to the clock on the wall, and her humor faded. "Oh my God, it is late."
She wiped her hands on her apron and turned toward the old fridge. Trace took the opportunity to grab the ruined cupcake while her back was turned. This batch was for a bridal shower/wedding-cake-tasting party, so he knew they would be her best. And after working around Avery seven days a week for two months, Trace knew she made twice as many of everything as she actually needed. So he didn't feel bad about stripping the wrapper and stuffing half of the cake into his mouth.
But the giant bite didn't give him the chocolate hit he'd expected. Instead he got a mouthful of decadent spices blended in a thick-textured, melt-in-your-mouth cake. And the cream cheese icing added a luscious zing that made Trace moan.
"Trace Hutton," she scolded, complete with a two-year-old foot-stomp. "Those are not for you."
Trace started laughing and covered his mouth so the cupcake didn't end up all over the kitchen. When he'd swallowed, he said, "Did you seriously just stomp your foot? Okay, that was almost the highlight of my day." He lifted the other half of the cupcake. "This is the absolute highlight of my day."
Related Posts