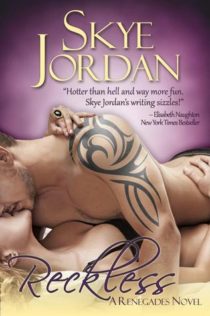 Reckless (Renegades, #1)
by
Skye Jordan

Series:
Renegades #1
Published by
Cygnet Books
on August 23rd 2013
Genres:
Contemporary
,
Erotic
Pages:
280
Format:
Audiobook
Narrator:
Piper Goodeve
Length:
9 hrs 15 min



This post contains affiliate links you can use to purchase the book. If you buy the book using that link, I will receive a small commission from the sale.
---
A couture wedding dress designer to the rich and famous, Lexi LaCroix's image means everything. But crossing paths with a sexier-than-sin, bad-boy biker makes Lexi realize how much living she's sacrificed for her success and one touch is all it takes to threaten her carefully choreographed life. When that touch fills far more than just Lexi's physical needs, she finds herself torn between the career she needs and the bad-boy she craves.

Jax Chamberlin gave up the superficial life of acting for the thrill of running his own stunt company years ago. But a recent betrayal proves he's still too close to the limelight to find a woman who doesn't plan to use him as a stepping-stone to success. When the charming and mysterious Lexi offers him a totally anonymous hook-up during an out of town trip, Jax accepts. Only Lexi is more sextacular than charming, and Jax wants more.

But Lexi's got a major hang-up over his renegade lifestyle, and Jax isn't willing to change his ways. Especially not when he discovers who she really is. Because if she finds out his connections could catapult her to the top of her career, he's afraid the fantasy woman he's falling for might just end up like all the other gold-diggers. And this time, it's not just his bad-boy reputation at risk, but his heart, too.
---
Lexi LeCroix, wedding dress designer, is on her way to New York for an important meeting with Martina Galliano.  Adding her designs to the Galliano's label will be the culmination of all Lexi's hard work. She has been working so hard to build her business and to meet the right clients, she can't remember the last time she sat down and ate a meal, let alone the last time she went on a date or had sex. But having her designs be part of the Galliano's wedding line will make her a big name in wedding haute couture.
Texting Jax Chamberlain in secret at the airport while waiting to board there plane, goes from playful fun to a night of the hot sex neither has ever experienced before. With her hard earned reputation on the line, Lexi can't risk what her rich clients might think of a relationship with the gorgeous stuntman, especially with the Galliano people watching her every move.
Jax is so used to being used as a stepping stone for every woman who hops into his bed, he is afraid to believe that Lexi is a good as she seems. Can two people who have trust issues take the leap to trust one more time?
THOUGHTS:
The narrator, Piper Goodeve, did a great job bringing Lexi alive for me. Her male voices were not as impressive but overall she did a great job narrating with a very natural flow to her voice.
This story starts out with Jax and Lexi seeing each other outside of the airport and then ending up on the same flight. Although the premise was a bit far fetched that Lexi was testing an app which would show her the phone numbers on every phone, I did enjoy the anonymous text flirting between Lexi and Jax which starts our story.   Both were open, flirtly and it introduced them both as very likable characters before all the BS starts.
Although they were both likable characters, their issues, especially those of Lexi, just tear the story apart. Let start with Jax. He is a former actor from a long family dynasty of actors. He acted under his given name and is now much happier going by his middle name Jackson and working as a stunt man. Jax has had relationship after relationship where women just use him to be introduced to some director or other important person in movies.  Although Jax is gorgeous and rich, apparently women only use him to get ahead. He has just gotten out of another relationship with a woman who stole a big contract from him. So when he first sees Lexi he wants to know what she wants from him and he is so desperate for her at this point, he is disappointed but willing to be used once again.
What I mean by finally sees her, when they have what is supposed to be their one night stand, Lexi makes Jax turn out all of the lights before she comes in so he can't see her and recognize her or see how gorgeous she is.   Maybe the author does this to prove how stupid men will be to get sex from someone they have convinced themselves is hot, because Jax agrees to this. What? At this point they have only had their texting/flirting at the airport. To agree to blindly have sex with a woman seems a big leap to a man with his own trust issues. From her flirty banter, he presumes that she is gorgeous? hot? not his sister?   The scene was hot, no question, there is still a part of my brain screaming who's stupid enough to agree to that? A guy who wants indiscriminate sex, that's who.
Yes, Jax has issues and jumps to the conclusion that she wants something from him, but quickly realizes that if she did want from him, she wouldn't have hidden her face or avoided him. She would have walked into his hotel room, showed him how beautiful she was and made sure to hook him with her looks and sex and then asked for his connections rather than avoided him.  So Jax is a reasonable person.
My biggest issue plot wise was simply Lexi's waffling between why she can't be with Jax or any other man. Yes, she worked hard to earn the big, rich, Hollywood clients and yes, they are a judgy bunch. She is also had her last boyfriend who didn't want to let go of Lexi because she is soooooo, sooooo beautiful and he needed to have her as his eye candy so desperately that he tried blackmailing her to keep her. Because of the judgy people and the possessive ex-boyfriend, first she can't be with Jax because she thought he was just a biker and the people she works with would judge her based on his look. Then when she finds out he is a stuntman and knows many of the people she has worked with, she still can't be with him in public because he could desire her so much that he could ruin her by turning all her clients again her. Back and forth, back and forth. Even after a mutual friend vouches for how wonderful a person Jax is she still waffles over if he is good enough.   Here is my biggest problem with this story…after 150 pages of "I worked hard to build my business," "I don't have time for a relationship," "I can't be with Jax because he isn't good enough for my clients," "I can't be with Jax because he could get possessive and ruin her reputation"…they have sex in a public place.  Yes, in a shadowy corner away from everyone, but in public and yes, they are caught. What happened to MY PRECIOUS REPUTATION? We had to listen to her worry about her business and her reputation for over 150 pages and then she hikes her skirt up in a corner surrounded by her clients. I was driving my car, listening to the story and screaming at the top of my lungs "ARE YOU FREAKING KIDDING ME?"
These were great characters and we could have enjoyed many more sexy scenes where Jax and Lexi were sneaking around on the Q.T. rather than waste all this time and energy listening to Lexi give excuse after excuse to protect her reputation. I wish politicians worked this hard to protect their reputations. Skye Jordan (a/k/a Joan Swan) is a good author so I am disappointed that she didn't come up with a better excuse to keep them apart although it simply wasn't necessary to keep them apart in the first place.  Both were busy, hard working people and that could have been more than enough of an excuse to keep them apart.  Lexi just comes across as a sweet, hard working woman who is a complete idiot for making stupid excuses why she can't date a gorgeous, hard working, well-known and admired stunt man.
Oh, I did forget one more unbelievable point of this story, which even Jax found unbelievable, Lexi is so busy being hard-working she didn't know Jax from any of his movies when he was working as a well-known, sexy leading man.
At the time of this review posting, Reckless is free on Amazon, and you can get the audiobook companion for only $1.99. Try it for yourself and let me know whether or not you agree with me.
---
Favorite Scene:
His phone chimed with a text message. Jax pulled out of his head and dragged his phone from his jacket pocket while using the few napkins that had survived the spill to wipe at the coffee residue on his boots.
When he sat back and glanced at the message, he frowned.
UNKNOWN: You're in luck. I just read a survey that women in New York are most turned on by the scent of coffee. No joke.
Jax stared at the message, confused. Then at the identification, showing 'blocked number', even more confused. It was really late—or early, depending on how he looked at hit—and he'd desperately needed that coffee. His mind spun but couldn't find traction. His cell number was unlisted. Only his family, his Renegades, his friends, and the women he'd dated had it. Everything related to work went through a separate cell or the office phone. No one who had his phone number had a blocked identity, but those bastards he worked with could hack, rig and wing anything they got their grimy hands on.
Had to be one of them fucking with him. So typical.
Jax returned a text to unknown.
JAX: Then I'll finally be more popular at Kiss N Fly than you are. Don't hide in the shadows, you prick. Come keep me company.
He couldn't think of any reason his guys would be flying in or out of town. Renegades didn't have any jobs scheduled outside LA this week other than the one Jax was handling in New York. Wes wouldn't be coming out for another few days.
UNKNOWN: I do hear the women at Kiss N Fly go both ways, but I don't, so I'm sure you'd be far more popular at the bar than I would.
"Sir?"
Jax lifted his frown from the phone. A young woman stood in front of him holding a coffee cup. She wore a green apron from the restaurant where he'd gotten his coffee earlier, the coffee that now resided in his clothes.
"I was asked to deliver this to you."
The text and the coffee clicked at the same time. Not one of his guys. Ooops. "Who asked you to deliver it?"
"I don't know, sir. It was called in." She glanced at his soaked duffle and smiled. "I guess you had an accident here and someone wanted to replace it."
Jax glanced over at Kevin and his mother. The boy was still sliding the car around on the carpet at her feet. His mother read Jax's silent question and shook her head. He took the offered coffee and thanked the girl from the restaurant, reaching for his wallet.
"Oh no, sir. It's been taken care of."
He paused with is wallet in his hand. "Let me at least give you something for bringing it over."
She grinned. "That's been covered too, but thank you."
And she walked away. His phone chimed again.
UNKNOWN: And while I do love coffee–both the scent…and the taste–I have no doubt I'd prefer the scent…and the taste…of something…more personal.
Jax stared won at the message. Heat gathered low in his gut. "Whoa."
He glanced up and around the terminal, where the space was filing with more passengers. But no one particularly interested in him, which is good. He took red-eyes as often as possible to avoid what little recognition he occasionally still received. but now he didn't want to get caught up with one of his exes. Didn't want to start something inappropriate with one of his friends.
JAX: I'm guessing I should thank you for the coffee?
UNKNOWN: No need. We all can use a little pick-me-up now and then. It was nice for me to be able to do it. Hope this turns your day around.
Jax took a sip. The fresh, hot brew filled his mouth, and his shoulders relaxed. He finally asked:
JAX: Who is this? You number is showing up blocked.
The tension returned as he waited for the answer.
UNKNOWN: We don't know each other.
Jax frowned. His mind darted.
JAX: How'd you get my number?
UNKNOWN: Just a little harmless hacking. Don't worry, I won't bother you or share it. I just wanted to tell you how great you were with the kid and how I'm drooling over your jacket.
He laughed. The hacking part didn't bother him overly much. Any of his guys could have surely done the same. And he appreciated ingenuity. If she became a problem, he'd just block her.
At the moment, he could use a frivolous diversion. And since he had no idea who he was talking to, this could be considered focusing on the inside of a woman, right?
And…she had bought him coffee.
Related Posts