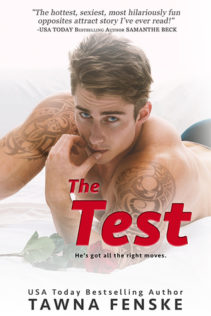 The Test
by
Tawna Fenske

Series:
The List #2
Published by
Entangled Publishing: Scorched
on February 19th 2018
Genres:
Blue Collar
,
Contemporary
Pages:
209
Format:
eBook



This post contains affiliate links you can use to purchase the book. If you buy the book using that link, I will receive a small commission from the sale.
This is a test. A test of every life decision Lisa Michaels has ever made.

Lisa thought she'd gotten everything right: The nicest condo, the right career, the best hair, and a perfectly adequate sex life with her stockbroker fiancé. But when the fiancé ditches her at the altar, Lisa's left questioning every decision she's ever made. What if her instincts have been steering her wrong all along? And what if she tested that theory by spending one month doing the exact opposite of what she'd normally do?

A crazy-hot fling with a tattooed steelworker from the wrong side of the tracks seems like a good starting point...
---
The Test lacks some of the charm and heat of the first book, The List.
We met Lisa Michaels in Book One. Lisa is the sister of Cassie from The List. In the prior story, Lisa was set to marry the perfect, financially sound man, have the perfect wedding, live in the perfect house and eventually have two point three perfect children who attended just the right school. But her perfect man left Lisa standing at the alter.
When she is out at the bar with her sisters, and was caught staring at a gorgeous specimen of man, who just happens to look like a down and dirty biker, Lisa realizes that she needs to put her idea of perfect to The Test, starting with a wild fling with the hot biker guy, someone she normally wouldn't fit in with her perfect country club lifestyle.
Now, I will give you that the scene is very entertaining where Lisa brings home Dax Kensington for a hot one night stand, and once she gets him home, they don't go hot and heavy. She doesn't know what to do with him and is offering him refreshments and trying to make small talk. Dax takes it easy on her understanding that he went home with someone who might not be a virgin, but was as nervous as one.
He is also very interested in helping Lisa put her life to The Test for the next 30 days, helping her turn every decision in a 180.   I liked how Lisa was game with each of Dax's suggestions, and not all of them were sexual.
Any issue I had with the story had to do with how the author portrayed Dax. Dax was a welder by trade and dabbled welding metals into art. She also made him a sudden millionare because he patented some special cooler. Why did he have to be a millionaire?  Just so he would fit in with Cassie's boyfriend Simon, the computer genius and billionare?  Just so Lisa could be surprised to find him with a Amex Black card? The biggest problem is that although Dax is well aware that Lisa picked him out at the bar because he looked like an average Joe from the wrong side of the tracks with tattoos who rode a bike vs her usual choice of white collar, banker who drives a Mercedes, Dax keeps getting offended when Lisa assumes things about him.  Dax actually is a guy from the wrong side of the tracks, raised on the poverty line with screwed up parents, a brother in prison and a sister who O.D.'d young.  But when Lisa is surprised that he familiar with a very expensive wine that she pours, he gets annoyed with her.   When his water isn't working and she jokes if he paid his bill, he gets angry and offended. Dax knew what he was getting into and what he was supposed to represent. You can't be offended when she presumes you know more about domestic beer than fine wine. He has a lot of inferiority triggers which makes it a bad idea to allow a woman to run her Test on you as someone who is very different from the rich, polished men she usually dates.
In The List, Lisa comes off has snobbish and entitled, but I liked that she was willing to listen to all of Dax's suggestions and agree that she needed to give something different a try, including camping instead of a spa day. I won't even go camping.  Yuck!   We also find her being very kind of Simon's (Book 1) sister who has Down's Syndrome and making her part of their girl nights and even yelling at Dax when she mistakes a comment as an offense to Junie.
It was a decent story and it turns out that snobby girls can turn nice, at least in Lisa's case, but Dax knew what he was getting into so making his ego suddenly so easy to bruise ruined some of the scenes.
Related Posts