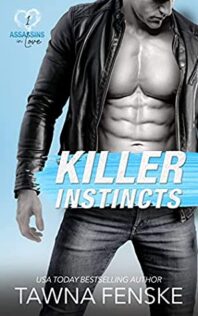 Killer Instincts (Assassins in Love #1)
by
Tawna Fenske

Series:
Assassins in Love #1
on April 7, 2022
Genres:
Action
,
Contemporary
Format:
eBook
Source:
Author


I received this book for free from Author in exchange for an honest review. This does not affect my opinion of the book or the content of my review.
This post contains affiliate links you can use to purchase the book. If you buy the book using that link, I will receive a small commission from the sale.
He's a hired gun. A hardened killer. So how'd he end up bottle-feeding lambs for his best friend's sister?
Dante didn't set out to deceive. His favor for a pal in prison got him this farmhand job, and Jen needs help guarding more than her blueberries. Someone's set on hurting her, and he'll make damn sure they don't. She can't know who sent him or why he's handier with a handgun than a hoe. But none of that matters more than keeping Jen safe.
To save the girl, he'll have to pair old skills with new. A princess tea party and an old-fashioned gunfight? Why not. Grape stomping and grenades? Sign him up.
But as the enemy closes in, there's one skill Dante finds he doesn't have: The strength to walk away when the job is done.
---
A sweet couple and interest mystery.
Dante is an assassin who longs to retire from killing but before he can, he has one more job he has to do.  He feels responsible for getting his friend Matteo arrested. He promised to not only go to Matteo's family farm to look for evidence to prove his innocence, but also to check up on Matteo's younger sisters.
When he arrives at the farm, Jen mistakes Dante for the man answering her Craigslist ad for a farmhand. Used to thinking on his feet, Dante finds this is a perfect excuse to enjoy some quiet time and also fulfilling his promise to his friend to watch over his sister.
Life on the farm/vineyard should be uneventful, but someone is trying to scare Jen away. When some of Jen's crop wither from pesticides, she first thinks that her neighbor got too ambitious with his spraying. But a brick through her window, isn't a farm accident or a mistake. Someone wants Jen out, but is it her ex-fiancé, her grumpy neighbor or the hotel chain that wants her farmland for the perfect new B&B in wine country? Or is the culprit someone more nefarious with plans to get at her brother and any secrets he is keeping? Dante will do anything to protect his friend's family and the woman he shouldn't be growing so fond of.
I did see some note about this story being "opposites attract" but I found that Dante and Jen were both sweet people, the loved the quiet life on the farm and they were both protective of family. With the exception of his old job as an assassin, one he took out of training and duty, they weren't really opposites.
This was a good story and kept my interest to see who was behind the attacks on Jen's farm.
---
Favorite Scene:
Jen wants to have a formal tea like she did as a young girl and Dante takes her wearing his dress uniform…
The woman blushes and regards Jen. "Florence Davies, madam. How may I help you?"
The English accent sounds real. Yorkshire, maybe.
Jen rests a hand on the counter. "I have a reservation for two. Jennifer Bello."
"Jennifer. Of course!" Florence laughs and scans Jen with her eyes. "Almost didn't recognize you, dear. It's not often I see you dressed up like this."
Jen's cheeks glow as the bites her lip. "Yes, well. It's a special occasion."
"I see, I see." Florence scans a satin-wrapped datebook and makes a note. "We've got a lovely table for you in the atrium. Right this way."
Jen hoists her purse and follows Florence down a hall. Dante follows, watching Jen's back. He's keeping her safe, not noticing how the sundress drapes low between her shoulder blades, skimming freckled skin he aches to kiss.
But he's not doing that. He's surveying a table ringed with small girls in princess dresses. Age six, maybe seven, judging by bright pink birthday balloons dotted with the digit. His gaze sweeps the table, taking in a dozen pigtailed heads, the seas of tiny tea sandwiches, the ripple of girl giggles. Not a threat, but he catalogues it all to be thorough. One girl looks up, cinnamon pigtails swaying under the tiara. The spots Dante and gasps.
"The prince!" She throws white-gloved hands to her chest, "Prince Harrington has come to slay the dragon."
Dante looks around for a dragon. Doesn't see one, and he's almost sure that's not a codeword. He tips his hat, prompting peals of laughter and a startled blink from one tiny blonde who stares at his scar.
He puts his hat back on fast. "Ladies."
That gets more giggles. A dark-skinned girl with pink beads on her braids sets down a half-eaten cookie. "Where's your horse?"
"In the barn." That's where he last saw Maple. "Where's your horse?"
The girl huffs an impatient sigh. "Only the prince has a white horse. I'm a princess."
"Huh." Not a rule he's heard before. "What kind of horse does a princess have?"
She shrugs as another girl sneaks the half-eaten cookie off her plate. "Dunno. I've only been a princess since today."
"You're a natural." He glances at Jen, who's stopped to watch. He direct his attention back the the young royal. "Seems like a princess should have any color horse she wants."
The girl considers this. "Purple?"
"Sure."
"Pink?"
"Okay."
"Rainbow stripes with–"
"Yes, absolutely."
The blonde who spotted his scar speaks up. "Do you need a necklace?"
Dante frowns. "A necklace?"
She points to a bowl piled with plastic beads. "They're real diamonds and rubies and emeralds."
"I see that." He pauses, not sure what etiquette calls for.
Florence steps in to save him. "Your table is this way." Smiling, she touches his elbow. "Your Highness."
He nods and follows her into the atrium, dragging a hand down the row of metal buttons on his uniform. More giggles flutter from the princess table behind him.
"That was very sweet," Jen whispers. "You do sort of look like a prince."
Related Posts