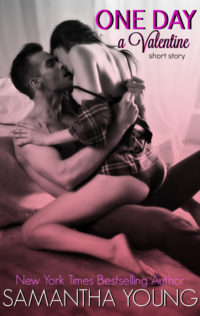 One Day (A Short Story)
by
Samantha Young

Published by
Self-Published
Genres:
Contemporary
Pages:
55
Format:
eBook
---
This is a sweet short story which is currently free on the author's page.
So I am a little late for a Valentine's Day story, but I did just find it yesterday. The background of the story takes place in Scotland but none of the characters are from her On Dublin Street series, so you don't have to be a fan to give this story a try.
Hazel has just suffered her 10th consecutive Valentine's Day letdown and decides to borrow her brother's camper van and heads off to the woods to be all alone. While the call of nature forces her to head behind the nearest tree, she (un)fortunately comes across American Liam Brody who is doing much the same. After determining Liam is not a serial killer, Liam and Hazel spend the day together on a camping adventure and are quite surprised to feel such a strong attachment to someone they have only spent one day with.
Normally, I am not a big fan of insta-love stories, but in this one developed nicely as they spent the day together.  They also weren't declaring undying love  by the end just a desire to give a relationship a try which would go under the category of Happy for Now rather than HEA.
This was a fun, short read.  Although the background of the story involves camping *shudder*, these were adorable characters and an enjoyable story.
---
Favorite Scene:
Liam charms his way into an older ladies's house so he can borrow her shower.
"You're welcome." She held the door open for us, and Liam quickly stepped outside. She grinned at him and then gave me a wink. "And lucky you."
I had no time to ask her what she meant because Liam was practically running from the house. Chasing after him, I finally caught up with him once we were out of sight of the guest house. "What on earth happened?" I said, trying to match his long strides.
He threw me a look over his shoulder and I realized it was a look of pure mortification. Suspicion dawned on me, and laughter trembled in my voice when I said, "She didn't…"
"Walk in on me while I was naked in the shower?" he said, clearly horrified by the experience.
"What?" Do not laugh, do not laugh!
"I was in the damn shower and she walked in with a bunch of clean towels for me. While I was naked. In the shower."
"She was just being helpful," I said, losing my battle with amusement. Hearing the laughter in my words, he cut me a dirty look.
"She stared at my…" he gestured to his dick.
"As in… was she coming on to you?" Yuck!
"No." He shook his head, the color still high on his cheeks. "She was very matter of fact actually." He stopped and scowled at me. "She congratulated me on my penis."
I felt the laughter coming, and as much as I tried to stop it, it was too much. I threw my head back and burst into stomach-hurting hilarity at the image of big Liam Brody standing in a shower while Belle congratulated him on his dick. Now I understood her words at the door, "And lucky you."
"Ha!" I laughed harder. By the time I got myself under control again, Liam was wearing a reluctant grin, and staring at me with warmth in his eyes that made me flush.
"I can't believe that happened to you." I said, a little out of breath. We began walking again. "Actually I can. Fuc—"
"—king Valentine's Day," he finished for me, smiling widely now.
And then something occurred to me, my eyes zeroing in on his crotch before I could stop myself. "Just how big are you?" I blurted out.
There was no blush on his cheeks for me. Instead he cut me a hot look that made me tingle all over. "Wouldn't you like to know."
Related Posts