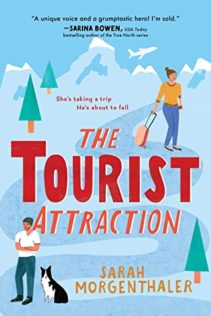 The Tourist Attraction (Moose Springs, Alaska #1)
by
Sarah Morgenthaler

Series:
Moose Springs Alaska #1
Published by
Sourcebooks Casablanca
on May 5, 2020
Genres:
Contemporary
Pages:
352
Format:
eBook



I received this book for free from in exchange for an honest review. This does not affect my opinion of the book or the content of my review.
This post contains affiliate links you can use to purchase the book. If you buy the book using that link, I will receive a small commission from the sale.
When Graham Barnett named his diner The Tourist Trap, he meant it as a joke. Now he's stuck slinging reindeer dogs to an endless string of resort visitors who couldn't interest him less. Not even the sweet, enthusiastic tourist in the corner who blushes every time he looks her way…
Two weeks in Alaska isn't just the top item on Zoey Caldwell's bucket list. It's the whole bucket. One look at the mountain town of Moose Springs and she's smitten. But when an act of kindness brings Zoey into Graham's world, she may just find there's more to the man than meets the eye…and more to love in Moose Springs than just the Alaskan wilderness.
---
The Tourist Attraction is delightfully charming and witty. I would definitely recommend a trip to Moose Springs, Alaska.
Moose Springs, Alaska, just outside of Anchorage, is a place of majestic scenery and a variety of wildlife.   If you are one of the rich and bored, you can stay at the lovely Moose Springs Resort and visit the quaint village of Moose Springs filled with citizens who absolutely hate all the tourist who descend down the mountain to bother them.
The biggest tourist hater is Graham Barnett, the owner of The Tourist Trap, who probably never would have opened the place if he knew the hated tourists would always be banging down his door.  It seems that the line grows longer the ruder Graham is to them. Apparently, nothing makes these privileged idiots happier than when the curmudgeon owner stops serving food and throws cleaning rags at the patrons until they clean up their messes, and who the hell keeps bringing in a karaoke machine? 
Everyone in town knows that Graham is the most disgruntled local of all.  So it is no surprise that everyone is slack jawed when one tourist seems to have snagged his gimlet eye and he keeps bringing her around to the secret spots that the locals try to keep to themselves.
Actually no one is more surprised than Graham that he can't keep away from Zoey Caldwell, but one moment with her and he knew she was nothing like the rest of the usual mob that attacks his town. Even knowing that she was just here on vacation and even knowing that it isn't a good idea to get too attached, Graham can't help his growing need to see her and spend time with her and watch her face light up as she sees all the beauty that his beloved Alaska has to offer.  Seeing a tourist pack their bags is usually the highlight of Graham's day.   Now that Zoey has stumbled into his life, can Graham convince her that Moose Springs is the only place to live?
I loved the quirky sense of humor that was the part of Graham that only the locals knew.  The only way I could explain it would be to point out actor Ryan Reynolds, whether it is a character or just about anything he posts on the internet, where he says the oddest things with a straight face and it works and its funny.  He's adorable and you laugh even if you don't want to.   With Graham's grumpiness juxtapositioning his smart-ass personality, I found myself smirking a lot.  Zoey is  a sweetheart and you can understand Graham's interest in her but it is really Graham's humor that grabs the spotlight.
We are also treated to many great secondary characters who will be the focus of future novels.  I have already marked them off on my Goodreads list so I can keep reading up on life in Moose Springs.
---
Favorite Scene:
I had so many parts highlighted to share but decided to go with this scene…
"When can we leave?"
Both men looked at her, Graham's lips curving upward in clear amusement. "You got somewhere better to be?"
Pulling a stool over to the door of their holding cell, Jonah settled in with a file in his lap. "Here's what I'm going to do. Ms. Caldwell, I'd like to think this was just an accident, but I've got your police records here. And it's concerning."
"You have a rap sheet?" Graham's eyes widened, like someone had handed him a candy bar unexpectedly. "Oh, I have to hear this."
"No, you don't." Horrified, Zoey made a grab for the paperwork in the cop's hand, but he kept his arm out of reach, leaning back from the bars.
"Indecent exposure–"
"That was not my fault."
"Destruction of property–"
"That wasn't even property! It was just a stupid garden gnome–"
"More indecent exposure."
Sinking down onto the bench, Zoey hid her face in her hands as Jonah continued to list her shame. With every addition to her crimes, Graham's clear enjoyment of the situation grew.
Clearing his throat, Jonah finished the last bit of his sandwich. "Ms. Caldwell, I'd love to let you go on your promise this was all a misunderstanding, but I'm just not sure if it's a good idea to let you run lose up here. We're a small town full of good people, and–" Jonah lowered his voice. "Public nudity just isn't something we feel comfortable with."
"Someone please kill me," Zoey whimpered into her hands.
The officer's cell phone rang, pulling his attention. "Excuse me."
Disappearing outside to conduct his call privately, Jonah left Zoey alone in her humiliation, face so hot it hurt her skin. She refused to glance over, hiding from the look she just knew would be on the face of her cellmate.
"So…what kind of indecent exposure are we talking about here?"
If she glanced his way, Zoey knew Graham's eyes would be all sparkly and gorgeous. So, Zoey refused to answer, just like she refused to look at him.
"Strip poker?"
It was possible she hated him.
"No, I bet it was a classic teenage streaking gone wrong. Why do people always have to lock the doors just when the neighbors notice?"
"Do you have to enjoy this so much?"
"I'm sitting on a bench with a pretty girl. Of course, I'm enjoying this."
Risking a glance at him, Zoey was met with–yep.  Waving her hand in front of his face in a circular wiping motion, Zoey scrunched her nose and glared at him. "Enough with the sparkle eyes. This is not a meet-cute. This is not a–you know."
"I literally have no idea."
"Oh, you know. And it's not." She gestured at his general personage. "Aim all that somewhere else."
"Incarceration bring out your feisty side."
Shoving to her feet, Zoey resumed pacing the cell, sandwich squishing in her hand as her fingers clenched an involuntary fist. "You do realize I have a very impulsive friend who thinks I'm out on a hike right now? On the off chance she actually tries to find me instead of hiring someone to do it, the last thing we need is her lost in the woods all by herself."
"I would agree on that." Leaning forward, Graham rested his elbows on his knees, T-shirt hugging his muscled shoulders. "You're much better at being lost than L could pull off."
"Could you just be ugly for a moment?" Zoey asked, aware her voice was a mixture of plaintive and panicked. "You're not helping."
His grin just grew. "You're adorable."
Not attacking him a second time took the willpower of a saint. "Officer Jonah? Can I have my own drunk tank? Please?" When she leaned her forehead against the door, it popped open.
"Better close it," Graham murmured. "Breaking and exiting is looked down on in the state of Alaska."
Related Posts