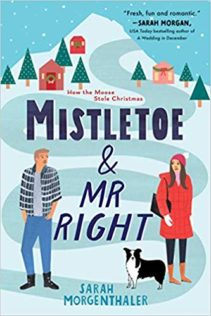 Mistletoe and Mr. Right (Moose Springs, Alaska #2)
by
Sarah Morgenthaler

Series:
,
Published by
Sourcebooks Casablanca
on October 6, 2020
Genres:
Contemporary
Pages:
352
Format:
eBook



I received this book for free from in exchange for an honest review. This does not affect my opinion of the book or the content of my review.
This post contains affiliate links you can use to purchase the book. If you buy the book using that link, I will receive a small commission from the sale.
How the moose (almost) stole Christmas.
Lana Montgomery is everything the quirky small town of Moose Springs, Alaska can't stand: a rich socialite with dreams of changing things for the better. But Lana's determined to prove that she belongs...even if it means trading her stilettos for snow boots and tracking one of the town's hairiest Christmas mysteries: the Santa Moose, an antlered Grinch hell-bent on destroying every bit of holiday cheer (and tinsel) it can sink its teeth into.
And really...how hard could it be?
The last few years have been tough on Rick Harding, and it's not getting any easier now that his dream girl's back in town. When Lana accidentally tranquilizes him instead of the Santa Moose, it's clear she needs help, fast...and this could be his chance to finally catch her eye. It's an all-out Christmas war, but if they can nab that darn moose before it destroys the town, Rick and Lana might finally find a place where they both belong...together.
---
A sweet romance about two lonely people but it lacked some of the quirkiness of the first story.
Lana Montgomery is the most hated woman in a tiny tourist town that hates tourists. Lana wants to build luxury condos next to the luxury resort. A resort which the town already hates, which brings enough of those damned rich tourists flocking to their town. But coming to Moose Springs every year has been the highlight of Lana's life since she was a child. She wants to share that love of Moose Springs with others and she wants to see the town succeed. Most people in the town don't realize that the resort is struggling on the verge of bankruptcy and if there are no more of those annoying tourist dollars coming in, Moose Springs will suffer and die out of existence.
Rick Harding owns the local pool hall and is one of the business owners who has tried to keep his business as locals only. But his local only policy isn't keeping his business in the black. He can barely keep the rent paid on his dilapidated building which is now owned by the Montgomery Group. He'd like to ask Lana on a date but how do you approach your landlady when you are a month behind on the rent?
In a desperate attempt to win over the town, Lana volunteers to try to locate and trap a moose which the town calls Santa Moose who keeps destroying everyone's outdoor Christmas decorations.
This story breaks down to two very lonely people who live in completely different worlds. Lana may be up for the next head of the Montgomery Group, but even she needs to go wherever she is told to for the benefit of the company. Her luggage might be Gucci, but the lives out of it like a nomad.  She is never anywhere long enough to make a relationship work.   Rick's wife, his high school sweetheart, left him and Moose Springs years ago, leaving him to take her of her orphaned nephew. Growing up in a small town where you know everyone leaves something to be desired when the few eligible woman were more like your sisters than potential romance.   Even though they knew their chances at a HEA were doomed from the start, Lana and Rick are drawn to each other and both hope to enjoy their time together while they can.
I liked Rick and Lana together although the whole story was shrouded in that oppressive "we can only be temporary" sad vibe. I also understand that stories require that defining moment or the conflict which splits the characters up but I have a problem when it feels forced upon us to accept. In this case, Rick is supporting Lana in a "I don't want you to be alone moment" (something which will effect one of the other characters which we really liked) but then someone gives Rick the "Lana's too important for you" speech (which he already knew), Rick suddenly walks away leaving Lana to suffer alone in her trauma. This was not only out of character, but more of a WTF moment to me.  Rick went with Lana to support her and less than 12 hours later he abandons her with an excuse they both know is BS even though she is still dealing with bad shit. Really? The Rick we were given up to this point would have sucked it up for another day or two until Lana was steadier because he was there to support her. Whether her family believed he was unworthy of her wouldn't change if he stayed with her for two or three days more. It was a jerk move to abandon her suddenly and if I was Lana, I wouldn't have fought so hard for someone who abandoned me when I needed someone to lean on.
While Rick and Lana were a nice couple, this story lacked some of the magic that we had in the first story about Moose Springs. We were also given an opportunity to see behind the curtain and where The Tourist Trap run by Graham was always busy and lively because they were flooded with annoying tourists,  those businesses like Rick's who catered just to the small population of locals, were struggling to survive and his only options were soon going to be to sell his soul and open to the tourists or close up entirely. It painted a sad picture of tourist driven areas where the locals hate the people they depended upon.  The desperation of the town paired with Lana and Rick's loneliness made for an overwhelmingly sad story.
---
Favorite Scene:
Rick takes Lana on a date and finds a B&B outside of town which he has never been to before…
Letting himself hope for a kinder, gentler universe, Rick opened the door at the top of the stairs, offering a shy smile to the woman with him. She was so beautiful, he couldn't get over it. And when she returned that smile, his heart paused in his chest, took its own breath, and finally started to beat again.
This time Rick moved fast enough to hold the door for her, before following her into the restaurant. She stopped so quickly, he bumped into Lana's back, quickly placing a hand on her hip to stead them both.
"Sorry–" he started to say, then Rick trailed off, finally seeing what had caused his date to hit the brakes.
Rick lived in Alaska his entire life. Many people he knew were avid hunters, and some relied on hunting and fishing to feed their families throughout the winter. Even though it had always struck him as macabre to mount a trophy animal on the wall, he was used to it. Growing up in Alaska meant one wasn't a stranger to that sort of thing.
But even he had never seen this much taxidermy in a single room.
"Are they–?" Lana started, sounding startled more than horrified.
"Squirrels." Rick kept his hand on her hip out of sheer protective instinct. One did not expect to step into a room with taxidermy squirrels everywhere.
"And are they–?"
Rick shuddered. "They're dressed for the holiday season."
Looking around, Rick had no idea what to do. Everywhere he looked was another squirrel. One dressed as an early 1900s St Nick. Others working as elves in Santa's workshop or loading his sleigh. A Rudolph squirrel stood impatiently with the other reindeer squirrels, while excited squirrel children waited by fireplaces in little squirrel pajamas. There were squirrels reenacting the ending of It's a Wonderful Life and others ice skating beneath a Christmas tree in Rockefeller Center.
Someone had put a Ghost of Christmas Future outfit on a particularly grim squirrel, complete with chains and sickle.
A tall, thin woman in thick-rimmed glasses appeared from the back, blinking in surprise when she saw them. "Oh, I didn't hear you come in. Two for dinner?"
If Lana had run screaming, Rick would have understood. But instead of cringing, his date turned sweetly to the hostess.
"Yes, thank you."
"Sit wherever you want. We're empty tonight."
The hostess handed Rick two menus and promptly disappeared into the back once more. "Carl, we have a two-top," the hostess yelled, loud enough that they both started.
"Well, I prefer to sit by the window," Lana said cheerfully as they headed to a table on the far side of the empty dining room.
Rick raised an eyebrow. "Next to Santa's sleigh?"
"It seems festive." Festive was one way of putting it. "Have you eaten here before?"
"Do you think I would have dragged you all the way here if I had?" Rick pulled her seat out for her, as per card twelve's recommendation.
"I might question your sense of humor," she said with a teasing smile.
Related Posts