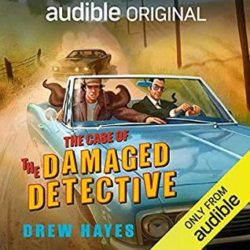 The Case of the Damaged Detective (5-Minute Sherlock, #1)
by
Drew Hayes

Published by
Audible Studios
on June 13, 2019
Genres:
Crime Drama
Pages:
300
Format:
Audiobook
Narrator:
Carol Monda
,
Scott Aiello


This post contains affiliate links you can use to purchase the book. If you buy the book using that link, I will receive a small commission from the sale.
Length: 9 hr 13 min

A MYSTERY/ROAD TRIP/BUDDY COMEDY/ACTION ADVENTURE FROM THE AUTHOR OF 'SECOND HAND CURSES.'

A dance club full of bodies. Cause of death - a mystery. The lone survivor - a man, raving like a lunatic, wearing only a deerstalker hat.

Now, the man who calls himself Sherman Holmes is being studied like a lab rat by a top-secret government agency. How is it he can be barely clinging to reality one minute - yet be a seeming genius the next? Within his brain might just be the greatest scientific breakthrough of the millennium, if anyone can figure out how to access it.

Enter the agent code named Watson.

Once a rising star, a deadly betrayal sent hin spiraling into uncertainty and paranoia. Now saddled with moving Sherman to a more-secure facility, he must prove he's still up to the task. With enemies on their heels, a whole country to cross, and Sherman ranting in his ear, the job proves to be more of a challenge than Watson ever anticipated.

With Watson's experience and the bizarre insights of his own twisted mind, Sherman just might survive. But can Watson survive Sherman?

©2019 Andrew Hayes (P)2019 Audible Originals, LLC.
---
The Case of the Damaged Detective is for anyone who enjoys a buddy story.
"Watson" was one of the best agents out there, but a betrayal by the one man who he trusted to have his back left him near dead and with a severe lack of trust.   Now no one else will work with him, not that he would allow any of them at his back ever again. But since he is too good an agent to retire, Watson has a new assignment, hence the code name Watson.
Someone dumped a biological weapon into a nightclub killing all but one man who woke up with no memory of his past. He might not remember who he used to be but he is certain that now he is Sherman Holmes,  a descendant of the famous detective Sherlock Holmes. Sherlock Holmes might really be a fictional character, but Sherman's exposure to the toxin has unlocked his brain and his capacity to learn new things is incalculable.  More important, if he needs it, he can even put his brain into a hyperdrive for five minutes and just like Sherlock, Sherman's brain is faster than a computer and nothing will escape his notice. Unfortunately, after that five minutes is up, Sherman literally passes out as his brain shuts down from the overload.
As you can imagine, not only do the people who dropped that toxin into the nightclub want to get their hands on Sherman to experiment on him and see why he lived, but many other spies and countries want to get their hands on him as well so they can duplicate the effect and create superminds. So it is up to Watson to act as bodyguard and drive Sherman across the country to get him to the secure lab.
Having an amazing capacity for thought and learning isn't all rainbows and puppies. Sherman's big brain needs constant information and stimulation. Normally Watson's plan would have been straight shot down the highway to get his target safely under wraps. But his distrust from his fellow agents makes him concerned that their perfect plan of hotels and stops might all be compromised before they leave the driveway.    Sherman and Watson agree to take the road less traveled and take a rambling trip down back roads so Sherman can take in and enjoy more and more obscure roadside attractions he has mapped out for their trip.
But even going off program doesn't help them against the more cleaver trackers. Some of them are starting to understand what is taking them off of the highway and they start anticipating Sherman's next stop. Watson might not be the most trusting soul anymore but he is still one of the best agents for a reason, and he is going to need all that skill to get Sherman to their destination in one piece.
This was an interesting concept for a story and blends well with the buddy trope. Watson and Sherman are very opposite.   Sherman's new brain makes him very contemptuous of everyone and while Watson is a great agent, he no longer trusts anyone, including Sherman.  As Watson comes to realize the negative issues that Sherman is suffering with his super brain (specifically, he can't turn it off) and he starts working with him rather than trying to drag him along as fast as possible, and we begin to see a mutual understanding turn into a begrudging respect and eventually into a friendship.
This was an audible original and it is noted as a "5-minute Sherlock #1." I like Drew Hayes and I would definitely check out any further stories of Sherman and Watson.
Related Posts