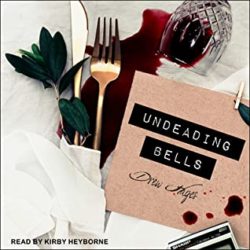 Undeading Bells
by
Drew Hayes
,
Kirby Heyborne

Series:
Fred the Vampire Accountant #6
Published by
Tantor Audio
on February 28, 2020
Genres:
Paranormal/Urban Fantasy
Format:
Audiobook
Narrator:
Kirby Heyborne
Length:
11 hrs 34 min



This post contains affiliate links you can use to purchase the book. If you buy the book using that link, I will receive a small commission from the sale.
After surviving countless perils and dangers, including an examination by the Blood Council, Fred is preparing to take on his most important adventure to date: marrying Krystal. That is, if he can get everything handled in time. Visiting Boarback, hiring new staff, clearing out his schedule for a honeymoon; there's no shortage of tasks to check off before the big day arrives. But not everyone views the occasion in such a happy light. With new dangers looming, old debts raised, and grudges rekindled, it'll take everything Fred has to finally make it down the aisle.
---
Once again the most boring (and most awesome) vampire accountant makes time to take us on an adventure before he can take Crystal down the aisle.
Grab your best attire because Frederick Frankford Fletcher and Agent Crystal Jenkins are finally gonna tie the knot. But nothing poor Fred sets out to do, ever goes easy.   If he wants to get married and have time for a honeymoon, there are certain tasks that he needs to complete before they can walk down the aisle.
First, there is finding the location, choosing a wedding cake, and finding a caterer who can handle all the various parahumans who will be attending the reception. He also needs to hire a new employee, preferably a parahuman that has some experience in accounting. While he might have a better chance actually finding Bigfoot, Fred is up to the challenge.  Unfortunately rumors abound that the House of Fred and with its varied membership and alliances are plotting to overthrow the parahuman establishment, whatever that means.  Really, parahumans are the worst gossips.  Now Fred has a waiting room full of applicants, most of whom want to get in on the parahuman revolution and some of whom might be trying to take Fred down. Hopefully, Fred can interview at least one decent candidate before the assassination attempt.
A new employee isn't Fred's only task to complete. The Blood Council wants to put through a barrage of tests to see what other oddities he suffers besides an immunity to silver after he received blood from an ancient dragon. He also needs to help Amy evaluate a new mage's business proposal, which drops Fred and his friends into a trap that might or might not be friendly. Not to mention that the Fae Winter Court stole Crystal's Maid of Honor right before the big ceremony and its up to Fred and Crystal to get her back.
But when the Agency dares to try and put a halt to the wedding ceremony, even a mild-mannered accountant has had enough. Fred and Crystal risk the wrath of the Agency, with the help of their friends, to make it down the aisle.
I adore Fred. There is something about this quiet, vampire accountant, who always protects his friends and finds a reasonable and rational solution to even the most deadly parahuman situation. I just love him. I especially adore Kirby Heyborne's presentation of Fred and the gang. He brings them to life and I really get a great picture of all the characters in my head. Even though I have to wait for the audiobook release sometimes months after the book release, I don't give in. This is one of my top must listen to series.
I enjoy the way this series is always broken into five separate stories which builds up toward the finale and that includes the five prior novels. Because of that, it is really best to start from the first book rather than jumping in here.
Related Posts