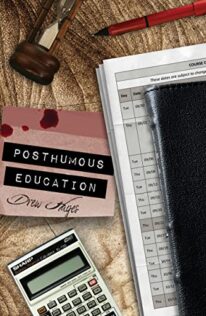 Posthumous Education (Fred the Vampire Accountant #8)
by
Drew Hayes

Series:
Fred the Vampire Accountant #8
Published by
Tantor Audio
on January 17th 2023
Genres:
Paranormal/Urban Fantasy
Format:
Audiobook
Narrator:
Kirby Heyborne
Length:
9 hrs 30 min
Source:
Graphic Audio
,
Tantor Audio


I received this book for free from Graphic Audio, Tantor Audio in exchange for an honest review. This does not affect my opinion of the book or the content of my review.
This post contains affiliate links you can use to purchase the book. If you buy the book using that link, I will receive a small commission from the sale.
---
Fred! Fred! Fred! I adore Fred and the gang.
Not only do I love the most nerdy vampire accountant ever, but I just love how these stories unfold through the eight books in this series. These novels are broken into five short shorts which build it's own story arc, but not everything resolves completely by the end of the story and it's a little insider treat when something we remember from a prior story pops up again to either be a problem or save the day. You simply don't know when something will finally pop up again.
In Posthumous Education, Hellebore, the Queen of the Winter Court, is calling due the promise Fred made before his wedding (Book 6-Undeading Bells) to do any favor she requires. Hellebore's son will be attending Trestlevend, a secret parahuman college and she wants Fred to teach a class on dealing with human businesses. While Fred questions whether or not he is the best choice of professors, he has always believed Hellebore would use her request simply to use Fred as bait to lure his sire, Quinn, out of hiding. Fred's Clan and his friends have made certain that Fred is protected back in Winslow. Bringing out into the open, even on a protected campus, will be just too tempting for Quinn to ignore.
Fred might question his qualifications as a teacher, but his arrival at Trestlevent shows Fred that just when he thought he couldn't be surprised anymore by the parahuman world, he couldn't be more wrong.  First of all, Trestlevent has some sort of protection that allows even a vampire to walk around the campus in the daylight–something Fred thought he would never do again since being turned undead about five years ago. There are parahumans attending the college that even Fred believed were truly myths, and Fred knows a dragon.  One of Fred's new students turn out to be Keith, one of the vampire's who Quinn had mind controlled Keith and a few others which I believe was Fangs of Freelance (Book 4).
Fred being Fred, and accounting being…well, boring, it is actually no surprise that there are only about six students in Fred's entire class but he is still determined to do his best to teach them the best that he can about human/parahuman business practices. He even has his friend, Mage Amy Wells stop in to discuss how Fred renegotiated her mage apprentice contract which kept her under the thumb of the Mage Council since there was no way to ever pay off their initial investment in her and how she now has money to support talented young mages (Bloody Acquisitions, Book 3).
Nothing ever goes smooth for Fred and he and his students get trapped in a deadly maze. There is also a battle between necromancers and student prank day which goes very, very wrong. And of course, when explosions rock the campus, Fred finds out how right he was that he was simply bait to lure out Quinn but can Fred survive an outright battle against Quinn at least long enough for the cavalry to arrive.
THOUGHTS:
I love this series. I just don't know how to explain how the life of a boring accountant is so much fun even though he doesn't wield magic or battle with a sword. He has a Clan of misfits who are his family as well as his friends and he has collected some pretty powerful friends over the course of these stories who are all pretty surprised to find themselves calling a vampire their friend.
He has also collected me as a faithful reader since the first story of The Utterly Uninteresting and Unadventurous Tales of Fred the Vampire Accountant.   Right now my only dilemma is whether I enjoy Kirby Heyborne's  presentation or the Graphic Audio's cast better.  I really like Kirby's choices of voices, including Fred and Gideon but who can complain about an entire cast from the Graphic Audio site.   I have listened to both and will probably pick up this story in the Graphic Audio version when it comes out and listen to it again.
If I could recommend a non-romance fantasy series to you, Fred would be at the top of my list of not so boring accountant adventures.
---
Favorite Scene:
Krystal has been punished for the antics associated with her wedding to Fred and has been missing for a lot of these last two books on "assignment" for the Agency.  I miss her.
Excellent timing. Gregor, we were just learning about Trestlevend's tradition of homecoming pranks. We'll have to be extra thoughtful in our reactions today, wouldn't want to panic and inadvertently cause injury." My concern was less that Gregor would run away and hurt someone than it was he'd put a huge stone fist into a perceived threat that turned out to be little more than a student casting illusions.
In an uncharacteristic display, Gregor snorted and replied, "I'm well aware of the issue. But if you're just finding out now, that means you didn't warn Krystal."
At his words, I felt my whole body freeze. Gregor was a bodyguard. The only way he'd actively engage was if my life was threatened. Krystal, however, was an agent. She fought the mindless kind of monsters, as well as the sentient ones that had gone too far. If some random storm of squirrels got thrown at her, I feared the woodland population would see a sharp decline. Far worse would be if the students involved got injured.
New speed surged into my limbs, and I snatched up my phone, hurriedly navigating to saved numbers. It started to ring and I took hope until the rings eventually gave way to voicemail. I left a quick warning about the pranks on campus, along with a request to call me back for more details.
I wrapped my call just in time to hear Gregor speak again; evidently, he was feeling especially chatty this morning. "Who is it Trestlevend is playing in these games?
The professors stared at him for several seconds before Salvero finally spoke up, albeit slowly. "Other teams."
"But not from other colleges," Gregor replied.
I finally saw what he was getting at and realized I should have wondered the same thing by this point. "Trestlevend is the only openly parahuman college in the country, right? So we can't be playing scrumble with other college teams."
"Wow, you don't even follow the minor-league scrumble scene?" Professor Timmons admonished. "There's a lot of teams these kids' age. Trestlevend sponsors one, and that's what the students play on. Homecoming is when we play our rivals, the Omaha Grackles. The Trestlevend Termites have a long history of duking it out with them, and the score is pretty even.
Despite suspecting there wouldn't be a satisfactory answer waiting, I couldn't help myself. "Our team is the Termites?"
"Professor Sequoin wanted something terrifying."
My next thoughts on the subject were swiftly lost as a ruckus was raised from the front. Banging, shouting–it sounded as if someone were trying to barge through a door using noise as their lockpick. Although I started forward on instinct, seconds later, I paused long enough for Gregor to get in front. Bit by bit, I was learning to let the man entrusted with my safety do his job.
Thanks to my delay, Gregor reached the door slightly ahead, yanking it open to reveal a scene straight out of a horror movie.
The woman was leaned up against the glass, still banging and hollering despite the absolute rivers of red running all along her body. Chunks of flesh were missing, claw marks carved deep into her stomach, and a hunk of metal was poking out from her mess of blonde hair. At first glance, I couldn't imagine a more horrible sight to find waiting for us, but that was only until her head tilted back far enough to see the woman's face. Because it was not just a bloody stranger that had been dropped on our dorm's doorstep.
It was Krystal.
My wave of terror and concern lasted only as long as it took me to realize that something was missing. A very specific something, an element so crucial to the scene that my brain demanded I take notice, regardless of whatever sat before my eyes.
There was no smell of blood.
From what I could perceive visually alone, I should have been staggered by the scent of blood, yet all I caught was whiffs of sugar, food-coloring and other various chemicals–the compenents one might commonly find in costume blood.
"Alas, my dear Krystal, clearly gone before her time. I shall observe a mourning period of no fewer than three days before returning to the dating scene, now armed with a tragic story of love cut short."
Her expression of pain warped swiftly into a stink-eye aimed pointedly in my direction. "Three days?"
"I aimed for something as believable as your effects." With a smile, I tapped my nose once, then leaned down and helped Krystal to her feet. My hands came away sticky and red, possibly not the best aesthetic for a known vampire in public view.
"Cut me a little slack. I learned about the prank situation after getting here. Saw some kids trying to make a goat levitate." From her jacket pocket, Krystal produced a slip of white cloth, rubbing it over her blood-soaked body. Wherever it went, the red liquid and make up were pulled clearly away, leaving what remained unsullied.
On reflex, I looked out to campus, searching for the act in question. "That sounds more like a prank on the goat than anyone else."
"Oh yeah? Go stand under it for a bit. Let me know who the joke is on."
Related Posts