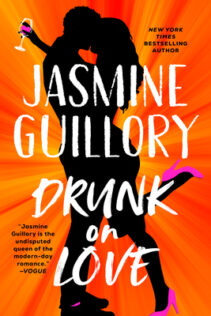 Drunk on Love
by
Jasmine Guillory

Published by
Berkley Books
on September 20, 2022
Pages:
400
Format:
eBook
Source:
Netgalley



I received this book for free from Netgalley in exchange for an honest review. This does not affect my opinion of the book or the content of my review.
This post contains affiliate links you can use to purchase the book. If you buy the book using that link, I will receive a small commission from the sale.
An intoxicating and sparkling new romance by New York Times bestselling author Jasmine Guillory. Margot Noble needs some relief from the stress of running the family winery with her brother. Enter Luke: sexy, charming, and best of all in the too-small world of Napa, a stranger. The chemistry between them is undeniable, and Margot is delighted that she lucked into the perfect one-night stand she'll never have to see again. That is, until the winery's newest hire, Luke, walks in the next morning. Margot is determined to keep things purely professional, but when their every interaction reminds her of the attraction still bubbling between them, it proves to be much more challenging than she expects.
Luke Williams had it all, but when he quits his high-salary tech job in Silicon Valley in a blaze of burnout and moves back to Napa to help a friend, he realizes he doesn't want to tell the world--or his mom--why he's now working at a winery. His mom loves bragging about her successful son--how can he admit that the job she's so proud of broke him? Luke has no idea what is next for him, but one thing is certain: he wants more from the incredibly smart and sexy woman he hooked up with--even after he learns she's his new boss. But even if they can find a way to be together that wouldn't be an ethical nightmare, would such a successful woman really want a tech-world dropout?
Set against a lush backdrop of Napa Valley wine country, nothing goes to your head as fast as a taste of love--even if it means changing all your plans.
---
This story was simply boring.
I hear so much about Jasmine Guillory so I made sure to grab this newest release. I can't say that there was anything wrong with this story. There just wasn't anything exciting.
The story is about Margot Noble. She has been working with her brother at the family winery. Her brother is more CEO of the winery and doesn't seem to respect her job much. Margot hangs with her friend, who ones a local bar, a lot. One of these nights, she meets Luke at the bar and they spend hours talking and laughing, but of course, no exchanging of names since they just wanted to forget about their respective stresses. Yeah, that never leads to problems.
Since they are both grown adults, they decide to enjoy the rest of the night together. They have great sex and he is a gentleman and drives her back to her apartment in the morning. Then Luke drives over to his new job at the local winery and meets his new boss, who he just slept with.
The rest of the story that I read involves Margot and Luke being very pleasant to each other while pretended they haven't seen each other naked. Luke learning his new job and Margot wanting to make sure her brother doesn't find out about her and Luke since he already doesn't seem to respect her.
The characters were all very nice. Even the brother, while aloof, was a nice guy. Margot and Luke were very respectful and were managing to act like adults about the whole mix up. But there just wasn't anything interesting about the story.
Yeah, Margot and Luke would make a nice couple. There was strong attraction but the sex wasn't off the charts. They were embarrassed that people would question their working and sleeping together but Luke wasn't planning on making this job his new career. Luke was just having problems with his big money, big brain software job, part of which was the fact that as he was the only black man in his company and he realized he was hired to simply fill that gap with no respect to his abilities. So both Margot and Luke were underappreciated.
Sometimes I wonder why we can't just have a sweet romance without stupid, senseless drama. I think this is why. It was boring. I put this one down and had no interest in seeing what happened next.