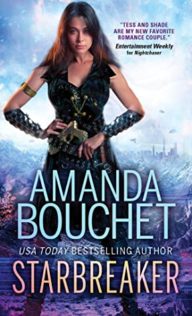 Starbreaker (Endeavor, #2)
by
Amanda Bouchet

Series:
Endeavor #2
Published by
Sourcebooks Casablanca
on April 28, 2020
Genres:
SciFi
Format:
eBook



I received this book for free from in exchange for an honest review. This does not affect my opinion of the book or the content of my review.
This post contains affiliate links you can use to purchase the book. If you buy the book using that link, I will receive a small commission from the sale.
Captain Tess Bailey and Shade Ganavan never wanted to be heroes. Now, revolution is in the wind and the universe on the brink of catastrophic war. Tess, Shade, and the remaining crew of the Endeavor are still the galaxy's Most Wanted. With the Dark Watch—and every bounty hunter known to humankind—scouring the known sectors for them, the situation couldn't be more desperate.
The clock is ticking. As their attraction builds and secrets are revealed, Tess and Shade must decide if they trust each other enough to plan their next move together. They could change the course of history…or at least bring hot water to the showers aboard the Endeavor. They'll just have to tackle one crisis at a time.
---
My big complaint in Book 1 was that I had been looking for a scifi adventure and most of book 1 took place on one planet focusing on the romance between Tess and Shade. Well, Book 2 takes off into the galaxy with all thrusters on full.
You would think that stealing the Galantic Overseer's entire laboratory filled with his super soldier serum and giving it to the rebellion should have earned them a parade, or a medal or at least a day off, but Tess Bailey, Shade Ganavan and the crew of the Endeavor have been tasked by the rebellion to break a scientist out of one of the Galactic Overseer's most guarded prisons. This scientist was trying to clean the toxic air of her homeworld after the Overseer poisoned it killing most of the population and leaving the survivors scattered on the nearly barren moons surrounding it. Tess can't imagine why the rebellion would toss her and her crew into such a dangerous situation with little to no plan or even information, but when she finds out that one of her lost friends is also being held in the same prison, she no longer cares about the why and wants to figure out how quickly they can get there.
Before they can work out the details for that near impossible task, Tess and Shade need to fulfill the deal they made with Tess's uncle. General Nathaniel Bridgebane, the Overseerer's second in command, and hope that he hasn't led them into a trap. Tess becomes more and more confused about her Uncle the more their paths cross, first because every time their paths cross, he seems more willing to help her rather than capture her and turn her over to the Overseerer, and each time she begins to see the Uncle Nate who cared for her as a child. And when he begins orchestrating things to help Tess and the rebels, Tess begins to wonder if she has misunderstood her Uncle all these years. She was so angry that he abandoned her as a child after her mother died but was leaving at the orphanage, somewhere she was safe and loved, his way of giving her a chance at a better life, especially since he didn't kill her outright like he was ordered to do?
Just when Tess thinks things might be working out for her and her crew, it seems that stealing the Overseer's serum has started a chain reaction that she couldn't see coming especially since the Overseer has crazier plans than even Bridgebane knew about. His idea is…let's face it bat-shit crazy, but if he succeeds, he would destroy the galaxy as they know it.
While book 1 lacked the galantic excitement I was looking for from a scifi novel, this one more than makes up for it when Tess, Shade and the gang go from one rebel task to the next. We especially get to see this from Shade's point of view where he learns just how shaky life is now that he is on this side of the rebel line. Now he is part of an outlaw crew, instead of a bounty hunter for the Overseer, and every job they do could get them killed or thrown into one of the Overseer's horrific prisons. Seeing it described from Shade's perspective gives us a real feeling for the danger rather than just enjoying the excitement of being a rebel.
This story really kicked up the excitement and danger especially since we see a little more about how sly and crazy the Overseer is, and there is hope that Bridgebane might be more of a secret ally, but how close can he toe the line between the Overseer's right hand man and rebel helper before he loses his balance? It is getting very interesting.
We are also introduced to new characters and whether or not they can truly be trusted, we will have to wait and hope.
---
Favorite Scene:
"Is that the river?" She looked downhill in the right direction.
I nodded. She shivered again, even though she pulled her sleeves up. Goose bumps peppered her arms.
"How can you be cold in this heat?" I tucked her closer to me.
"I'm not cold. I'm freaking terrified." With another shudder, Tess leaned into my side. "I'm absolutely certain a horde of flervers is about to jump on me."
Don't laugh. Don't do it. "Flervers are solitary creatures. And in Sector 2, like I said before."
"Nope. They travel the galaxy in hordes and eat space rats for dinner."
"And you got this from what source of information?" I asked, my smile two seconds from bursting.
"From my overactive imagination. It's very helpful."
I grinned. "Try to rein in thoughts of death and destruction by flerver. Seriously, they're like beavers."
"I don't like beavers, either."
"Have you ever seen a beaver?"
"No." Tess huffed. "They're extinct. You know that as well as I do."
I smiled against the long bangs that were always slipping forward and kissed her temple. "Okay. Let's go inside before a Sector-hopping horde of hungry flervers smells your fear and zeroes in on us from across the galaxy."
"Don't make fun of me."
I put my hand over my heart. "I would never."
Tess's scowl didn't fool me. The humor in her eyes told the real story. "They'll eat you first. More muscle."
"If it keeps you alive, I'm happy to sacrifice my biceps."
"Good. Plenty to gnaw on." She nodded in apparent satisfaction. "But really, you should just stop siccing flervers on me."
Laughter bubbled in my chest. My steps more buoyant than in years, I urged her toward the bungalow. "I'm your navigator, but I still might need a map to show me exactly how the conversation got to this point."
Tess slapped her arm. Grimacing, she brushed away a crushed bug, leaving a big smear of red near her elbow. "I'll draw you one inside with the blood of my enemies. Sound good?"
"Sounds hot."
She rolled her eyes at me.
"Come on. Your safe haven awaits."
Related Posts