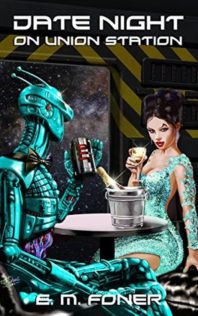 Date Night on Union Station (EarthCent Ambassador #1)
by
E.M. Foner

Series:
EarthCent Ambassador #1
Published by
Tantor Audio
on May 3rd 2014
Genres:
SciFi
Format:
Audiobook
Narrator:
Holly Jackson
Length:
4 hrs 45 min


I received this book for free from in exchange for an honest review. This does not affect my opinion of the book or the content of my review.
This post contains affiliate links you can use to purchase the book. If you buy the book using that link, I will receive a small commission from the sale.
Kelly Frank is EarthCent's top diplomat on Union Station, but her job description has always been a bit vague. When she receives a gift subscription to the dating service that's rumored to be powered by the same benevolent artificial intelligence that runs the huge station, Kelly decides to swallow her pride and give it a shot. But as her dates go from bad to worse, she can only hope that the supposedly omniscient AI is planning a happy ending.
---


I have mixed feelings about the story. There was a lot to introduce as far as this new world and just as it got going, it ended. There are a few more stories in the series and I might give the next book a try to see where it goes.
I apologize for any spelling errors since I listened to the story and don't have a hard copy for review.
The primitive planet known as Earth was going to invaded by another race for use as slaves until the Stricks stepped in.  The Stricks are a race of artificial intelligence who like to help backwater planets like ours join the rest of the universe.  The inhabitants of Earth needed a boost up since we don't have too much to offer the rest of the more advanced planets.
There are no job interviews as Stricks determine what job you would be best suited for and put you to work.  Kelly Frank is the EarthCent Counselor on Union Station, which is a space station hub on the far side of the universe. Being in charge of the Station might sound like an important job, but Kelly has an apartment in the worse neighborhood of the station and keeps getting her pay docked every time she incurs a cost to settle a dispute between factions on the station.  She keeps getting promotions which come with less and less money.  She can barely pay her rent so she can only hope there are no more promotions in her future.
Earthlings are given implants for communication both electronic and for translation of other races.   Other implants can increase vision, and yet another can help with breathing non-compatible air.
For fun, the Stricks offer a dating service which is totted to be the ultimate match up for every species, but for some reason each of Kelly's dates gets worse and worse.   She starts to suspect that her set ups are more business for the Stricks then to find the perfect man for Kelly.   She can only hope she survives to finish the subscription with her sanity intact, even if she remains single.
I found the world building to be interesting and the story of the dating service offered funny moments.  Overall it was a little slow and we bounced between Kelly's POV and another character named Joe, who ends up being Kelly's only successful date so by the end of the story when they finally meet, we are invested in both characters finding happiness since Joe's dating matches weren't any better than Kelly's.
Since there was a lot of set up needed, the bad match ups helped introduce us to the universe and offered entertainment, but it was still a lot to take in.  As with most short stories, once you finally get into it, it's over but a check of Goodreads shows that there are currently 11 short stories in the series. This is the only one available currently in audiobook but I have requested a review copy of book 2 and see how the story continues.  If the second story picks up with a little more excitement, I might be willing to continue.
I have enjoyed this narrator, Holly Jackson, before and she again does a good job voicing all of the characters.
Related Posts