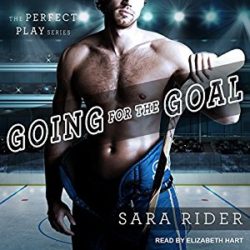 Going for the Goal (The Perfect Play #3)
by
Sara Rider
,
Elizabeth Hart

Series:
The Perfect Play #3
Published by
Tantor Audio
on February 13th 2017
Genres:
Sports
Format:
Audiobook
Narrator:
Elizabeth Hart
Length:
8 hrs 39 min



I received this book for free from in exchange for an honest review. This does not affect my opinion of the book or the content of my review.
This post contains affiliate links you can use to purchase the book. If you buy the book using that link, I will receive a small commission from the sale.
In this perfect book for romance and sports fans, professional sports agent Jillian Nichols knows how to play the game to get what she wants. But admitting to what she needs has always been a challenge. Will she ever let her guard down long enough to let someone in? Or will bad-boy hockey player Nick "the Punisher" Salinger have to fight harder than ever for a chance to win her heart?
---



I enjoyed the chemistry of the main characters.  It was just the conflict which caused a great deal of painful eye rolling.
We met Jillian Nichols in Keeping Score since she is the Agent for Jaime Chen.  Here we learn more about Jillian who is a women in what is very much a male dominated business of sports management.  Her father was taken advantage of by a crooked sports agent and lost all of his money.  Jillian not only wants to build her struggling business, she needs a certain level of clientele if she wants to run for the Board which is currently  dominated by Lou Parsons and his cronies.  Lou owns one of the largest sports agencies and has taken advantage of most of the new, young talent who don't know any better.  Somehow Lou  is managing to steal all of Jillian's potential new clients and no matter how hard she explains that the contract Lou is offering is bad in the long-run, they keep signing with him.  If Jillian can make it on the Board, she plans to fight to impose guidelines for sports agents which would protect the players from being robbed by their own agents.
Jillian in approached by Nick "The Punisher" Salinger to represent him and renegotiate his contract so he can continue to play with the New York Vipers.  Nick isn't getting along with the new hotshot center, who just happens to be engaged to the owner's daughter, and who is trying to make sure Nick's contract doesn't get renewed.
Nick remembers meeting Jillian almost a decade before when she was just starting out and remembered how she planned to fight for what was best for her clients.   He needs Jillian on his side if he wants to stay with a team that has any chance to win the Stanley Cup.  But Jillian doesn't want anything to do with the Punisher.  While his NHL salary will give Jillian the boost she needs to qualify for the Board election,  Jillian wants clients that are going to work with her so she tells Nick thank, but no thanks.
She later has doubts that she hasn't given Nick a fair chance and goes to speak with him about how willing he would be to trust her.  She can't promise the Vipers will resign Nick, but if he listens, she believes that she can get him what he wants, he just has to trust in her and work with her.  Nick  he isn't certain her plan will work.  He especially doesn't like all Jillian rules, especially the one where Jillian says they can't date since dating clients is high up on her no-no list.
I can understand Jillian's hesitation to date Nick.  It makes it look like sex with Jillian is just a perk in her representation and she's try to get on the Board of the all-boys club so she can't look like the only way a woman can get a big client is to sleep with him.   Instead of just saying no, she could have stated her problem to Nick directly.  He seemed to understand why she might be hesitant to be involved but he was more interested in getting Jillian in bed than worrying about any potential career problems.
There were some small plot issues to be found such as the hot shot star, who was a jerk to the rest of the team, was quite the womanizer and was picking up strange women in bars, even though it was public knowledge that he was engaged to the owner's daughter.  I would imagine this should have made some kind of tabloid splash and that the owner would pay more attention to what his future son-in-law was doing but he seemed to be able to do anything he wanted like a spoiled child, although that seems to make him a perfect choice for the owner's daughter.
The eye rolling comes after
we finally get the Nick/Jillian relationship in full swing and Jillian gets
blackmailed 
to break up with Nick.  Come on, really? There are only a few plots where this kind of blackmail still is believable and this is not one of them.  Instead of going to Nick and explaining the situation and saying "hey, let's lay low until we get that contract signed and then we can go back to our lives and don't do anything stupid like confront the jerk," she breaks his heart and he is sulking around, not playing well, and is risking his contract anyway because of that.  
Would it have been so hard to fake a break up with someone for a few weeks?
Hell, I would have preferred if it turned out he was faking the depression,  then signed his name on the contract, gave the blackmailer the finger and kissed his girl, in a "screw you, you lose, we faked it plot twist." But no, nothing so exciting happened.
Jillian, Nick and Nick's brother Ben were great characters and this was a really good story and I was enjoyed it up until the bad plot conflict.   It ends well and the bad guys get put in their place but it was too late, my good feelings were spoiled and it ruined my overall enjoyment of the story.
---
Favorite Scene:
Is that what you're wearing to the game?" she said, finally figuring out the problem.
He straightened and glanced down at his jean-clad legs. "Yeah. So?"
"You're supposed to be wearing a suit." Not that the dark jeans and crisp white shirt didn't highlight his broad frame quite nicely but the league rules were firm. Full suit and tie.  And he needed at least one more button done up on that shirt.
Ben laughed. "He hasn't worn a suit since the time he stole his ninth-grade teacher's car and Dad made him dress up to apologize."
"That's not true. And I wasn't the only one who had to put on a monkey suit that day."
Ben smiled and raised his mug. "Guilty! No one ever believed I was the evil mastermind behind all our childhood misadventures."
She made a mental note to ply Ben with martinis and learn some of those stories at some point, but for now her focus was on her client. "Well, you should've read the contract better if you have a problem wearing a suit."
"I've been dressing like this for the past ten years. No one's complained."
"Until now." She downed half her coffee and set off to find his room, guessing correctly that it was on the second story.
The floating wood staircase led up to a giant open bedroom with exposed beams and clean white walls–a subtle mix of warmth and masculine minimalism. There was a small terrace beyond the sliding glass doors, with a hot tub and a sunken fireplace.
Nick's clomping footsteps echoed into the room, a clear warning, since he normally moved with such panther-like grace. She ignored the nervous thrill tingling down her spine and dashed to the massive walk-in closet before he could stop her.
She found a proper suit pretty quickly. He had decent taste in clothes, which suggested that this resistance to the NFL's dress code had more to do with a bad attitude than preference for comfort.
"Find what you were looking for?"
"Just about." She thrust the suit toward him. "Change."
He tossed it on the bed, locked his eyes with hers, and unbuttoned his jeans.
The veins in her neck strained painfully. "What are you doing?"
"Following orders." He smirked like he knew exactly what kind of effect he was having on her.
She refused to start her professional relationship with Nick on this note. It didn't matter what kind of chemistry existed between them. She was a grown woman capable of self-discipline. She flashed him an unimpressed look before turning back to his closet to hunt for a tie.
That turned out to be more of a challenge. How could a man own a Hugo Boss suit and not a single fashionable tie? She pulled out a cheap-looking brown-and-green polyester tie, which was less heinous than the yellow-and-red one next to it, to see if the natural light would make it any less awful.
"Yikes." Definitely worse. She chanced a glance at Nick, who was fortunately fully clothed. She'd always believed that the league's dress code was about preserving the decorum of a game that skated a fine line between elegance and brutality. "Is that all you have?"
Nick crossed his arms. "Yep."
"They're terrible." She sighed.
"It's not like use them for fashion purposed."
Oooohh. She tossed the tie onto the bed next to his discarded jeans as soon as she clued in to his suggestive meaning. This was not helping her with the whole thinking-about-him-naked problem. She needed some kind of hypnotherapy or Pavlovian conditioning. A way to convince her brain he wasn't the same dark, gorgeous bad boy who'd starred in her most illicit fantasies for the past decade. Nope, Nick Salinger was nothing but a bridge troll. A hideous bridge troll with snaggleteeth, hairy warts, and wrinkly green skin.
"Don't worry. He means he only wear them to funerals, not to reenact Fifty Shades of Grey," Ben
said, appearing at the top of the stair. "Uh, unless you use them for both, in which case, ew. That's gross bro. However, I am once again going to save the day."
Ben held up a stylish silver-and-blue silk tie inside a fancy navy box. "This was meant to be your Christmas present."
"I hate ties," Nick protested.
"That's because your neck is too big, meathead. You need to lay off the bench presses."
It was strangely sweet watching Nick stand still like a child while Ben threaded the tie around his neck and knotted it perfectly. He was so different with his brother than he was with anyone else. Gentler. Humbler. Softer in a way he would never allow the outside world to see.
"Not that I've ruined your present, I'm going to have to go shopping again. I expect an amazing gift in return for the extra effort."
"You're getting a spring break trip to Maui, like always."
Ben's smiled beamed so bright, her chest ached. Jillian hadn't grown up with siblings, and didn't know what it was like to have that kind of casual comfort with someone. She'd been tight with her dad, but their relationship had been almost entirely focused on sports from the time she was old enough to chop off her Barbie's hair to re-create Wayne Gretsky's feather mullet and lead the other dolls in an epic Stanley Cup play-off game against her Care Bears.
Related Posts