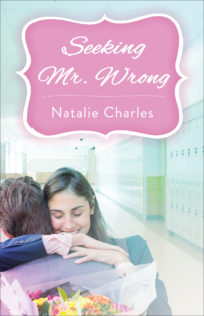 Seeking Mr. Wrong
by
Natalie Charles

Published by
Pocket Star
on February 13th 2017
Genres:
Contemporary
Pages:
300
Format:
eBook



I received this book for free from in exchange for an honest review. This does not affect my opinion of the book or the content of my review.
This post contains affiliate links you can use to purchase the book. If you buy the book using that link, I will receive a small commission from the sale.
In this warm, charming, and hilarious romance, a kindergarten teacher and children's book author attempts to write erotica—and sets out to find the right Mr. Wrong for some hands-on inspiration.

Lettie Osbourne has lived her whole life by the book. Sweet, predictable, and certainly not living life on the edge, she's always been content to make a living as a kindergarten teacher who writes adorable children's books on the side. After her fiancé leaves her, Lettie decides she is perfectly content to accept her fate as mother to her beloved dog Odin and favorite auntie to her niece and nephew.

But then everything changes.

When Lettie's publisher decides to sell only erotica, her editor convinces her to turn up the heat and throw some spice into her vanilla life. Lettie sets out to find the perfect man to inspire her writing...and finds him in her school's vice principal, Eric Clayman. As Lettie and Eric grow closer and her writing gets steamier, she's left wondering: is Eric Mr. Wrong? Or Mr. Right?
---



The publisher made the mistake of describing this story in a way that seems like a woman who needs to find a man to teach her pointers for her new erotica novels. This couldn't be further from the truth. They have successfully sold a flood of books but to people wanting an erotica story and who are now very unhappy.
Reading the description of the story, I believed that Lettie is looking for a man, Mr. Wrong, who would be her "Mr. 50 Shades" and teach her how to bring realism to her erotica stories. This seems to be a mistake that many people are making as I have noticed several bad ratings due to the fact that people were looking to read erotica and the amount of sex in this story is minimal and not even very exciting. After reading the story, and re-reading the description, "Lettie sets out to find the perfect man to inspire her writing…and finds him in her school's vice principal, Eric Clayman," I can now see the distinction. In the story, Lettie uses her interest in the temporary Vice Principal to fuel her own daydreams about him as inspiration for her story's hero. Once they become involved, the second erotic story she writes centers around a woman who is having a tryst with her boss and is trying not to get caught, just like Lettie and Eric. This eventually leads to Eric being hurt and believing he was used for story fodder but we will get back to all of their misunderstandings.
I did like how Lettie would start to narrate a scene for her book while she was having conversations with Eric or just staring at him across the room, and they weren't just dirty scenes, it was narrations of flirting or how he was longing for her. That was cleverly woven into the scenes.
But other than that, I didn't find much in this story to recommend it. Lettie was nice but flat. Her family was crazy but nothing inspiring. Her father was on his 4th wife who was as young as Lettie and her sister which is typical, shallow wealthy older-man syndrome. She finds out her perfect sister was trying an open marriage and was screwing up her marriage by getting emotionally attached to the other men, and blaming Dad's genes as the fault. The niece and nephew were brats due to their parents' screwed up no discipline rules. But there was nothing outstandingly interesting about them.
Eric and his family was a little more interesting as Eric survived an abusive, bully of a father, but he family plays a much smaller background role in this story.
The story puts more focus on the petty teachers at Lettie's school, lead by the bitchy, controlling principal that Lettie refers to as Brunhilda.
Eric comes in at the beginning of the story, but there is concern that Eric is Lettie's "boss" until a new Vice Principal is found and neither one wants to make a move because of the ethics at play. It takes more than half the book for Eric to make a move on Lettie and kiss her, then he bends her over a desk. This is one of only two sex scenes between Eric and Lettie and in neither scene do either take off more than just Lettie's underwear. One quickie sex scene gives you the feeling of their desperation for each other. All of their scenes are like that just looks like the author can't write one. In fact, the only other sex scene is one from Lettie's story and again, it is a quickie as they come in the front door.
Additionally, there was a lot of miscommunication between Lettie and Eric so that they spent very little time being in a relationship and they kept "starting again" once someone finally cleared the air. Even the whole taboo of not being together could have been circumvented by coming out and publicly admitting they were in a relationship so that any teacher related issue would be handled by the Principal directly. This is stated in the story. They still wouldn't come out and admit it, causing another miscommunication, which was unnecessary since they could have simply admitted they were dating and worked around it.
Overall, this is simply a romance, and a not very exciting one at that. If you were looking for a sex book, THIS ISN'T IT!
Related Posts