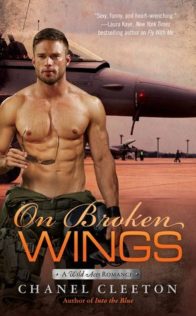 On Broken Wings
by
Chanel Cleeton

Series:
Wild Aces #3
Published by
Berkley Books
on January 3rd 2017
Genres:
Military
Pages:
320
Format:
eBook



I received this book for free from in exchange for an honest review. This does not affect my opinion of the book or the content of my review.
The author of Into the Blue and Fly with Me returns with the newest, hot and high-flying Wild Aces romance... A year after losing her husband, Joker, the squadron commander of the Wild Aces, Dani Peterson gets an offer from his best friend, Alex Easy Rogers, to help fix up her house. Dani accepts, and their friendship grows along with an undeniable attraction. Racked by guilt for loving his best friend s widow, Easy is caught between what he wants and can t have. Until one night everything changes, and the woman who s always held his heart ends up in his arms. Yet as Easy leaves for his next deployment, he and Dani are torn between their feelings and their loyalty to Joker s memory. But when Dani discovers something that sends them both into a spin, the conflicted lovers must overcome the past to navigate a future together "
---
This was such a sad story I couldn't finish. I will give the author kudos for being able to write a story that made you feel so much, but I just didn't have the heart to finish it.
The story starts about a year after Dani lost her husband and best friend. She talks about her miscarriage just before her husband passed and how hard she thought that loss was but they had each other and hope that they would one day have a family. Now all those dreams were wiped away in only a moment.
After losing my Dad last year and watching everything my mother was going through after losing her best friend, I found it to be too much to read as all this in a first person perspective, and had to put it down. It has been a few months, but I simply haven't had the desire to pick it up again.
What did bother me about the dynamics of the story was the fact that Alex was always in love with Dani. He fell under the spell the moment he met her but once he realized she was Joker's wife, he stuffed all of that desire away. He never interfered with their relationship. He never made a move on another guys wife. And the longer her got to know her, the deeper he fell.
Alex was also there to help Dani whenever she needed something, and always as a friend. Even after his friend died, he didn't make a move on Dani.
So the problem I had (with what I read) was that when her friends finally started pushing her to try to date and move forward with her life, no one said anything about Alex. They all knew he loved her but no one said, have you thought about starting something with Alex. They saw Alex, nicknamed Easy for the easy way he had with women, as non-committal and never said to themselves, "Hey, maybe he doesn't get serious with any of these girls because they don't measure up to his devotion to Dani." Even if they were concerned that he could break her heart no one bothered to sit him down and talk to him. He might be all about one night stands with strange women, but he has always been there for Dani.
That part was pissing me off while Dani's loss of her husband was depressing me.
I would again state that the author did a great job of making us feel both Alex's angst at being kept in the friend zone and Dani's loss and pain, but it was a little too much under the circumstances for me to read.
Related Posts