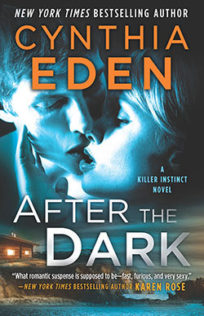 After the Dark (Killer Instinct #1)
by
Cynthia Eden

Series:
Killer Instinct #1
Published by
Harlequin Books
on March 28th 2017
Genres:
Crime Drama
Pages:
384
Format:
eBook



I received this book for free from in exchange for an honest review. This does not affect my opinion of the book or the content of my review.
This post contains affiliate links you can use to purchase the book. If you buy the book using that link, I will receive a small commission from the sale.
In this gripping new series by New York Times bestselling author Cynthia Eden, a disgraced FBI profiler must save her reputation by stopping a sadistic killer she knows all too well.

Former FBI agent Samantha Dark was one of the most respected profilers in the bureau, an expert on the twisted minds and dark hearts of the most depraved criminals. But when her own former lover turned out to be the serial killer she was hunting, Samantha's career was destroyed. Blamed for the FBI's failure on the complex case, Samantha fled Washington, DC, for the quiet anonymity of Alabama.

Now an all-too-familiar killer is hunting once again. She can catch the sadistic assassin, but that means putting her trust in her former partner, Blake Gamble. Ex-military, Blake is tough, protective, precise. With her entire life on the brink, she knows he wants her back in the FBI and possibly more.

But someone else wants her, too. A threat is waiting in the dark, a killer who has set his sights on the ultimate trophy victim Samantha."
---




Cynthia Eden has a great grasp on grabbing a reader's interest from the first page.  Her new love of thrillers and this new series proves that she can keep the buzz of excitement going from the first page to the last.
There is a prequel to this story which just came out and is free on most ebook retailers. Get The Gathering Dusk
This story focuses on FBI Profiler Samantha Dark.  Samantha finds out the hard way that her friend and former lover was not the man she thought he was.  It does have a bit of a Red Dragon feel at the beginning where Will takes some time before he figures out that Hannibal Lecter isn't the swell guy he originally thought.   Here, Samantha's long-time friend and former lover Cameron Latham was more than just an impressively smart college professor.   The fact that Samantha didn't realize that her BFF was actually a serial killer calls into question Samantha's ability to do her job.
But her partner, Blake Gamble isn't about to let Samantha walk away.   Not from the FBI and not from him.  They might have had to keep their distance while working as partners but things are different now.  Gamble uses a new serial killer as an excuse to track down Samantha to get her help but he might have inadvertently led the killer to Sam's doorstep.
Women in Sam's small town are being abducted but is there one killer or two?  The suspense is high as Gamble and Sam reassemble their team and try to work out their relationship.  Partners can't have a romantic relationship but they are no longer partners so the rules are changed.
There is plenty of suspense and intrigue to keep you excited until the end as well as a passionate romance once Sam and Blake finally give in to their desires.
While it is not necessary to read the prequel to enjoy this story, comments are made about the prior case which would ruin the suspense so I would definitely recommend reading The Gathering Dusk first before starting After The Dark.
---
Maybe he'd been in the water when he brought that motorboat to shore.  Maybe he'd taken refuge in one of the houses on the bluff and then then called her with his little plan.
The better to watch me.
But if that were the case, then why would he want her to get into the boat?
Why…
A phone rang. Its cry was loud, jarring her and making her jump. Her gaze shot back to the boat. She didn't see the phone, but the sound was coming from the small vessel. The perp had left a phone for her to find, just as she'd suspected he would.
Had he placed the phone there, giving her exactly fifteen minutes to reach the boat before he called? Or…Is he watching me even now? And he realizes that I didn't get into the boat? He's trying to draw me closer. If she wanted to save Tammy White, she was supposed to get in that boat. She was supposed to climb in and answer the phone. But…
Something was off.
The phone stopped ringing.
Think like the killer. There were some habits that she couldn't break.
And a door seemed to open in her mind. He's organized. Smart. It's like a game of chess to him. He's connected to Cameron. Wants to emulate him…that was what he did with Kristy Wales. He tried to duplicate Cameron's crimes as a way to get to me.
He wants me.
He…blames me?
Her gaze darted to the boat once more. Oh, hell.
He wants to eliminate me. Everyone else is just collateral damage. Everyone else–
The phone rang again.
She spun away from the boat, trying to lunge downt he pier as she fled.
Related Posts