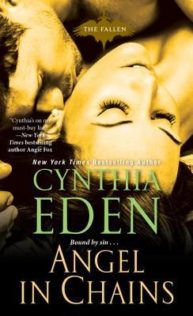 Angel in Chains (The Fallen, #3)
by
Cynthia Eden

Series:
The Fallen #3
Published by
Kensington
on November 27th 2012
Genres:
Paranormal/Urban Fantasy
Pages:
352
Format:
eBook



I received this book for free from in exchange for an honest review. This does not affect my opinion of the book or the content of my review.
This post contains affiliate links you can use to purchase the book. If you buy the book using that link, I will receive a small commission from the sale.
---
As a fallen Angel of Death, Azrael is cursed to walk the earth alone in search of redemption. One night, as he wanders the streets of New Orleans, he discovers a woman surrounded by panther shifters. No longer able to contain the anger simmering within, Az summons his dark powers and attacks, determined to protect this innocent human from certain death.

Only Jade Pierce is no delicate flower. She's spent years learning to survive and fight the evil forces sent by her ex-lover who refuses to let her go. But after seeing Az in action, she figures she could use a little supernatural help. And so she plans a course of seduction guaranteed to arouse his interest and his angelic passions.
---
Azreal was an Angel—The Angel. Az was in charge of the Angels of Death. Except that was before—before he fell for trying to take a soul that was not on his List. Now Az is a fallen angel looking for a way back.
When he comes across Jade Pierce being attacked in a back alley by three shifters, he realizes that protecting her, a human, might be Az's chance at redemption. He will use her helplessness to his advantage and earn his wings back.
Az isn't the only one looking to use someone for his own advantage. Jade knows that Azreal is more than the average Other and he might just be what she needs to save her from her ex. Her ex-boyfriend is no ordinary stalker. He is the Alpha of a pack of panther shifters and he believes that he and Jade are destined to be together. He has killed her parents and anyone else who Jade has tried to get close to while she has been running from him and his vicious pack for the last ten years.
If she can get Az to kill Brandt, Jade can finally stop running. But there is more to Brandt than even Jade knows and it won't be so easy to kill him. Especially when Heaven's #2 comes staking with a List of his own, and he is as zealous as Azreal was to make sure that all souls on his List are accounted for. When Jade's name comes up, Brandt might just be the least of her problems.
THOUGHTS:
Absolutely incredible! Action packed and exciting with an ending that had me out of mind. I picked it up and didn't put it down until I was finished. I am amazed when an author can take the antagonist from one book and make him the hero in the next, and I actually like him.
In Book #1, Angel of Darkness, Az was after Keenan and Nicole because Nicole's name had come up on the List to die the night Keenan interfered and Nicole was turned into a vampire. Azreal was determined that Keenan kill Nicole so he could return to heaven and when Keenan refused, Az was determined to take her soul himself. Azreal fell because Nicole was no longer on the List and he was just chasing a personal vendetta against her for tempting Keenan. Now it was Az's turn to protect Jade from the death angel who is marking her for death.
Now after Angel Betrayed, I didn't think we could get an angel more badass then Sam. Sam and Az have been enemies of a sort since Sam fell a millennium ago. Sam has been on earth growing wealth and power. All the Others know to be afraid of Sam, but even Sam is weary of the power that Az holds in check. Sam is cool and confident as a powerful man would be, but Az is cold and uncaring as a VERY powerful man would be, one who knows there is no one more dangerous around. Except he isn't cold to Jade. She has been the first woman to tempt him from his mission to return to heaven.
There is a set up for the next book and I am excited to see how that next story plays out.
Received an ARC courtesy of Kensington books. Thank you.
---
Favorite Scene:
"I was…just…" The demon rose and winced. "I was merely checking her out."
"I saw that." A lethal edge underscored Az's words. He spun to face the doctor, giving Jade his back, and that was when she actually paid attention enough to notice his wings.
Not real wings. More like shadows. Thick, black, they rose from his bare shoulders and extended high above him.
They were dark and so beautiful.
"She was scared," Az snarled as he closed in on the demon. "I heard her fear." His hands were clenched into powerful fists.
Uh, oh. Jade kept a hold on her sheet as she hopped out of bed. Her knees didn't so much as jiggle when her feet touched down on the wooden floor. That angel blood sure packed a powerful punch.
"Because she realized—we both realized—" Cody spoke quickly now as he pressed his back against the wall in an attempt to put more distance between him and Az. "We realized that she's healed."
Jade crept up behind Az. Tanner didn't move. She reached out and her fingers skimmed over those shadowy wings. She could almost feel them against her skin. Like silk.
Az stiffened. He'd loved it when she stroked his scars before. What effect would it have on him when she touched these shadowy remnants of his wings?
"Jade…" Her name was a rasp, heavy with need, lust.
She stroked the shadows once more.
This time, he shuddered.
"She's healed," Cody said again. "And—"
Az turned to face her. His jaw was locked, and his eyes still burned hot enough to scorch her. And the man looked like he could eat her.
Oh, my.
"I think it's time for us to get out of here." Tanner hurried over and grabbed Cody's arm. "They need to…talk."
"Talk? I don't think talking is what—"
Tanner knocked his brother's head into the wall then hustled him out of the room.
The shifter made sure to slam the door closed behind him.
Az's wings were out of her reach now, but she wanted to touch them again. "I can see them" she whispered.
He shook his head. "Nothing's there. The wings burned away when I fell."
Maybe. But those shadows were still there. She stepped closer to him. Jade kept one hand on the sheet that she'd hurriedly wrapped around her body while her left hand lifted and touched those shadows. "What does it feel like when I touch them?" Jade whispered.
"They aren't there."
Something was. Her fingers went right through the silken remnants.
He stepped back and put enough distance between them so that she couldn't touch his wings. When he caught her hand and held it tight. "You're seeing what was," he gritted. "My blood's in you. Only those with an angel's blood can—"
"Thank you," her soft words cut him off.
He blinked. Shook his head.
"You saved me." That she knew with certainty.
His fingers tightened on hers. "I was afraid I was too late."
No. Leave it to an angel to know just how to cheat death. "Are you afraid of me?" Az asked as his eyes searched hers.
She let the sheet drop. It pooled on the floor between them. "No."
Related Posts