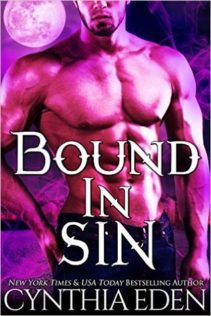 Bound in Sin (Bound, #3)
by
Cynthia Eden

Series:
Bound #3
Published by
Self-Published
on January 2nd 2012
Genres:
Paranormal/Urban Fantasy
Pages:
189
Format:
eBook



This post contains affiliate links you can use to purchase the book. If you buy the book using that link, I will receive a small commission from the sale.
---
What's the price of sin?

Human Paige Sloan once loved werewolf Drake Wyler more than life, but then that life was taken away from her. Attacked by vampires, Paige was bitten, and, on a cold, dark night, the life she'd known ended.  She was reborn as a vampire—a werewolf's deadliest enemy.

Paige ran from the vampires who attacked her, and she ran away from her lover. She didn't want Drake to know what she'd become, and she didn't want to face the fury of his pack. But a girl can only run for so long until the past catches up with her.

Some sins mark your soul.

When Paige learns that Drake is being targeted for death, she knows that she can't hide in the shadows any longer. She has to return to him, and she will do anything—anything—in order to make sure that he keeps living. The vampires might have destroyed her chance to live and love Drake, but they won't take him. Not over her undead body. She'll slay them all…and maybe, just maybe…she'll even have the chance to sin—one more time–with the werewolf who'd marked her as his mate.

Some sins are worth dying for…
---
The above explains the basics of the story. Since it is a short story, I don't want to add anything and give away too much of the plot.
This book ranks up there with her other self-published short stories, Bound by Blood and Bound in Darkness. It is an action packed and very sexy story. As with most of her stories, you jump right into the action from the first page, and in this story, Paige and Drake have a history so there is no waiting around for the "action" to begin.
If you are a Cynthia Eden fan like me, you will need to add this to your collection and if you have never read her books, for the bargain price of $.99 this is a fine story to start your Cynthia Eden collection. Pick this up for a quick read between books.
---
Favorite Scene:
"I've got a vampire I want you to behead." Her breath rushed out. "A vampire named Gabe is the one who made me, he's–"
Drake's claws burst from his fingertips and sliced into the bedding. "He's fucking already dead." As far as Drake was concerned, the vamp—Gabe—had died the instant he put his fangs in Paige.
Her gaze held his, and he saw the worry there. "Gabe is a pureblood. He's strong, he's—"
"No match for an alpha." Didn't she get it? He wasn't the boy she'd left behind. He was a warrior. A monster. A walking nightmare.
Since she'd left him, he'd seen more blood and hell than she could possibly imagine. No, he'd always known the blood and hell…Page had been the only thing that had been good in his life.
Sweet. Pure.
Then she'd left him, and he'd gone back to the darkness.
She won't leave again.
He stared up at her. He could move her easily enough, but he didn't want to do so. He wanted to keep her just where she was, only he'd like to remove a few of her clothes. Or all of them.
But business came first. "What will you do for me?" Drake demanded.
She blinked. Vampires weren't supposed to look so innocent. "I…um…"
He smiled and knew that his own sharpened teeth would flash. "Death doesn't come for free. In the supernatural world, there's always a price."
He heard the slight hitch of her breath. "And what do you want?"
You.
Related Posts