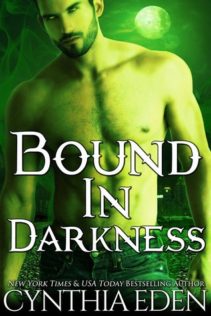 Bound in Darkness (Bound, #2)
by
Cynthia Eden

Series:
Bound #2
Published by
Self-Published
on September 12th 2011
Genres:
Paranormal/Urban Fantasy
Pages:
193
Format:
eBook



This post contains affiliate links you can use to purchase the book. If you buy the book using that link, I will receive a small commission from the sale.
---
Hunter…
When it comes to killing vampires, werewolf Cade Thain is the best slayer in the Northwest. So when a witch hires him to take out a pureblood vamp, the assassin thinks it will be just business as usual. One less vicious vamp on the streets…one more undead parasite gone from the earth. Then he meets her.
Protector…
Allison Gray isn't the prey that Cade expects. Beautiful, innocent, she stirs a dark desire within him. Allison hasn't transformed fully into a vampire, not yet, and it's Cade's job to make sure that she never does. Allison thinks that he's at her side to keep her safe, but Cade is supposed to pick the right moment—and kill her.
Lover…
Killing Allison is soon the last thing that Cade plans. As she begins the transformation that will turn her into a vampire, her bloodlust and their desire merge in an explosion of need that neither can control. But Allison's enemies are closing in, and the coming battle will take Cade and Allison beyond life, beyond love…and into a deadly darkness that waits to claim them both.
---
Cade is a sexy but scarred werewolf, who was tortured by vampires.  His philosophy is "the only good vampire is a dead vampire."  But when he meets Allison, who he has been hired to kill, the question now becomes does he kill her or keep her.
Like most Cynthia Eden stories, you are drawn in from the start, but like most short stories, it was just too short.   I was so enjoying the story when I noticed I was almost out of pages.  It is like realizing that it is Sunday night and you have work tomorrow.  Boo!!
After you read this story, go and get her other short story "Bound by Blood."  Another awesome, but too short, short story.
---
Cynthia Eden blogs with us on Mon., November 21, 2011. Check it out.
---
Favorite Scene:
He paused and glanced down at her.  "You're afraid of me."  His voice was still a deep rumble.
Allison managed a nod.  Despite her efforts, she couldn't help it.  She couldn't—
"Good," he told her as he pushed them into a dark alley.
Whoa, wait—good?
In the next instant, he had her shoved against the alley's wall.  "You should be scared."  His face came towards hers.  Dangerous and threatening in the faint moonlight.  "You should be damn well terrified."
Allison's body shook.
"You're being hunted," he told her, "stalked.  There are people who want you dead."
"I…I know."  Some had wanted her dead for years.
He leaned in closer.  Odd.  His teeth seemed sharper than before.  "And you just blindly walk off with me?  How the hell do you know I'm not one of the assholes who wants to kill you?"
Related Posts