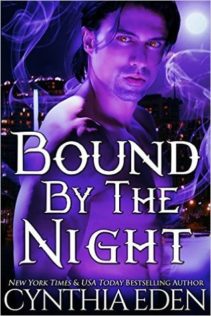 Bound by the Night (Bound, #4)
by
Cynthia Eden

Series:
Bound #4
Published by
Self-Published
on April 30th 2012
Genres:
Paranormal/Urban Fantasy
Pages:
250
Format:
eBook



This post contains affiliate links you can use to purchase the book. If you buy the book using that link, I will receive a small commission from the sale.
---
For the last fifteen years, vampire queen Iona has been dead to the world. Trapped under the power of a brutal curse, she has been helpless. A prisoner, locked within her own still body. Then alpha werewolf Jamie O'Connell fights his way to her side. After defeating the guards that surround her, Jamie gives Iona his blood…and she rises.

The world has changed a great deal in the last fifteen years, and Iona has changed, too. Once known as the Blood Queen because of her dark reputation, she now finds herself longing for the blood of only one man…only he isn't just a man. She wants the blood of her werewolf—Jamie's blood. But Iona doesn't realize that Jamie has been keeping secrets from her. Very dark, dangerous secrets. And Iona may have traded one curse for another.

Now that he has Iona, Jamie vows to never let her go. He needs his Blood Queen in order to defeat his enemy, he needs her to make his own beast stronger, and…he just needs her. Jamie has risked his life to claim Iona, and he won't let anything break their bond. Not time. Not spells. Not even a wild and reckless vampire queen.
---
This story starts out following the sleeping beauty fairytale. The Blood Queen, a very old and powerful vampire, has been under a spell and has been put in a state of "sleep" by a power hungry witch. She is awakened by a kiss, or rather in this case, by the blood of an alpha werewolf. Jamie is attempting to control her through a blood link and use her to exact revenge against the werewolf who not only killed his family and most of his pack, but who helped the witch bind the spell to trap the Blood Queen.
I want to start by saying this was a good story and can't find a better way to enjoy $1.00. It truly pains me to have anything but glowing reviews for my favorite authors and I don't want to say anything negative about the story since it was enjoyable and well written, but compared to the other three self-published "Bound" stories that Cynthia Eden published, this one was just missing something. I also believe this was the longest of her Bound series, and therefore, it should have had more than a very predictable story.
Usually Cynthia's werewolves have me sitting up and begging, but this story was just lacking something. It was good, and please don't interpret that as bad. It just wasn't awesome. It was a quick afternoon read, and for only $1 it was certainly a bargain.
---
Favorite Scene:
The beast was gone. On the ground, Jamie sprawled as a man. Bullet holes were in his chest. Her eyesight was perfect in the dark, probably even better than his, and Iona saw that he appeared to be bleeding in rivulets of silver.
Liquid silver? Was that the weapon of choice against werewolves these days?
Jamie's claws drove into his own chest, and he yanked out a handful of silver. A brutal move that had the breath freezing in her lungs. Then he did it again, to the other bullet hole.
"Can't…get it all…" His voice was barely human. "Liquid…in my blood…"
Yes, it would be. Unlike a solid silver bullet, the liquid silver would pour through him.
"I'll…die…"
She realized that his head was in her lap. Iona didn't remember sliding her knees under him. Why had she even come to check on him? The shooter could still be out there. The shooter could come for her.
She should run. Leave. Hunt.
Not lean over him and brush the hair from his forehead, but, sure enough, she saw her own trembling fingers sliding through that thick, dark hair.
What is wrong with me?
"If I die…" It certainly looked like the wolf was close to death. Jamie growled, then managed, "So…do you…"
She gazed down at him. She knew what others said about her. She was evil. Wicked. Without a soul.
And maybe some of those stories were true. But in this one instance…
Iona brushed her lips over his. A soft kiss. Gentle. Their first kiss.
It seemed strange to have it here, with blood around them.
It seemed strange to have the kiss after she'd already taken his blood.
But maybe it was fitting.
The kiss was light, but she enjoyed the taste of his lips almost as much as she'd enjoyed his blood.
Perhaps the werewolf could prove to be addictive to her.
And, maybe, she'd show him just how addictive she could be.
Her mouth lifted from his, a few inches. "What makes you think…" Iona asked him quietly, "that I would let you die by any hand other than my own?"
Related Posts