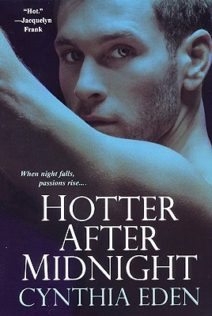 Hotter After Midnight (Midnight, #1)
by
Cynthia Eden

Series:
Midnight #1
Published by
Brava
on May 1st 2008
Genres:
Paranormal/Urban Fantasy
Pages:
272
Format:
eBook



This post contains affiliate links you can use to purchase the book. If you buy the book using that link, I will receive a small commission from the sale.
---
In her sexy and suspenseful new novel, Cynthia Eden introduces readers to a seductive world where powerful night creatures ignite dark, dangerous hungers. . .

Dr. Emily Drake's patients tend to be a little unusual. Instead of the typical therapist's caseload of midlife crises and mother fixations, Emily treats vampires with blood phobias and sex-demons looking for meaningful relationships. But her gift for recognizing and healing the Other–those creatures of the night that most humans don't even know exist–requires a few house rules. First: Never trust a shifter. Especially not one like Detective Colin Gyth, whose gold-flecked eyes and predatory air make Emily realize how much she's been longing to lose control.

Colin can't believe the doctor he's been assigned to work with on the Night Butcher murder investigation is the one person who could expose his true identity as a wolf shifter. Smart, sexy, and stubborn as hell, Emily brings out the alpha male in Colin, unleashing a wild, heady desire that takes them both over the edge.

But in the shadows, the Night Butcher waits. . .eager to spill Emily's blood and taste her terror. And he'll use any means to destroy her, including the one person she has grown to trust. . .
Have a fan handy because Hotter After Midnight is one hot story!  
Someone is killing in the City and it's looking like the work of a supernatural.  The Captain has ordered Det. Colin Gyth to work with the "Monster Doctor," Dr. Emily Drake.  Gyth is afraid that the sexy little doctor will unmask him as a shifter, but hopefully not before he gets a chance to undress her.
Someone  else is watching from the shadows and once a turn to dance with the doctor too.
This is a sexy, suspenseful story.   I'd like to take a bite out of shifter Colin Gyth myself.  Who's out to get the good doctor will keep you guessing 'til the very end.
---
Favorite Scene:
"Well, well, is that her?"
The gravelly voice sounded at his side. Colin didn't bother glancing to his left. He'd know that broken drawl anywhere.
His partner was back.
"Yeah, that's her." She pushed the notes aside, reaching for a photo. Held it up, stared.
"Hmmm. Kinda pretty." A chair shrieked a protest as Todd Brooks sat down.
Colin swiveled his chair very slowly to face him. Todd was the pretty boy of the precinct. Brown hair perfectly cut. Too perfect teeth. And big, brown, You-Can-Trust-Me eyes that he'd used on more than his share of suspects.
The idiots couldn't trust him, but they never realized that fact until it was too late.
Brooks reeled 'em in, convinced them he was their best friend. He got their confessions, then those eyes lost their warmth.
And the real man began to show.
Normally, Colin almost liked the guy. Todd didn't ask stupid questions, he minded his own business, and he was a damn good shot.  
The guy was also a notorious ladies' man. He'd slept with nearly every female cop in the precinct.
But he'd sure as hell better not be planning on letting his gaze drift to the doc.
"She's off-limits, Brooks." Better to go ahead and make that clear.
His partner just shrugged. "So she's working the case. Big deal. We can still—"
Colin leaned forward. "No, I don't think you get it. She's off-limits."
Those puppy-dog eyes blinked, and the light seemed to dawn. "Ah, got her marked already, huh, partner?"
No, he hadn't marked her. Not yet. That would come later. Shifters always marked their mates.
Colin stiffened. Where the hell had that thought come from? The doc was not his mate.
Related Posts